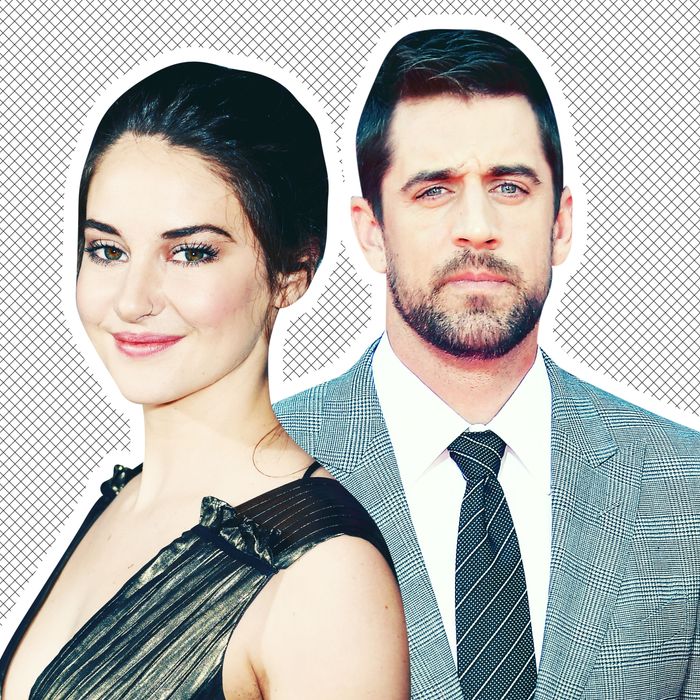 Photo-Illustration: by The Cut; Photos: Getty Images
Shailene Woodley and Aaron Rodgers, two experts in disagreement, seem to be united on at least one stance: baffling ambiguity about their current relationship status.
The world first heard of Woodley and Rodgers's engagement in February of last year, but rumors of their breakup have been swirling ever since he established himself as an anti-vaxx hero — fueled by the fact that Woodley hasn't directly addressed the controversy. In December, a source called their relationship "nontraditional" but not over. A few months later, however, multiple outlets confirmed the breakup, with one source claiming Rodgers had gotten cold feet about their wedding.
Shortly after their breakup was widely reported, Rodgers posted an Instagram thanking a bunch of people for being in his life (or, as he put it, #MondayNightGratitude). Guess who was front and center on that list? Shailene Woodley, whom he thanked for "always having my back, for the incredible kindness you show me and everyone you meet, and for showing me what unconditional love looks like." That paragraph ended with the words "I love you and am grateful for you" alongside a cozy photo of the couple. Is this a new strain of conscious uncoupling or just a nice little message for someone you're still planning to marry?
The morning after that Instagram post, Rodgers and Woodley reportedly had breakfast together at Erewhon, where a source claimed they "sat outside at a table together" but didn't "hang out too long." Later that day, Rodgers sat down for an interview with Pat McAfee, during which he managed to talk about the subject at length without shedding much light on anything. First, he provided a totally normal explanation for that gratitude post: He wrote it in the haze of a 12-day Panchakarma cleanse. Then he apologized to "Shai and my loved ones" for all the drama he caused while defending his vaccination status. He gushed even more, calling Woodley "an incredible woman, talented, smart, kind. When you have a partner like that, it just makes life so much more enjoyable." At one point, a woman could be heard talking and laughing in the background, which sounded suspiciously like Woodley. When McAfee asked about the noise, Rodgers chuckled a little, looked off camera to his right, and said, unconvincingly, "It's the TV."
Then, in early March, Woodley and Rodgers were spotted at the wedding of his teammate David Bakhtiari, where they were reportedly seen "holding hands while walking around the hotel grounds." Since then, they've been doing all kinds of couple-y things: getting off a jet in Palm Beach, going to a casino, and, most recently, drinking wine while kissing each other's heads. According to sources for "Page Six," Woodley and Rodgers were seen hanging out at a California winery, with Shailene sitting on Aaron's lap while they "kissed each other's heads and were very affectionate." I've never attended an NFL player's wedding with my ex-fiancé — nor have I taken a private jet to Florida — but none of this sounds like broken-up-couple behavior to me. Then again, I've also never done a 12-day Panchakarma cleanse, so what do I know?