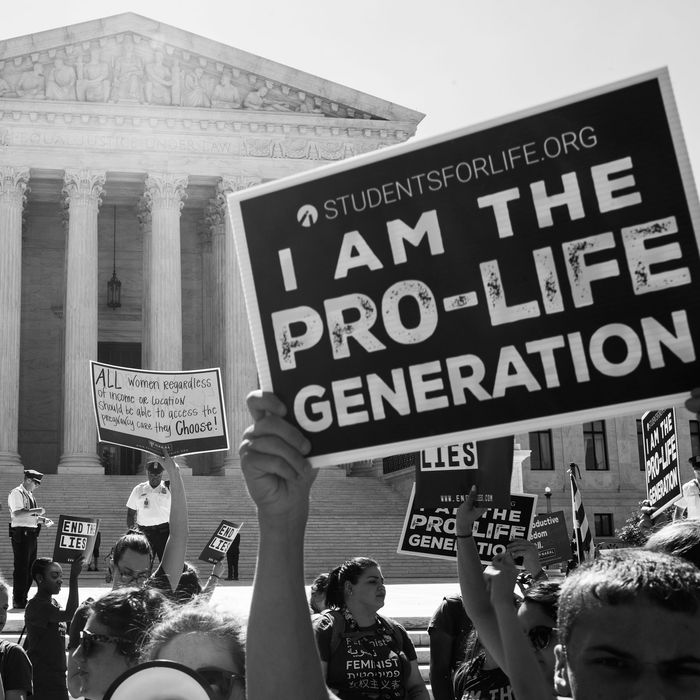 Photo: Zach Gibson/Getty Images
Another day, another piece of restrictive legislation on women's bodies… and transgender people, and voting rights. On Wednesday, March 30, Arizona Gov. Doug Ducey had a particularly busy day, signing multiple bills that restrict a whole array of rights.
We'll start with the measure outlawing abortion after 15 weeks. The ban, initially passed by the Arizona state legislature just five days earlier, has no exception for rape or incest, nor does it allow exception for people who learn later that their fetus isn't viable, but there are reportedly exemptions in cases where the pregnant person's life is at risk. Ducey signed the bill on Wednesday, telling voters in a signing letter, "In Arizona, we know there is immeasurable value in every life — including preborn life."
The 15-week abortion ban in Arizona is not yet in effect, and it would not criminalize a person getting an abortion, but a physician performing it could be prosecuted for a felony and have their licenses revoked if convicted. It is reportedly modeled after the Mississippi bill, which is currently in front of the Supreme Court. And should the Supreme Court allow the 15-week ban to take effect, but not overturn Roe v. Wade, the Arizona bill will take effect. However, if the Supreme Court does overturn Roe v. Wade, as Ducey himself has called for, Arizona already has a law on the books to end all legal abortion in the state, without exception.
Not content with trampling on women's rights, Ducey also signed bills targeting transgender youth. One bill bans transgender athletes from competing on women's and girls' teams at some schools; the other bans doctors from providing "irreversible gender reassignment surgery" to minors, with few exceptions. Explaining his decision to sign the sports ban bill, Ducey claimed that it would ensure "that the girls and young women who have dedicated themselves to their sport do not miss out on hard-earned opportunities." The ACLU has already pledged to fight the bill in court.
And finally, he also signed a bill that would require proof of citizenship to register to vote. A similar version of this bill was struck down in 2013, after courts ruled it violated federal law, per NBC. This law will take effect before the November elections if it's not challenged in court first.