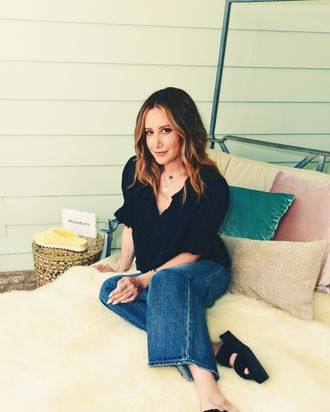 Photo: Vivien Killilea/Getty Images
Celebrities love to let us know that they can read. Dua Lipa Instagrams her book hauls. Kendall Jenner is our patron saint of being photographed while reading. Gigi Hadid was once seen carrying a copy of Albert Camus's The Stranger. Kaia Gerber, Emma Roberts, Emma Watson, and Reese Witherspoon love reading so much they have their own book clubs.
To be clear, I like reading, too. But the more celebrities insist they read — and the more they show me their bookshelves with the spines turned backward because it looks better — the more dubious I become. But there's one celebrity whose reading habits I have no doubts about: Ashley Tisdale.
In a new Architectural Digest home tour, Tisdale walks us through her "bright and zen" California home. She shows off her Mario Bellini sofa and Hans Wegner chair before leading us to the bookshelves, which is where things get interesting. "These bookshelves, I have to be honest, did not actually have books in [them] like a couple days ago," she admits. Tisdale goes on to explain that she made her husband go to the bookstore and buy 400 books before filming. "Obviously my husband was like, 'We should be collecting books over time and putting them in shelves,'" Tisdale says. "I was like, 'No, no, no. Not when AD comes.'"
Tisdale later took to Twitter to clarify that at least some of the books were hers, adding that interior designers "do it all the time; I was just honest about it." Is this the most honest moment to ever come out of an AD tour? Maybe. Let's not forget the time Dakota Johnson straight-up lied about loving limes.
This post has been updated.