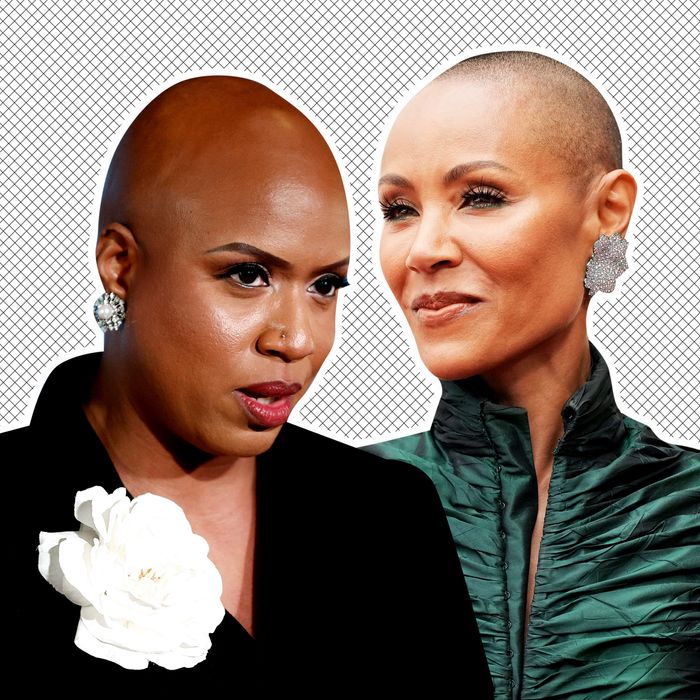 Photo-Illustration: by The Cut; Photos: Getty Images
Last night, the whole world watched Will Smith slap Chris Rock after the comedian joked about Jada Pinkett Smith's hair loss at the Oscars. Yet the full context went beyond what viewers saw on television. Jada Pinkett Smith — who showed up on the red carpet without a wig, looking absolutely stunning — has alopecia areata, an autoimmune disorder that results in hair loss and disproportionately affects Black women. On Monday, Massachusetts Representative Ayanna Pressley — who also has alopecia — condemned Rock's joke. "Our bodies are not public domain," Pressley tweeted. "They are not a line in a joke—especially when the transformation is not of our choosing. I'm a survivor of violence. I'm a proud Alopecian. The psychological toll we carry daily is real. Team Jada always."
Pinkett Smith revealed her struggle with alopecia during a Red Table Talk in 2018. Last year, she decided to completely shave her head and debuted her fully bald look on Instagram for the first time. "Now at this point I can only laugh," she said, tracing a line of hair loss along her scalp. Pressley first opened up about her alopecia in 2020 in an emotional video for The Root, in which she reflected on the way her identity as a Black woman was tied up in her hair and the pain of losing it. "I felt embarrassed. I felt ashamed, I felt betrayed," she said, comparing the loss of her hair to the loss of a limb.
The Daily Beast reports that Pressley initially posted a tweet reading "Thank you #WillSmith," though she quickly deleted it. In her later thread, she clarified that she does not "endorse violence in any form" and expressed appreciation for her fellow alopecia sufferers and their support systems. "Let's talk about what it's like to live with #alopecia. The deeply vulnerable & difficult moments that our families see," Pressley wrote alongside a photo of herself and her husband, Conan Harris. Expressing gratitude for those who "support us when we're at our lowest point," she added: "They see us, fully."
This post has been updated.