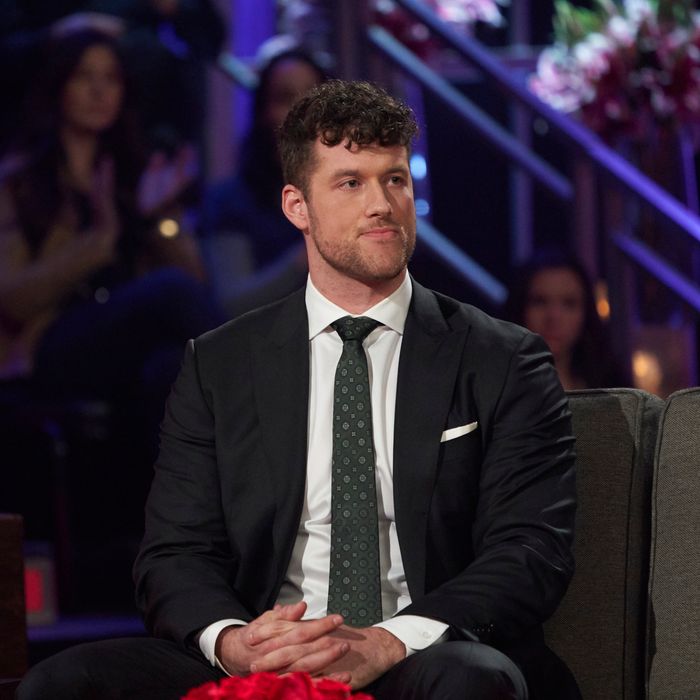 Last week, Bachelor Clayton made perhaps the worst "Fantasy Suites" showing in the series' history: He told all three remaining women that he loved them, and he slept with two of them. He would have slept with the third, too, but Susie self-eliminated after learning about all this, at which point he yelled at her for not being more understanding of his desire to love and sleep with every woman who crosses his path.
And so at the beginning of last night's episode, Clayton was tasked with explaining himself to the two women he slept with — nurse Gabby and flight instructor Rachel — and it went over about as well as you'd expect. In a cavernous concert hall in Reykjavik, Iceland, both Gabby and Rachel burst into tears as Clayton revealed, "I was in love with [Susie], and I was in love with each of you, too — I am in love with both of you, and I also was intimate with both of you."
Both women's reactions were appropriate: Rachel ran away to cry in the stairwell, her high-pitched sobs echoing throughout the concert hall, and Gabby called Clayton out on his ridiculous logic that it didn't matter if he told all three women he loved them because he would end up with the one he "loved the most." ("Wrong fucking answer," she said.) But it was Clayton's parents, who arrived the next day, who really let him know that he was acting like an idiot.
After Clayton (and the producers, probably) miraculously convinced both Rachel and Gabby to stay in Iceland with him for another week, he greeted his parents and two brothers in a sponsored Airbnb to begin the "meet the Bachelor's family" portion of the finale week. Clayton's dad, Brian, and his mom, Kelly, were eager to reunite with their son and meet the woman he wanted to marry, but they were quickly disabused of dreams of a happy ending when Clayton explained to them what he had been up to over the previous week. "I don't know how you could be in love with three people," said his mom. "You're in a very tough situation," said his dad, laughing incredulously. "You screwed the pooch, in my opinion."
Brian and Kelly then gracefully met both Gabby and Rachel, who were still shaken by the events of the "rose ceremony from hell" (to quote host Jesse Palmer). Everyone made polite conversation, and it seemed like Clayton was, against all odds, getting The Bachelor train back on the track. His parents and brothers said they approved of both women and were eager to learn which one he planned to propose to — and then Clayton reentered the building for another deeply upsetting conversation about his feelings with his family.
To absolutely shocked reactions from everyone in the room, Clayton said that after earning back the trust of the two remaining women and introducing them to his family, he was actually still thinking about the one that got away. "My heart's here with these women, but now my heart's out beyond these walls with Susie," he said. "Why's that?" his dad asked, trying not to roll his eyes. Clayton explained that he thought there was still a chance to reel his No. 1 pick back in, but nobody was buying it. "You're grasping at straws in my mind," said his dad. His mom reminded him, point blank, that he slept with two other women while supposedly being deeply in love with Susie. "Why did you screw that up?" she asked.
Unfortunately, Clayton was undeterred. Despite the good advice of his family to leave Susie alone and move on with one of his other "loves," he asked Palmer if he could see Susie again. As luck would have it, producers kept Susie in a hotel room in Iceland somewhere, and she was available to meet with him. Based on the teaser for tonight's final episode, it looks like Clayton breaks up with Gabby and Rachel, humiliating them for a second time, and then makes his way to Susie's hotel room to try to salvage their relationship. Hopefully she tells him he's an idiot too.