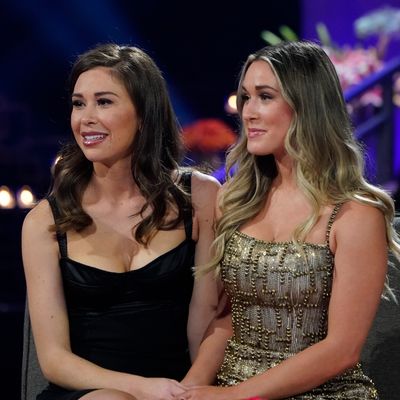 This season of The Bachelor was a snoozy one. For most of it, Bachelor Clayton, a former football player from Missouri, showed very little personality: He smiled big smiles and repeated classic Bachelor maxims (i.e., "I can see my wife in this room") while the women assembled to date him screamed at each other about shrimp. Then, during last week's "Fantasy Suites" episode, he dropped the mask and acted like a big jerk by telling all three remaining women that he was in love with them. He went on to sleep with two of them and tried to sleep with the third before she self-eliminated after learning the truth.
Going into this week's two-part finale, it was difficult to imagine how the producers were going to salvage the season: Nobody was really invested in Clayton's boring journey to find love in the first place, and now he was being rude. What to do?
Thankfully, Clayton, undoubtedly with the help of producers, assembled a stunning top-three lineup. After Susie, his top pick, took herself out of the running, he was left with Gabby, a cheerleader turned nurse, and Rachel, a flight instructor. Both women were seemingly in love with him and willing to stay even after all of the aforementioned drama. But then Clayton decided that he really did love Susie "the most" and made a probably doomed plan to try to win her back (conveniently enough, the producers had kept her locked in a hotel room in Iceland even after she "left" Clayton's wild and twisted journey to find love). With Clayton and Susie's future together uncertain, the producers spent most of last night's live finale episode focused on Gabby and Rachel's breakups with Clayton and their absolute disgust with his behavior. It worked.
First, we watched as Clayton attempted to break up with Gabby and Rachel in a Reykjavik hotel room at the same time. He simply called them both together and told them that even though he begged them to stay and introduced them to his parents, he was going to go after Susie after all. Gabby responded in anger, and Rachel, tears. (At least Rachel had a fresh manicure after breaking a nail during her last crying bout during the "rose ceremony from hell.") Producers set up the episode so that we got to watch Gabby and Rachel excoriate Clayton in Iceland and then excoriate him again in front of a live studio audience in Los Angeles. Both times, he offered half-hearted apologies that withered in the face of Gabby and Rachel's sparkling retorts.
"I can't believe anything you say, not one thing," said Gabby. "You asked me to stay because you were pissed and your pride was hurt that Susie left … You sound absolutely ridiculous because you don't want to admit that you were wrong."
Rachel, on the couch in front of the live studio audience, asked Clayton the question everyone has probably been wondering: "Did you just tell me that you were in love with me because you wanted to sleep with me?" He denied it, but she didn't believe him. "I became collateral damage in your journey for love that was the most completely selfish journey," she said, to literal cheers from the audience.
Without these satisfying moments of redemption for Gabby and Rachel, the finale would have been sad, boring, and approximately two minutes long. In the end, Clayton halfway tried to propose to Susie in Iceland, but she turned him down, hard. He was left standing in the rain as she drove away, for real this time, in one of the classic Bachelor black SUVs. Then, in front of the live studio audience, Clayton revealed that Susie reached out to him after filming, and they were giving their relationship another chance. She joined him on the couch in a white dress, and only a few audience members clapped.
Everyone was excited, however, when host Jesse Palmer (yes, he's STILL here) announced the stars (plural!) of the next season of The Bachelorette: Gabby and Rachel. Apparently, after getting dumped by Clayton together, they are going on a joint journey to find love, which will premiere in July. I'm sure the details of how a double-Bachelorette season works will be terrifying and sexist in a way I don't even want to imagine, but for now, I'm happy that these two will get more screen time. Without them, The Bachelor would have completely tanked this season, and we would have been forced to watch more segments of Clayton wearing bad patterned ties while staring off into the middle distance. Thank you ladies, and congratulations.