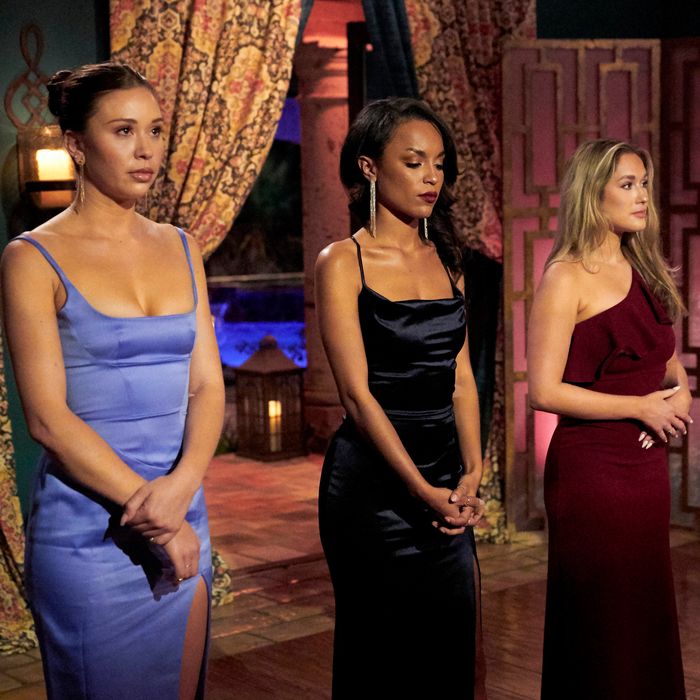 Despite a long season of Bachelor Clayton wearing horrible ties and barely speaking in complete sentences, the remaining women are all "falling in love" with him. You know what that means: It's time for the hallowed Bachelor tradition of "hometown dates." On last night's episode, Clayton traveled to Poquoson, Virginia; Denver, Colorado; Oklahoma City, Oklahoma; and Clermont, Florida, to prove himself a worthy match for four unique daughters. Over the proceedings hung the specter of one of the scariest tropes in the show's history: Tough-Guy Dads.
Yes, when the Bachelor visits the home of one of the four women he is concurrently dating, chances are he's going to have to answer to a gruff dad. But in this case, the dads were not gruff at all. In fact, all the families seemed to like Clayton, making each meeting relatively drama free. The producers spent the most time hyping up a potential confrontation between Clayton and Rachel's dad, Tony, in Florida, but at the end of the day, sweet Tony gave Clayton his stamp of approval. After asking Clayton normal questions like "Would you move to stay together with my daughter?" and "Are you worried about breaking her heart?" Tony shook Clayton's hand and clapped him on the arm — his special sign that Clayton has his blessing to carry on doing whatever it is he's doing on this show. (The editors gave us an instant replay of this moment to underline its significance.)
The other families were similarly welcoming. In Virginia, Susie warned Clayton that her dad, Tom, has "set such a standard of what a man should be" and indicated that his approval is the most important thing to her. But during Clayton's one-on-one conversation with him, Tom simply told Clayton how great Susie is and how he should go ahead and "reel her in." Oh, the horror.
The actually terrifying part of this process for Clayton seemed to be the time he spent with the women individually. During his one-on-one date with Susie, he was forced to learn jujitsu, which he clearly had no interest in doing. "We're gonna find out if Clayton likes to get choked," a winking Susie said several times before literally choking him with a complicated leg maneuver. On his one-on-one date with Serene in Oklahoma City, Clayton almost cried while trying to make his way through a ropes course that ended with an 80-foot trust fall. And in Florida with Rachel, he most likely peed his pants while kayaking through a swamp filled with gators, snakes, and spiders the size of teapots. "I'll tell you what, we're like sitting ducks for a gator," he told her on the water, trying to sound casual. "It's so quiet whenever you're like, just sitting … this is what happens right before something comes popping out." I now think it's possible that Clayton will choose Gabby in the end because she was the only one to arrange a date without the possibility of gross bodily harm. (They went on an easy hike.)
But by the end of the episode, it was Clayton's turn to terrify the audience by confessing to host Jesse Palmer (yep, he's still here) that he was "falling in love" with all four women. This happened just before the rose ceremony in which he was tasked with sending one of them home, prompting Palmer to drop his mouth open in complete shock. Could Clayton really be in love with four different women? Well, maybe not. At the rose ceremony, he managed to send one of his great loves home, and unfortunately, that person was Serene. (Maybe that ropes course wasn't such a good idea after all?)
The teaser for next week's two-part episode promises even more interesting behavior from Clayton during the dreaded "Fantasy Suites" dates: He apparently tells all three remaining women that he's "IN LOVE" with them and confesses to sleeping with two of them. "I just don't want to hurt anybody, and I'm going to," he tells the camera through tears. "I shouldn't have to ask my future husband to not sleep with somebody else," cries Susie. Based on Clayton's past success in mediating conflicts between the women, I'm sure this will all work out fine.