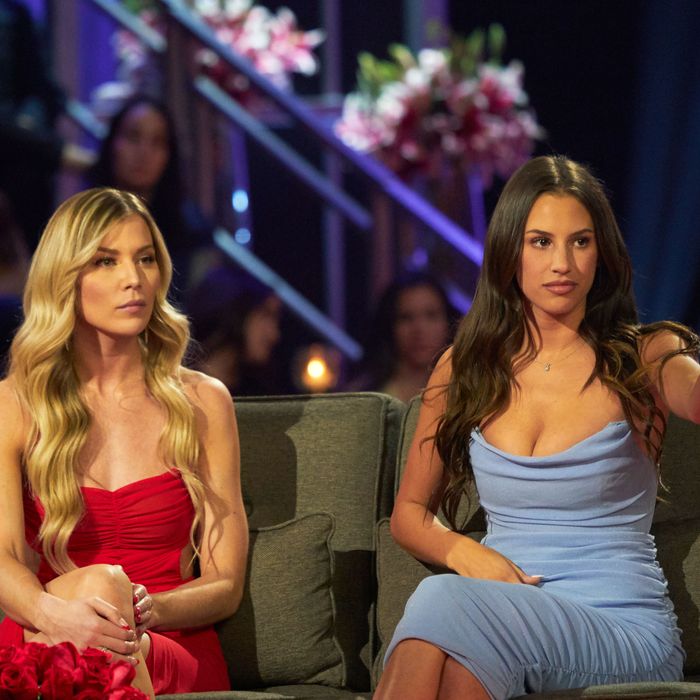 Last night, the cast-off women of The Bachelor finally had a chance to tell America their innermost thoughts and feelings about appearing on the show in the season's much-anticipated "Women Tell All" special. The season's original, two-episode villain, Cassidy, redeemed herself with a fun, sex-positive take on keeping a friend with benefits back home. ("The dick was good," she said. "I wasn't gonna cut it off unless I was engaged, sorry.")
The season's more enduring villain, Shanae, did not redeem herself, unfortunately, because the other women wouldn't stop yelling at her long enough for her to speak. (Host Jesse Palmer was technically present but not much of a referee.) Once everybody talked through Shrimp-gate, however, the women turned their icy stares on Clayton.
It's hard to remember another "Women Tell All" episode where the contestants had so much open contempt for the Bachelor himself. When Clayton walked onstage wearing one of his famously bad patterned ties and a pitifully dour expression, the ladies barely clapped for him, and the camera zoomed in on Genevieve rolling her eyes.
"I was far from perfect, and I made a lot of mistakes," he said right off the bat, seemingly expecting to be flayed by his former girlfriends. He mostly sighed through the women's questions about why he had kept Shanae around so long ("We did have a connection") and how he could have sent Serene home after she confessed her love for him.
The assembled women seemed most interested, however, in discussing what happened during the "Fantasy Suites" episode and the finale, which have yet to air. As Palmer was wrapping up his segment with Clayton, Sierra interjected to "speak on the fact that you fell in love with three women."
"You obviously know that we're all very close, all of us women are very close," she said as the other women nodded vigorously (save for Shanae). "A few of us have been able to hear about what goes down and how messy it gets, and I want to know, exactly, who are you to act a certain way, and treat these women a certain way, and subject them to this kind of behavior of yours? Like, what did they do to deserve it?"
Oh shit. At this, Clayton practically grunted in pain as he attempted to formulate an answer that would both satisfy Sierra and avoid spoiling the rest of the season (an impossible task). He landed on this: "I had to let my emotions come out, and unfortunately it wasn't as straightforward as I had hoped." Then Teddi, the fourth runner-up, who is clearly a Bachelorette contender, jumped in with perhaps the most ominous statement of the night. "I am in a unique position where I do know a lot of things," she said, "so I think I'll just leave it at, I hope that you're … okay."
Oh, and Teddi also revealed, earlier in the episode, that Clayton's brother slid into her DMs after she was eliminated from the show. It seems that even this poor guy's family knows he's a lost cause. But there may be hope for him yet: Kira, a 32-year-old doctor who was kicked off the show in week three after getting very little screen time, piped up to tell Clayton that if he didn't end up with any of the remaining three women on the show, she's still single and interested. At this, Clayton smiled, briefly, before returning to his completely abject affect.
Based on the teaser for tonight's "Fantasy Suites" episode, it seems increasingly likely that Clayton is single and simply waiting for the rest of America to find out how badly he behaved during the last two weeks of filming. Does he have a chance with Susie, Gabby, or Rachel? Or have they all decided they hate him too, probably with even more passion than the rest of the women because they were more invested when he triple-crossed them? We'll light a candle for him tonight as we watch.