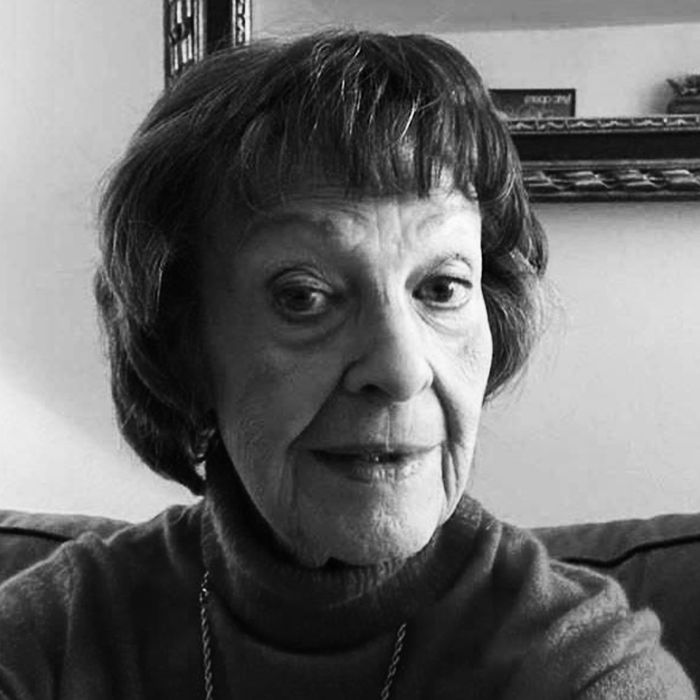 Photo: Barbara Maier Gustern/FACEBOOK
On Tuesday, a 26-year-old woman from Long Island was charged with manslaughter for fatally pushing a legendary Broadway vocal coach in early March. According to eyewitnesses, 87-year-old Barbara Gustern was walking near her Chelsea apartment when a woman suddenly shoved her from behind and walked away, leaving Gustern bleeding on the pavement from a head wound. Gustern died of severe brain trauma five days later.
This week, Lauren Pazienza, an events coordinator living in Astoria, turned herself in in connection with the attack. Pazienza doesn't seem to have known Gustern, and it's still not clear why she would have pushed her, though she has since hired a lawyer best known for working with Harvey Weinstein. Here's what we know about this tragic and increasingly strange case.
.

The attack happened near Gustern's building in downtown Manhattan.
Gustern was pushed to the ground around 8:30 p.m. on March 10, while she was en route to see a student perform at Joe's Pub at the Public Theater. According to court documents, she had just left her home and was walking down West 28th Street, when witnesses saw a young woman storming down the street shove Gustern to the ground. The woman then walked away, as Gustern lay bleeding on the sidewalk. A bicyclist helped Gustern up and walked her back to the lobby of her building, where a few friends who'd been rehearsing in her apartment called an ambulance. Gustern, bleeding from her head, described the attack to police, saying that the woman had shouted a derogatory term — prosecutors later said she'd called Gustern a "bitch" — before pushing her. According to a friend, Gustern said "I've never been hit so hard in my life."
Footage from security cameras in the area shows the attacker lingering for about half an hour after the incident. She appeared to have what prosecutors called a "physical altercation" with a man believed to be her fiancé and watched the ambulance arrive for Gustern before heading to Penn Station to take a train back to her home in Astoria.
.

Gustern died of severe brain trauma five days later.
Gustern — who worked with Debbie Harry and the cast of 2019's Oklahoma! revival — was brought to a nearby hospital and transferred to Bellevue Medical Center, where she died of traumatic brain injuries five days after the attack. On Monday, authorities declared her death a homicide, calling the incident an "unprovoked, senseless attack."
.

Pazienza is being charged with manslaughter.
Authorities say that in the days following the incident, Pazienza deleted her social media accounts and took down her Zola wedding registry, leaving her cell phone with an aunt and apparently fleeing to her parents' house on Long Island. After police circulated surveillance footage taken the night of the attack, she was identified by an employee from her apartment building in Astoria. On Tuesday, Pazienza turned herself in alongside her attorney, Arthur Aidala, at Manhattan's 10th Precinct. She was charged with manslaughter and ordered to undergo a psychiatric evaluation.
It's still unclear what the motive for the attack was, or if Pazienza knew Gustern. According to the New York Post, Pazienza is "the scion of a cesspool dynasty" (her father owns a successful cesspool business on Long Island) and currently lives in a doorman building, an "upscale Astoria condo." Her last job seems to have been as an events coordinator for high-end furniture company Roche Bobois, though a manager told the Times she'd resigned in December. The Post also called her a "socialite," apparently based on a few images that show her attending art gallery openings in 2015. Not much is known about her fiancé, Naveen Pereira; the Post claims he and his father had bought the Astoria apartment.
Aidala, who has represented a host of other disgraced men in addition to Weinstein, including Roger Ailes and Alan Dershowitz, said in court that the D.A. is "overcharging" his client and accused the D.A.'s office of targeting Pazienza because of her "socioeconomic status." As Aidala told the Times, "She's a very moral, right, just person. She was treated by the D.A.'s office in a very inconsistent manner. She has no criminal record." Pazienza is being held on $500,000 bail, which Aidala says her family plans to pay.
Gustern's grandson, A. J. Gustern, said on Tuesday that he was "praying for" Pazienza. He addressed her directly on WCBS-TV, saying, "The karmic wave that you have taken on is incredible. God help you."