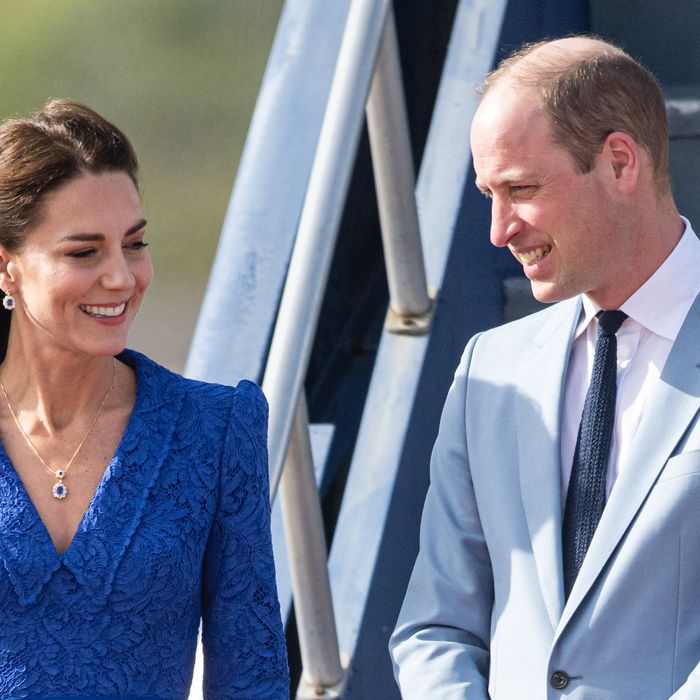 Photo: Samir Hussein/Samir Hussein/WireImage
Well, this is awkward. Last weekend, Prince William and Kate Middleton arrived in Belize to kick off their Caribbean tour to celebrate the queen's Platinum Jubilee and strengthen Commonwealth ties, but things aren't going as planned. The Duke and Duchess of Cambridge canceled their first official Belize event after local residents protested their visit. Then, Jamaican leaders rejected the royal visit to the island, demanding reparations for slavery. And now, after returning home, William has released a statement acknowledging the controversies surrounding their visit, and emphasizing that the decision to be independent from the British monarchy is up to the people. "I know that this tour has brought into even sharper focus questions about the past and the future. In Belize, Jamaica and The Bahamas, that future is for the people to decide upon.," he wrote on Twitter Sunday, March 27.
Let's start in Belize, where William and Kate were reportedly scheduled to visit the Akte'il Ha cacao farm in Indian Creek on March 20. The event was suddenly called off that Friday. They were apparently planning on taking a helicopter to Indian Creek, but residents and the local Q'eqehi Maya people reportedly took issue with their landing site, claiming they had not been consulted. "We don't want them to land on our land; that's the message that we want to send," Indian Creek village chair Sebastian Shol told the Daily Mail. "They could land anywhere, but not on our land."
The land itself is also a point of contention. It is technically owned by Flora and Fauna International (FFI), which The Guardian described as "a conservation charity Prince William is a patron of." The organization reportedly bought the land from private owners in December 2021, claiming it wanted to preserve local wildlife and protect local residents. However, the Daily Mail reports that there are 12,000 acres of land that FFI has reportedly put aside as "private property" and is refusing to let the local community take as its own. FFI has released a statement committing to an "open and continuous dialogue" with the residents. Footage of a local protest included a sign reading, "Colonial Legacy of THEFT Continues With Prince & FFI."
The Caribbean tour is reportedly part of the monarchy's effort to maintain favor in the region after Barbados voted to remove the queen as head of state last November. But so far, it seems to be having the opposite effect, with more Commonwealth countries considering cutting British ties altogether. On Sunday, Jamaican leaders published an open letter rejecting William and Kate's two-day visit, citing the long history of British enslavement and colonialism on the island.
"We see no reason to celebrate the 70-year ascension of your grandmother to the British throne because we believe her leadership, and that of her predecessors, have perpetuated the greatest human rights tragedy in the history of humankind," reads the letter, which has been reprinted in the Independent. Should the monarchy want to "redefine" its relationship to the Jamaican people, the letter suggests the royals should "start with an apology" and reparations, which seems like a better strategy than tasting chocolate and dancing.
William and Kate arrived in Jamaica on Tuesday, hours after Jamaicans protested the visit in front of the British High Commission in Kingston. The public's calls for reparations and independence reached the royal couple during their official meeting with Jamaica's prime minister, Andrew Holness, on Wednesday. "Jamaica is, as you would see, a country that is proud of its history and very proud of what we have achieved," Holness told William. "And we're moving on and we intend to … fulfill our true ambitions and destiny to become an independent, developed, and prosperous country." In a video obtained of the exchange, William nodded his head silently.
At a dinner hosted by Jamaica's governor general on Wednesday, William responded to anti-monarchy protests in a speech, where he celebrated the "invincible spirit" of Jamaicans and expressed his "profound sorrow" over the legacy of slavery on the island. "I strongly agree with my father, the prince of Wales, who said in Barbados last year that the appalling atrocity of slavery forever stains our history," William said. Although William added that slavery was "abhorrent" and "never should have happened," he did not answer protesters' calls to apologize for the monarchy's direct involvement, nor did he comment on reparations.
During his stop in the Bahamas, William celebrated the nation's independence and pledged that the royal family would support future independence as well. "With Jamaica celebrating 60 years of independence this year, and Belize celebrating 40 years of independence last year, I want to say this: we support with pride and respect your decisions about your future," he said at a reception hosted by the Governor General.
On Sunday, March 27, after finishing the tour, William doubled down on this statement of support in a lengthy Twitter statement. "Catherine and I are committed to service. For us that's not telling people what to do," he wrote in part. "It is about serving and supporting them in whatever way they think is best, by using the platform we are lucky to have."
"Who the Commonwealth chooses to lead its family in the future isn't what is on my mind. What matters to us is the potential the Commonwealth family has to create a better future for the people who form it," he added.