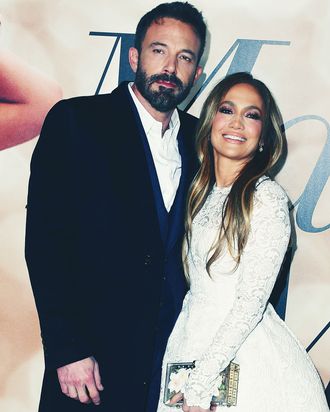 The bathroom culprits.
Photo: Steve Granitz/FilmMagic
If you spent $50 million on a home, how many bathrooms would that home need to have for you to be satisfied with your purchase? Ten bathrooms? Fifteen? Three hundred? One, but it takes up the entire second floor? For Ben Affleck and Jennifer Lopez, apparently that number is 17.
According to TMZ, Bennifer currently has a $50 million house in escrow, which, if Selling Sunset has taught you anything, means that they've put the money down while finalizing certain contractual agreements. It's no Bennifer engagement, but I suppose I'll take what I can get! The 20,000-square-foot Bel-Air estate has ten bedrooms, multiple kitchens, a pool, a theater, a gym, and … 17 bathrooms. SEVENTEEN. All of the people who have officially played or voiced Batman could have their own bathroom (Bat-room?), and there would still be two left over.
What does one do with 17 bathrooms? Are they single-use? Let's list all the possible purposes for each of these many bathrooms:
1. A master bathroom
2. A guest bathroom
3–7. Bathrooms for each of their children
8. The bathroom just for pee
9. The bathroom just for … you know
10. An obligatory beach-themed bathroom
11. A haunted bathroom (plays Gigli on repeat)
12. A secret bathroom (you enter through the toilet of the haunted bathroom)
13. A bathroom just for crying
14. Matt Damon's Special Bathroom
15. A bathroom with great acoustics but no sinks
16. A bathroom for playing on your phone
17. I am literally out of ideas. Maybe this one is actually a bedroom with a tub in it?
Congrats to these two on their multi-bathroom relationship milestone. At least it's better than putting two toilets next to each other.