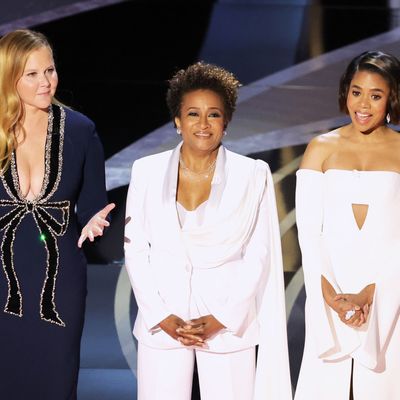 Photo: Neilson Barnard/Getty Images
It was Hollywood's biggest night, baby! The Academy Awards came back after … not really going anywhere despite the global pandemic. Unlike the past three Oscars, we've got hosts this year. Three of them! Amy Schumer, Wanda Sykes, and Regina Hall opened the show with a brief but spicy opening monologue.
They addressed some of the controversy leading up to the show, like West Side Story star Rachel Zegler's Oscar snub. (She originally wasn't on the guest list but was given a last-minute invite to present at the awards show.) The hosts did not mention Schumer reportedly trying to get Ukrainian president Volodymyr Zelenskyy to make an appearance at the Oscars. (He was, um, busy.) Of course, the main controversy happened in the back third of the show when Will Smith slapped Chris Rock.
In case you forgot what happened in the hours leading up to that moment, here are some of the best lines from the show's hosts.
An Obligatory Leo Dig
"Leonardo DiCaprio, what can I even say about him?" Schumer said while discussing Don't Look Up. "He's done so much to fight climate change and leave behind a cleaner, greener planet for his girlfriends."
Don't tell Wanda Sykes not to say "gay"
"For you people in Florida, we're going to have a gay night," Sykes said. "Gay, gay, gay, gay, gay."
I Love Lucy Nicole
Schumer payed homage to the director of Being the Ricardos saying, "Aaron Sorkin, a genius … the innovation to make a movie about about Lucille Ball without even a moment that's funny? … It's like making a biopic about Michael Jordan and just showing the bus trips between games."
Regina Hall being horny as hell
Hall was having a splendid evening, giving spontaneous "COVID tests" and announcing that she is very single. She called up actors Bradley Cooper, Tyler Perry, Timothée Chalamet, Simu Liu, and Will Smith for their respective exams saying, "I'm just going to swab the back of your mouths with my tongue."
The Last Duel slander
Regina Hall and Wanda Sykes tried to give away a screener of a movie that "no one as seen before": The Last Duel. There were no takers.
A Konsolation prize
Hall and Sykes also offered a bit of advice to Dame Judy Dench. "We got an inspirational quote for you, because you didn't win tonight," Hall says. "It's from Kim Kardashian. 'Work harder'."
Responding to that moment
"Did I miss anything? There's like a different vibe in here." — Amy Schumer
Honorary Mention: Rachel Zegler
West Side Story star Rachel Zegler took the stage with Jacob Elordi to present the Oscar for Best Visual Effects. Elordi noted that, growing up in Australia, he never thought he'd be on the Oscar stage. To which Zegler responded, "I thought I'd never be here six days ago."