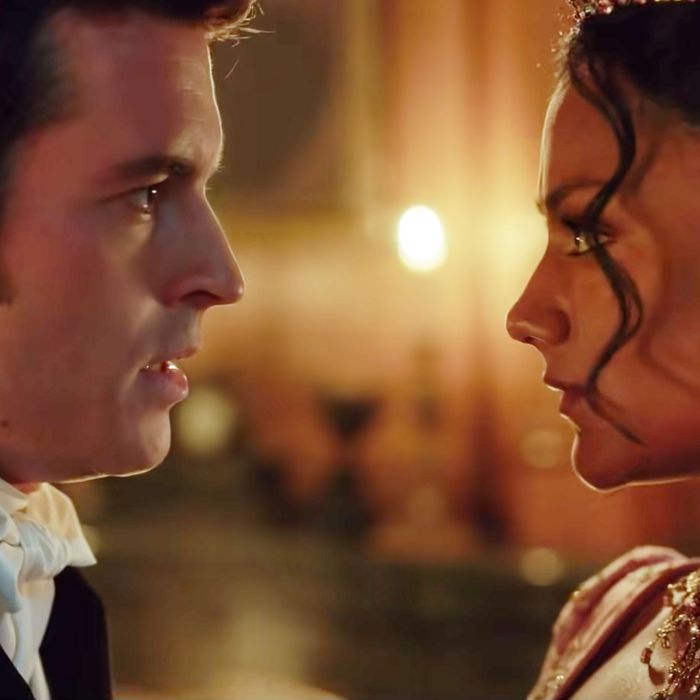 This is about as explicit as
Bridgerton
gets in season two.
Photo: Netflix
Bridgerton season two has arrived, and it brings me no pleasure (wink, wink) to tell you it is significantly less steamy than the first. While season one was full of Hot Dukes licking spoons and I burn for you's, there is nary a torn corset nor a long glove removed using teeth in the newest set of episodes. I suppose this is good news for anyone planning to watch this once-horny period drama with their family for some reason, but it is a disappointment for those of us craving our ye olde smut.
Note: Spoilers for season two ahead, though the biggest spoiler of the season is … no horny :(
There is a Hot Duke–shaped hole missing from the ton since Regé-Jean Page's departure. This is not to say I'm disappointed by the newly added characters, which includes the season's starring sister duo Kate (Simone Ashley) and Edwina Sharma (Charithra Chandran). Edwina is undeniably charming, and I would watch a feature-length film of Kate shit-talking Anthony Bridgerton, the eldest of the Bridgerton sons whose sideburns are also notably missing from this season. But unless you get horny from men with shiny shoes getting yelled at — to each their own — much of this season felt very PG.
Where are the erotic garden scenes? The copious number of butts? There's plenty of sexual tension this season. But, with little relief, those scenes felt like being seated next to your crush in math class: kind of hot, in theory, but obviously nothing is going to happen.
I crave people kissing in big hair! I want the unedited cut of Benedict Bridgerton's nude drawing class! This season's hottest scenes were limited to Anthony and Kate falling in the mud (hot in a messy way), Eloise Bridgerton's printer shop crush giving her a stack of books to read (hot in a literary way), and Lady Mary, Kate and Edwin's mother, basically calling Anthony stupid to his face (hot in a mean way). Depending on your personal proclivities, you could argue Kate stepping over a log and showing some ankle is horny. Oh, and there's a mini-orgy at Benedict's art school. But as anyone who has been near a college art department will attest, this is not actually horny at all.
There are a couple of — how should I say this … climactic scenes toward the end of season two. However, nothing really lives up to the carnal delights of Bridgerton's first season. It pulled a reverse Magic Mike with the follow-up being significant less horny than the original. (Magic Mike XXL is the definitive Magic Mike.) All to say, if you are in search of Regency-era himbos, you'll need to look elsewhere.