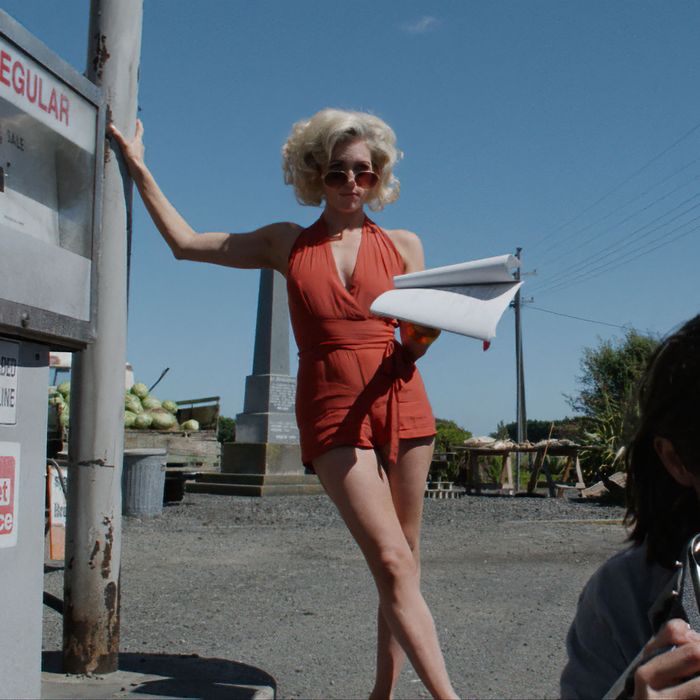 You may know Brittany Snow from her work in the Pitch Perfect movies or Hairspray, but they will not at all prepare you to see her as Texas's sweetheart Bobby-Lynne in the campy horror X. The film follows a group of amateur adult-movie actors in rural Texas during the '70s as their day (and night) of filming goes awry and turns into "one fucked-up horror picture." It's the 36-year-old actor's first top-billing feature-film role in a few years — in the meantime, she starred in Fox's Almost Family and launched a mental-health-awareness platform named September Letters — and it was worth the wait. (And I don't even like horror movies.) Co-starring Jenna Ortega, Scott Mescudi (better known as Kid Cudi), Martin Henderson, and Mia Goth, the modern take on slasher films is more about how fun the cast is than how gory it can get. Bonus: It has none of the cringey, lazy misogyny you'd expect from a porn-centric horror movie.
"There have not been many horror films in the past ten or 20 years where the women get to control their narrative and sexuality," Snow tells me. "They are usually used as plot devices or they get killed off because they're sexual. X turned that trope on its head, and I wanted to be a part of it."
How did you get into character for Bobby-Lynne? 
The challenge for me is that I am inherently not someone who leads with a lot of sexuality. I'm usually in the back of the room, and I struggled with owning my confidence when I was in my early 20s. And I think in my 30s, I just kind of said "Fuck it," and I gained a lot of confidence. Playing this character was a lesson in how to use my body and use confidence as a tool instead of it just being showcased. I did study some adult-film stars from the '70s and how they moved their body and their faces. I also studied Dolly Parton and her interviews. She had this genuine sweetness to her but she also looked gorgeous, and she used her body in a specific way — with intelligence and thoughtfulness to it. It wasn't an accident, the way that she looks and the way that she used her hair and her outfits. I think that Bobby-Lynne, in that same way, used what she had to her advantage instead of using it as something that was for men. She was using it for herself.
She has the best one-liners in the whole film. How do you perfect the delivery? 
I try not to think of them as one-liners or else it would be too much pressure. It all has to come from a character, and I think my favorite thing about playing someone who was from a tiny town in Texas is there's a facade of how you say something and then underneath what you're saying is really something else, like "Bless your heart."
What superlatives would you give your castmates?
Oh, gosh. Jenna Ortega is probably the easiest one: most likely to win an Oscar. She's so insanely talented, and we do all believe that she's going to take over the world one day. I've already asked her to remember me when I'm old and she's Meryl Streep. Scott is most likely to always pick up the phone. Is there a superlative for the most loyal or the biggest heart? Martin would be most likely to have a long conversation. I'd have conversations with Martin, and 45 minutes just goes by and we're still talking. He's the best conversationalist. And Mia is mostly likely to become the next Tilda Swinton. She's going to be a legendary psychological-thriller movie queen.
Tell me about directing your first feature film, September 17, later this year. 
It's been four years in the making. A friend helped me write the original draft four years ago, and then COVID happened. For the past two years during the pandemic, I worked on it solo and just turned it into something a little bit more personal. It's a tricky movie that I hope I can pull off, but I'm also confident that I know these themes and these ideas pretty well.
What's so significant about September? 
It's my month of hope. Thirteen years ago, I made a decision that I was going to pick a day, and I was going to make sure that that day was the day I never was mean to my body or to myself again. It's just an annual reminder that I've made that choice.