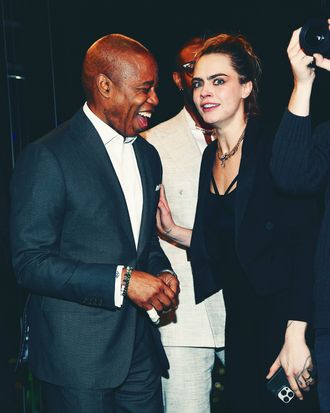 Just two buds, partying in honor of banks and credit cards.
Photo: Kristina Bumphrey/Shutterstock
New York City's self-proclaimed "nightlife" mayor had a Monday night that sounds like the result of a deranged Mad Libs: Eric Adams was seen partying with Cara Delevingne, though I use the word partying loosely.
Adams is mostly just standing still while Delevingne dances with a bottle of prosecco. (It is, of course, Della Vite, the prosecco brand she co-owns with her sisters.) She has her hair up in a way that's familiar to me — the classic "I have reached the point of inebriation where I am prioritizing comfort over chicness" messy bun. Adams looks like a prom chaperone. And that's New York for you, baby!
What could possibly have brought these two together on a Monday night? An Oscars after-after-party, perhaps? Nope, just an event hosted by Wells Fargo and Bilt Rewards celebrating their recent partnership: a credit card that gives people rewards for rent payments … cool. Other attendees included Dr. Oz, Floyd Mayweather, and a bevy of Instagram influencers. There were performances by Wyclef Jean and A$AP Rocky, whom you can hear in the video above. (Rihanna and her baby bump were not in attendance, obviously.)
"Everyone who moved to Florida, get your butts back to New York City because New York City is where you want to be," Adams said onstage, according to the New York Post. Yes, nothing says New York like a corporate-sponsored event celebrating the marriage of a bank and a credit card, all in the name of rent. You know, like the musical!
Anyway, Wells Fargo probably doesn't want you to remember its $3 billion lawsuit from 2020, which came as a result of employees creating millions of fraudulent accounts to meet sales goals. And Adams probably doesn't want you remember three days ago when he announced plans to remove homeless encampments across the city. But yes, New York City is absolutely where Eric Adams and Cara Delevingne want you to be!