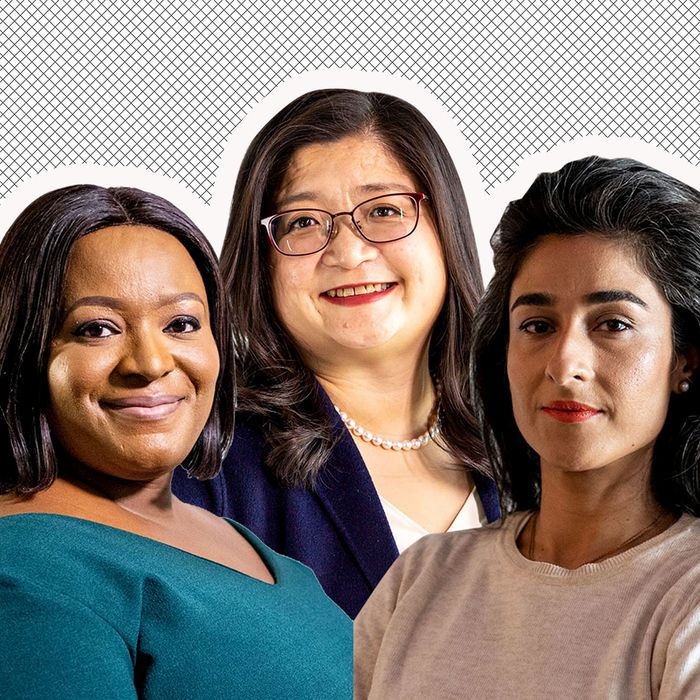 The first-place awardees for each category, from left: Temie Giwa Tubosun, Charlotte Wang, and Fariel Salahuddin.
Photo: Courtesy of Cartier Women's Initiative
For the 15th annual Cartier Women's Initiative, nine previous fellows were recognized for their work over the years at the Impact Awards. The CWI is a yearly initiative that honors and provides financial assistance and networking opportunities to women-led businesses all over the world. This year, the nine awardees were recognized in one of three categories: Improving Lives, Preserving the Planet, and Creating Opportunities. Here are some women who are changing the world.
Improving Lives
Rasha Rady, 2020 fellow, Middle East & North Africa: CHEFAA has created an AI-powered, GPS-enabled digital platform to help chronic patients order, schedule, and refill their recurring medicines regardless of location or income.
Nneka Mobisson, 2017 fellow, Sub-Saharan Africa: mDoc is a mobile platform that provides people living with chronic disease with 24/7 access to virtual health-care providers.
Temie Giwa-Tubosun, 2020 fellow, Sub-Saharan Africa: LifeBank is a medical distribution company that uses data and technology to discover and deliver essential medical products to hospitals in Nigeria.
Preserving the Planet
Joanne Howarth, 2020 fellow, South Asia & Oceania: Planet Protector Packaging manufactures environmentally responsible insulated packaging made from sheep waste wool for the transport of temperature-sensitive goods.
Lorna Rutto, 2011 fellow, Sub-Saharan Africa: EcoPost manufactures durable fencing posts using plastic waste, an environmentally friendly alternative to timber.
Charlotte Wang, 2020 fellow, East Asia: EQuota is an energy-optimization company that combines artificial intelligence and big data to deliver energy-efficiency solutions.
Creating Opportunities
Carmina Bayombong, 2019 fellow, South Asia & Oceania: InvestEd is an investment platform providing student loans to underserved youth using a proprietary credit-rating algorithm.
Carol Chyau, 2009 fellow, East Asia: Shokay produces children's clothes and accessories, home furnishings, and yarn using yak fiber purchased directly from the region's herder.
Fariel Salahuddin, 2019 fellow, South Asia & Oceania: UpTrade offers a bartering service enabling off-grid rural communities to exchange livestock for solar-powered water pumps and home systems.
The first-prize awardee of each of the three Impact Award categories was awarded $100,000 in prize money, while the second and third runners-up received $60,000 and $30,000, respectively. Each of the nine awardees received human capital support valued at $10,000.