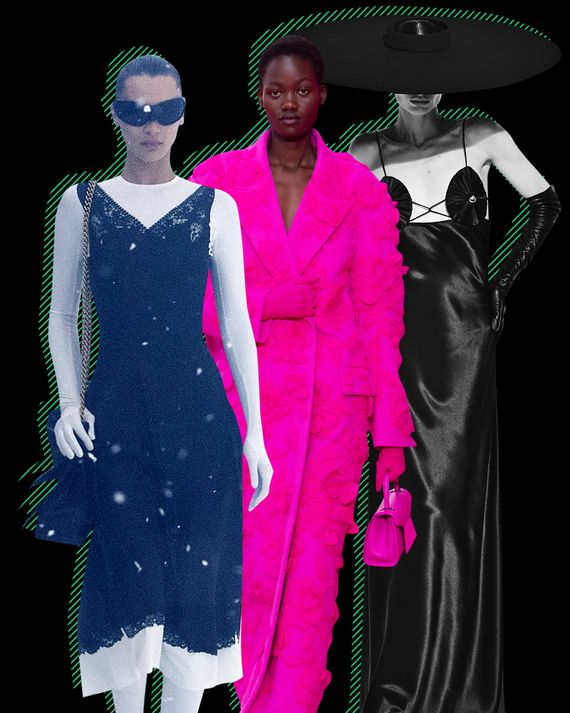 Photo: Courtesy of Balenciaga, Valentino, Schiaparelli
In one way or another, the designer formerly known as Demna Gvasalia uses allegory in his presentations for Balenciaga. His spring 2020 show, staged in a parliamentary-style chamber, was an allegory about power; the next season, he confronted religious visions, with apocalyptic scenes that featured models appearing to walk on water. Not only are his allegories topical but occasionally they are also hilarious, like last season's "red carpet" show, which pierced celebrity with rare precision. A short time later he dropped his surname and became just Demna.
But, inevitably, his shows are also deeply personal. It's doubtful that another creative director at a luxury brand could have conceived a show as actual and disturbing as the power show. Demna grew up in Georgia, in the former Soviet Union, and he is the only designer from that part of the world to achieve major success in the West. He also, with his family, experienced the terror and uprooting of civil war, in 1991–93, and for a time was a refugee in Germany.
So what's happening now in Ukraine is, for him, more than a bunch of images on a TV screen. On Sunday, in a massive building at Le Bourget airport, he effectively created an artificial snow dome measuring some 2,200 square meters with concealed wind machines and the audience separated from the seemingly infinite white space by a glass partition. The models, some in high heels, others in sneakers, trudged around the huge perimeter on a well-worn path in the (fake) snow, their garments whipped by the wind. Some models carried plastic garbage bags, as if stuffed with their belongings, and one model had closed her white fur coat with a length of shipping tape. The music was Dvorak's soaring Slavonic Dances.
Given that similar scenes are now coming out of Ukraine — of people made homeless because of Russian bombs, standing in the snow with their bundles, boarding trains for Poland and Germany — the parallels were striking and of course profoundly disturbing. In fact, Demna said backstage afterward, that the original aim of the show — planned months ago — was to reflect on climate change, that in the future people "may have to go somewhere to have an artificial experience" with snow. But real events intervened. He said he considered canceling the show but felt that would amount to surrendering to "the evil" that was inflicted upon his family and is now being inflicted on Ukraine.
Watching the models through the glass, I had a mixture of emotions. On the one hand, the sight of their mostly black-clad figures was beautiful, like something out of a movie. Indeed, in terms of fashion, the show wasn't a significant departure from Demna's previous styles, which might be a fault in itself. It really wasn't about clothing. But, on the other hand, as the show progressed, I grew increasingly uncomfortable. I put down my cell phone. I thought, Why am I making videos of people suffering? For that is what I was doing — and at a time when the news is filled with horrific images. I thought of Karl Ove Knausgaard's brilliant 2015 essay, "The Vanishing Point," in which he considers the very modern phenomenon of images and the news and what happens when "two levels of reality converge and become one." At which point, he said, you understand that the image is of a real person.
I relayed my reaction to Demna and said that I gradually saw the models as migrants, especially after the music switched to an angry electronic beat (by the sound director BFRND).
"That was very deliberate," he replied. "I was seeing myself walking, on a path begun 30 years ago when I was in the shelter — like Ukrainian boys and girls with their parents now — not knowing when the ceiling would fall on your head, and standing here today and doing this show. That path, if I could visually express it, is like that, half-naked people walking through that wind. It's personal. But, yes, I think it can evoke references that we see today."
But can it? Is there not a moral dilemma with expressing the miseries of war in the context of a fashion show? I recall the media firestorm over John Galliano's so-called "clochard" show for Dior, in 2002, when the house was widely accused of trivializing poverty. Also, the industry's attempts at good will and unity — giving out T-shirts to everyone in the blue and yellow of the Ukrainian flag, as Balenciaga did — can strike some as a marketing ploy.
Later, on the phone with Demna, I pressed the morality question. He said he did not think that Balenciaga was trivializing the situation. Nor was there a discussion with executives about whether it was wise to allude to trauma — showing, for example, a model in underwear covered only by a small blanket. "I think it was okay because it's my personal story," he said. Moreover, he felt that one "is obliged" to make strong statements. And here I have to agree with him. We've entered radically new territory since Galliano's 2002 show, thanks to social media and vocal activists on all fronts. Plus, the industry has never had a designer of Demna's background and the vision it helped to shape. That difference matters. It's also interesting that the show was so cinematic. It could point to what is to come for Demna.
Sounding a little distressed, he then revealed that during the show or the post-show clamor, someone had stolen his bag (with credit cards and other things) from his private dressing room and also stuffed his yellow-and-blue T-shirt into the trash can. It obviously unnerved him, and he was headed to a police station to file a report.
Before the Valentino show, Pierpaolo Piccioli explained why he had chosen to make all-pink clothes, together with a small segment of all-black styles: "Once you go to monochrome, you concentrate on other things — faces, materials, volumes."
Frankly, I think that's nonsense. It struck me as a bit Zoolander- or Monty Python–ish — a room and luxury goods coated in a vibrant shade of Pepto Bismol. (Apparently the color is a tie-in with Pantone.) If Piccioli had designed a conceptual collection around a single color, as others have done in the past, the idea might have worked. But the collection was leaden with familiar and fussy looks. And it was annoying that Piccioli put the guys in sneakers while the girls got stuck with high platform shoes. And though he made a big deal in his January couture show about representing models of different shapes, I counted only one curvy model in his cast on Sunday, despite 81 exits (a problem we've seen generally in Milan and Paris).
Fashion is partly — well, mostly — timing, and that's why Tom Ford and Daniel Roseberry's Schiaparelli excelled. Ford released images of his collection last week, and he smartly blended relaxed tailoring in velvet and wool with athletic elements like sleek hoodies, many in jewel colors. No pink explosion for him.
Among the standout pieces in Roseberry's ready-to-wear were sweaters based on Elsa Schiaparelli's iconic designs, including the style with the bow at the neck; a coat in curly white fleece with an abstraction of a corset (in black leather) embedded in the waist, and chic dark denim separates. Roseberry knows how to add the sensational piece — a black and white polka-dot blouse with lavishly full sleeves, a fitted cocktail dress in black wool with slivers of black satin intarsia — while keeping the whole collection graphically sharp. There's a jazzy vibration to his Schiaparelli, and maybe it's a nod to his American customers. Not a bad thing at all.
More From Paris Fashion Week
See All