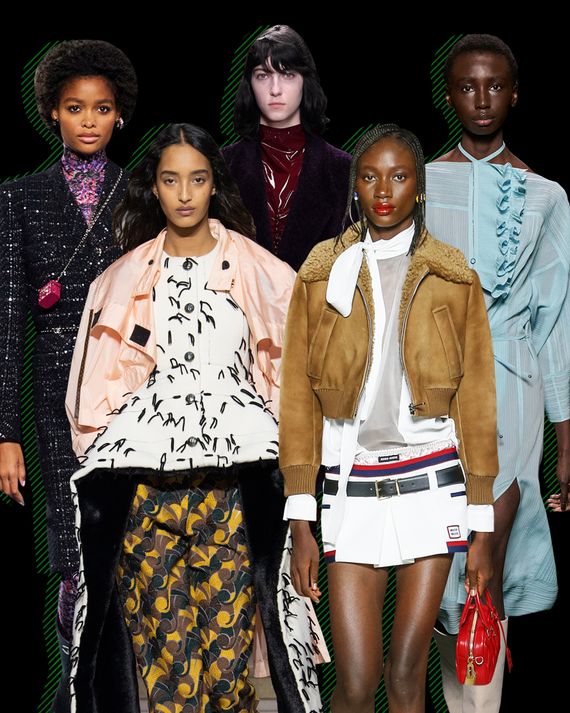 Photo-Illustration: by The Cut; Photos: Courtesy of Chanel, Louis Vuitton, Raf Simons, Miu Miu, Hermes
The Paris shows were notably weak this season, and when I consider why, it's because too few designers gave us a glimpse of the future. It's really that simple. Chanel and Louis Vuitton were like two tortoises refusing to stick their necks out of their well-appointed shells. Chanel's Virginie Viard planted her collection of mostly tweed suits and coats in the early '60s, when girls wore ladylike slim skirts and low heels, and then referenced Gabrielle Chanel's treks to Scotland, with waders and woolen hosiery.
Never mind that several luxury brands, like Prada and Balenciaga, have already done versions of waders. And never mind that Viard's effort to give an Anglo-French sweetness in her suits and knits came across as dowdy. All that can be overlooked. Her real misstep was depending so heavily on the house's past — and this is contra everything that Chanel herself stood for in her career. As Janet Flanner's well-known profile of the couturiere, in 1931, revealed, and as the excellent retrospective at the Palais Galliera in 2021 confirmed, Chanel hated the past. Her focus was on the new and exciting. Surely, that spirit should be the first quality of contemporary Chanel — and not how well Viard interprets the Chanel tweeds and trimmings, which she does well enough.
Of course, fashion houses have rich histories to draw upon, and I'm not saying that designers shouldn't. Look at the amazing work that Demna Gvasalia has done at Balenciaga, whose show last July in the original maison sent haute couture into a new orbit. I'm saying that without a plausible future sense, a highly crafted runway collection can seem little more than a stream of eccentric and expensive products.
That was the problem at Louis Vuitton, held in the grand central aisle of the Musée d'Orsay — probably the most controversial part of Gae Aulenti's design of the former train station, because the placement of sculpture and high-and-low display boxes suggested a necropolis. Nicolas Ghesquière's idea for his oversize blazers and cardigans worn with slouchy pants — or big rugby shirts heaped over party dresses and tied at the waist with another garment — was teenage dress. Or, as he put it in his show notes, "a certain stylistic idea of adolescence." Ghesquière is actually capable of creating new and interesting stuff; he has done it many times before. But the language in the statement makes him sound like an old codger, and for that I blame Vuitton's communications staff.
Nonetheless, there was something fusty about this view of adolescence, which included references to school uniforms and which curiously showed very little bare skin — a most uncharacteristic quality of today's youth. The use of rich materials and crafts, like Lesage embroidery, made a lot of the pieces seem like status objects and not necessarily related to real lives. And though a group of oversize shirts embroidered with portraits of young people — the work of David Sims — was striking, I didn't see their relevance. Sims made the portraits in the '90s, the era when he and Raf Simons created the landmark book of portraits of young men, Isolated Heroes. And the look then — raw, minimalist, urgent — was indeed something new.
At the end of the Paris shows, only a few collections offered a future sense. They are Miu Miu, Hermès, and Simons, who actually released his collection digitally before Milan, but I'm mentioning it here because of relevance.
Miu Miu was the best show in Paris in terms of expressing the attitudes of young people and indicating new directions. And it was funny that on the same day as Chanel, Miuccia Prada opened Miu Miu with tennis skirts and cropped polo shirts, the models' knee socks crunched into satin ballerina slippers. So much more realistic than Chanel's country-mouse wool tights and black patent kitten heels, and certainly cooler.
But in other ways, Miu Miu was out to spoil bourgeois decorum, whether with ultrashort tennis skirts (shown with the waistband of boxers), a semi-sheer polo shirt topped with a debutante's snow-white fur collar, or a charcoal tweed suit reduced to a cropped jacket and a pair of boy shorts, with gray tube socks stuffed into pale pink ballerinas. A few years back, Miu Miu was too wacky to be believable. Now, it has a powerful motor. Just as snarky as Prada's riffs on country-club attire were tough-looking leather pieces — again, those low-slung pants but with double belts and a kind of engineer boot, the tops folded down.
Nadège Vanhee-Cybulski began designing her Hermès collection months ago, when Paris was cautiously reopening, yet relatively few tourists were around. "I had this fantasy of creating a new Parisienne," she told me. "I was thinking of the fear of today and how it can stop us from being innovative, and I was also thinking of sexiness." The over-the-knee socks, shown with low-heeled suede boots, were a nod to Jane Birkin, who was known for wearing jeans with tight socks. But the look was also a nice change from the habitual practice this season of showing thigh-high boots and monster platforms. And the modest suede boots are fresh just as they are.
Although Vanhee-Cybulski showed far too many knitted shorts and bodysuits, some with frilled necklines and with a suede belt that featured a new, curling H buckle, these trim outfits were a welcome break from the oversize blazers and thick sweaters we saw everywhere. And they fit with a new-mode Parisienne. I also like how Vanhee-Cybulski quietly subverts Hermès's conservative image while challenging its ateliers — for example, with a pleated black skirt in alternating strips of supersoft deerskin and knitting. Her breezy blanket coats and shearlings, one in a dusty shade of azure, also go against the tendency of luxury brands to show off their techniques. Or manipulate the simplest forms. For that reason, her clothes looked especially right to me this season.
Simons's collection was distinctive in just about every way. First, the silhouette was unexpectedly narrow, with wool capes falling straight from the shoulders and, in some cases, from the matching cap it was attached to. Second, his materials were predominantly shiny and complex — from low-sheen, low-pile wools to high-gloss coated fabrics. Some people assumed that a slim black dress under a cape was vinyl, or something equally kinky, but it was a glazed fabric. A long, nightie-like dress caused the same confusion — but, no, calm down, it was not latex. Of the wool Simons used for the austere capes, as well as some coats (and which Stephen Jones used for the modish Helmut-like caps he created for the collection), Simons said he liked it because "it looks like material you haven't seen before." In fact, it came from an archival swatch.
Third, the colors were lush — deep purple, tobacco brown, azure, forest green, royal red. Simons said an influence was Pieter Bruegel the Elder's painting Netherlandish Proverbs, from 1559, and you can see it in the way Simons used the brighter colors as flashes against the warmer tones, an effect that was simultaneously happening with the glossy fabrics.
From the Middle Ages to mod. Well, maybe. The results were splendidly hard to read, though the lines and the formidable future sense were in harmony with Simons's previous work. He once again showed sporty blousons, all black, in various lengths. But if one full-length version, with a cabbage-like pouf at the shoulders, seems Balenciaga-ish, that's because it is. Simons looked at a fancy style of Cristóbal Balenciaga's and did his own abstraction. There are lots of ways to sharpen your own ideas while staying alive to the present.
More From Paris Fashion Week
See All