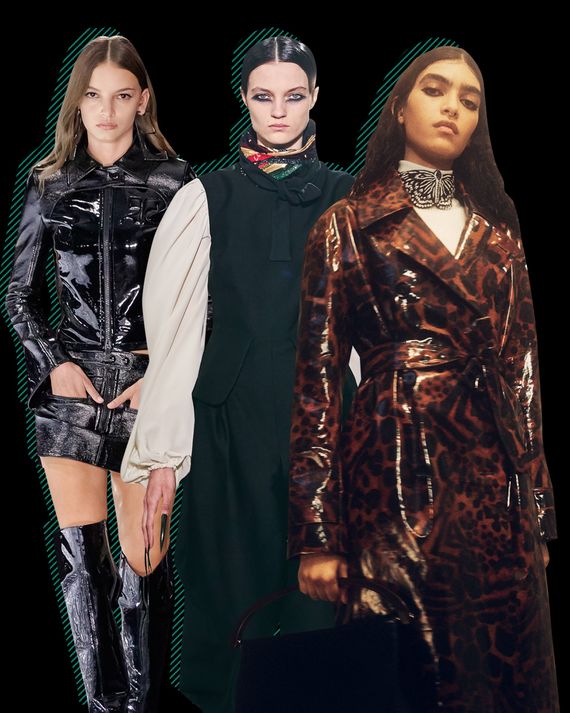 Photo-Illustration: by The Cut; Photos: Courtesy of Courreges, Rochas, Dries van Noten
In the late spring of 2020, designers expressed the hope that things wouldn't return to "the way they were" once the pandemic was over. As masks now come off in France, that hope has all but faded. The shows are as elaborate and chaotic as ever, with lines of black cars delivering guests and huge, screaming throngs of young spectators.
As he has done for most of his long career, Dries Van Noten went his own way. The Belgian designer, who has not staged a live show since before the pandemic, took over a private mansion in Saint-Germain, just down the street from Karl Lagerfeld's hotel particulier. This house, Hotel de Guise, has been in one family for generations, with members still living on the upper floors while renting out the rest for parties and events. "The grandmother died in the '60s, and nothing has changed since then," Van Noten said as we climbed the stone stairs. The place was hardly a ruin. On the contrary, it was simply aged, with enormous flaking ceilings, poky hallways, an old bath with a water tank, and the novelty of a laundry room. And it was in the middle of a very chic neighborhood, an amazing set for a designer's imagination.
Van Noten took over all the rooms on the first two floors, including the laundry, where a leopard-print blazer was displayed on a mannequin with a gold-chain necklace set with shells and a hunk of agate. In a closet hung a black coat made of 44,000 tiny pieces of leather — sequins, he called them — forming a snake pattern. On a stairway, looking out of the gloom, was a vintage mannequin sporting a choppy wig and party makeup, with a blue-sequined, feather-filled jacket that cocooned her frame. At her neck, a mass of diamante sparkled.
Few designers have used the restrictions imposed by the pandemic to exercise their creativity as well as Van Noten. He has done smart films, including one for this collection, by the documentarian Lisa Immordino Vreeland, and he has taken risks with his designs. This season, he also brought out his first beauty line, including fragrances, a project he began three and a half years ago. They too were on display in the house.
The setting made for an intimate and immersive experience. Strikingly, an inspiration for the collection was the work of Carlo Mollino, whose name also surfaced at Bottega Veneta. "The way he filled his apartment, though he never lived in it — one big cabinet of curiosities," said Van Noten. "Things that had nothing to do with each other." Another touchstone was the erotic sound of the Italian legend Mina, who is still making music at age 84. "That you still want to create at that age is inspiring," he said. "So it was Italy — a lot of Italian things."
Italy certainly explains the sense at times of things being overdone — a very rounded-down jacket in a blue porcelain print with matching leather pants; the amount of large-scale animal prints and jacquards (giraffe, leopard, zebra), sometimes in layers or sharpened by a bright-red leather turtleneck; the rich textures and accessories, including large, beaded butterfly chokers. It was amazing to see how Van Noten extracted the elements of Mollino's world, which is overwhelming in its range of interests, and applied them to his ideas.
Maybe it was the decadent-looking house or the mannequins lurking spookily in a corner — or kissing in the bath — but an erotic undercurrent was unmistakable. It also fits with the post-pandemic vibe, though few designers have embraced it as knowingly as Van Noten. He showed two slim dresses — one in a red silk print with a tie going around the neck and the other in black wool with a deep V-neck and slender, rhinestone-paved straps — that seem to be falling off the body. He then contrasted that ultra-femininity with gorgeous masculine-inspired tailoring — an oversize blazer in navy jacquard, a sleek and plain double-breasted coat in a very matte Japanese wool. It's a rare thing today to enter a show, or a stage set, and come away with the feeling of discovery, and that's just what Van Noten offered.
On a square black runway, massed in the center with crushed soda cans stripped of their labels, Nicolas di Felice put on an excellent show for Courrèges, where he's been the creative director for about a year. Felice obviously has a handle on Courrèges's modernist story and how it relates to dress today — and, best of all, he skips over the corny space-age references. The strongest looks in the show were puffers, micro-minis with either taut knits or cropped jackets that matched both the mini and great-looking over-the-knee boots. What's missing? Felice, who once worked for Nicolas Ghesquière, is so good at sharp, minimalist forms that you long to see him do something in the same vein with color, and I don't mean a spot of Courrèges red or yellow.
The young designer Charles de Vilmorin is in his second season at Rochas, and though he showed only 30 or so outfits, he was utterly lost in a weird sea of signifiers, from romantic flounces and poet's sleeves to goth, clawlike black nails. I can't tell you what Rochas stands for nowadays, or why the brand matters, and Vilmorin doesn't seem to know either.
More From Paris Fashion Week
See All