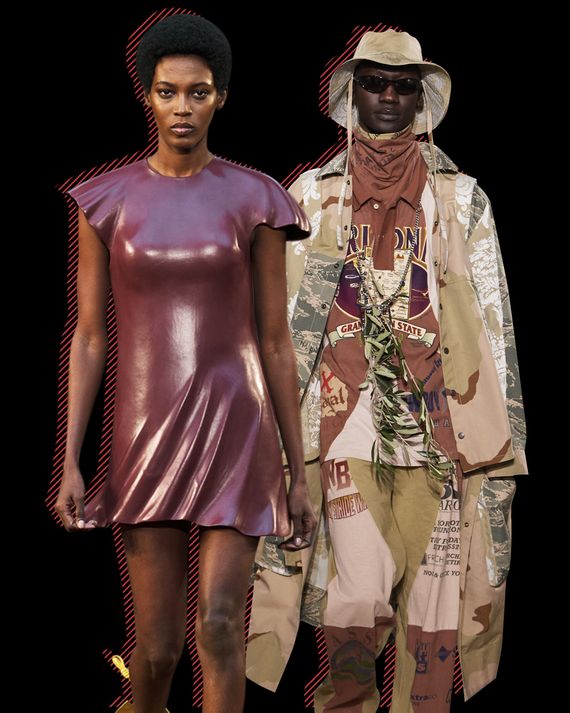 Photo: by The Cut; Photos: Courtesy of Loewe, Marine Serre
Before the start of Jonathan Anderson's outstanding Loewe show on Friday at the Paris Tennis Club, a friend and I were marveling at the beautiful boxes that luxury objects come in. At the turning point of the Industrial Revolution, in the mid-1800s, when capitalist culture was exploding, the box was quite a phenomenon. Every object — jewels, scissors, calling cards — had a special case, a home within a home stuffed with domestic objects that reflected the goals of the middle classes.
Anderson's collection was effectively presented inside a box, a square space lined with chocolate-brown walls; and afterward, he said that was his intention. The audience sat along the walls, leaving the center open, apart from several giant gourds made from leather by the artist Anthea Hamilton, whose work Anderson admires. They were like asteroids that had crashed into his pretty box.
Then the show began: three mini dresses, in chocolate brown, light pink and blue, their hems seemingly ruffled by a breeze, followed by two dresses with the shape of a small automobile trapped in their hems. The minis were actually made of leather that had been soaked in water and molded onto a form in order to simulate the movement of the garment, while the car dresses, we later learned from Anderson, referenced the transition from the industrial age to the early 20th century. Hence the tension of the fabric against this then-revolutionary invention.
I must admit that I didn't think about the Industrial Revolution and the rise of the modern period — in art, design, technology — but it's about time that a contemporary fashion designer did. It's extraordinary mental ground for someone to ponder and play in.
And considering how much we obsess about technology and the speed of change, it makes sense to look at an earlier big shift of thought. Anderson rooted his previous collection in surrealism and the new one is a continuation of it, though the mood has darkened and the styles are more disturbing and perhaps difficult to embrace. For that reason, among others, I liked the new clothes and accessories much more.
Anderson used the word "primal" to characterize the collection's overall difference. I would say it's more stripped down, essential, and in a way, his designs feel more powerful. One of the standout looks — certainly a tension point — is a dress with a long-sleeve, turtleneck top in dark-brown latex with a brown shearling mini, a swag of fur to one side. The shearling obviously references Méret Oppenheim's fur cup and saucer (1936), while latex is controversial in its own right. It has both sexual and medical and protective connotations. And the dress has something of a tough look about — the skirt portion looks like Tarzan's loin cloth — that makes it strange and unsettling, too. There were also suede pants with an added flap of shearling around the waist. Embedded with a bit of wire at the edge, the fur flap spread away from the body — another erotic gesture.
The show had a subtle historical progression — from the wind-whipped leather shifts (the winds of change), to cars snagged awkwardly in hems, to flowing velour dresses with 3-D printing of emancipated female figures. "The technology becomes higher and higher," as Anderson said. He also tracked, in both subtle and explicit ways, the evolving perceptions of women in that crucial period — from rigid forms (when women's clothes were incredibly complicated and made them static objects) to their moral and sexual independence. Anderson used balloons as a motif, for a print and as witty, Koonsian adornment on a pair of draped jersey dresses.
And what are balloons but female bazooms.
You can sort of get distracted by all the nonsensical and technological pieces — like common industrial-carpet padding mounted onto leather — but in fact, everything was balanced by something quite ordinary, like wonderful, homey plaids and wools. The Irish-born Anderson has been creative director of Loewe for nearly a decade, and he has tried on various styles and crafts, sometimes in excess and occasionally without a clear, hard-driving contemporary vision. With the last two collections, though, he has found his voice — and, in the process, raised the bar for fashion.
Marine Serre staged her fall show at Lafayette Anticipations, a newish exhibition space in the Marais for young talent founded by Galeries Lafayette, the department store. It's also the site of the first exhibition of her work, and because the Marais is flooded with people on Friday nights, the door scene was nightmarish, with many guests deciding to bail. Still, the hassle was worth it, with Serre — in a protective mode — showing close-fitting garments in regenerated tartans, frayed denim and velour that covered the body neck to toe. The best bits were infused with punk, and included weird, one-of-a-kind patterns and repurposed belt hardware for cool adornment.
More From Paris Fashion Week
See All