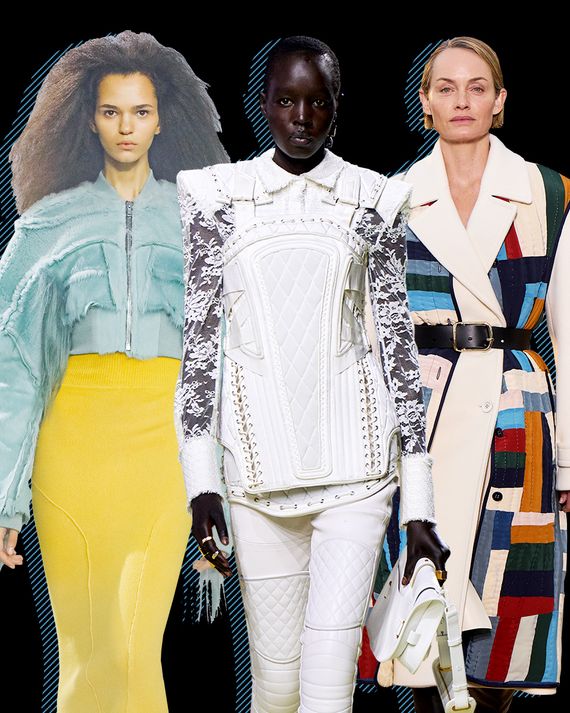 Photo: Courtesy of Rick Owens, Balmain, Chloe
Picture the scene. A model is swanning down the runway in a pointy-shoulder black jacket that suggests she just left a Batman convention, followed by another girl in a dull-silver gown who, instead of a purse, is toting a small fog machine. The fog completely envelopes her in a cloud. It becomes so thick that nobody can see a thing, just the barest outline. The photographers start howling. Meanwhile, Mahler's Fifth Symphony, whose second movement someone once compared to the sun bursting through storm clouds, is turning the audience to mush.
Somewhere backstage, the conjurer of this frenzy, Rick Owens, was surely smiling to himself. For who hasn't wanted to play Zeus, with lightning at his fingertips, or at the very least Cecil B. DeMille? Or, for that matter, dreamed of walking down a catwalk in a London-worthy fog to clamorous applause? Owens must have savored the trip.
His shows often involve special effects. There was a time when pairs of female athletes were strapped to each other, butts to faces, as one woman, literally and figuratively, carried the burden of the other. But Owens also knows how to do a lot with a little. Those were just portable fog machines, after all. Besides, he's way too cool to get lost in the theatrics. He still has to deliver the clothes, and triumphant Mahler or not, this was a remarkably good collection.
First, there was the spree of coats, from slim shapes in wool with extreme cowl necks pulled over the shoulders to snug jackets in leather to tent-size puffers with sleeves that swept to the ground. There were also tough-looking leather jackets with a fringe of goat hair running the length of the sleeves. In his show notes, Owens joked that the coats and tunics in alpaca felt recall the felts used by Joseph Beuys, "whom I've referenced ad nauseam." But in their austere lines, some of the coats, including the mantles, suggested churchly garments, while fish-tail skirts and draped gowns — in dull-colored fabrics coated with same-tone sequins — were an infusion of Hollywood glamour and historical haute couture, which is one of Owens's great touchstones and rarely boring.
Second, and more important, the colors in the collection were gorgeous: deep aqua, sunflower yellow, gondola red, and pale pink with orange. Against his beloved mud tones and those puffs of smoke, they looked luminous. It was the same effect of seeing stonework and water shrouded in fog or smoke with light peeking through. Owens has an apartment in Venice, not far from his company's factories. Could that have been the original idea? Canaletto's Venice with dots of red boats on the blue-gray water? Perhaps, but to achieve that effect with clothing on a white-walled runway is something else — and it's why Owens is really an artist.
At Chloé, in the glass house at the Parc André Citroën, Gabriela Hearst put down a thick bed of dirt and in her notes alluded to the conservation practice known as rewilding, turning landscapes back to the wild. As for the clothes, Hearst went heavy on leather — coats; a puffed-sleeve, scooped-neck dress in black; a delicious perfecto style made long and slim (Saint Laurent showed one, too). Inevitably, there was a poncho or two because Hearst tends to do that style at both Chloé and in her own New York–based label, and this season, there was a crafts tie-in with quilters from Gee's Bend, Alabama, who did the long vest for a trench worn by Amber Valletta.
Although this collection felt more substantial than Hearst's previous efforts, it suffered in two ways. The first is that Hearst's affection for sturdy, flat-heeled boots pulls her silhouette downward, making it look bottom-heavy. Chloé is known for a lighthearted, airy, feminine sensibility. Where has that gone? The second is there is still too much similarity between her own label and Chloé. It's possible Hearst is no Meryl Streep of high fashion, able to play multiple roles, but surely she can push her design staff to get out of one groove.
Before the Balmain show Wednesday night, Olivier Rousteing said he started his collection wanting to feel protected — in particular against haters on social media. Rousteing, of course, was an early adopter of Instagram, where he now has 7.6 million followers. Many of his outfits, which in total numbered more than 100, did indeed look armored with plastrons and motor-sports padding and platform shoes on the scale of cement blocks. Though some of the collaged effects, mixed with chiffon frills, reminded me of early work by Nicolas Ghesquière for Balenciaga, my real problem with the show was it was ridiculously repetitive. Scaled back and stripped of some of the comic-book armor, it would have worked better.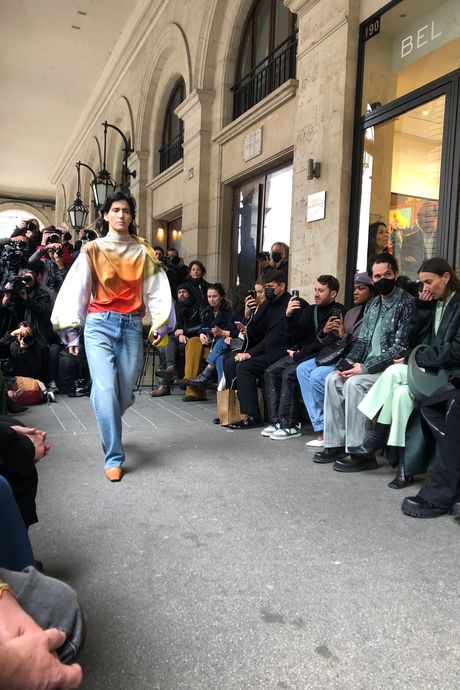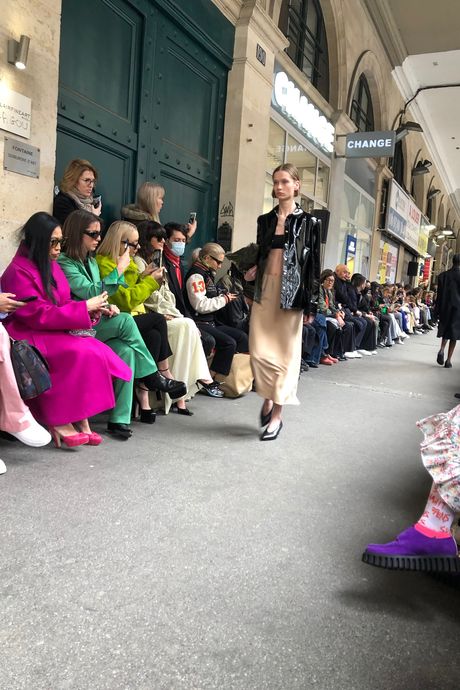 The only cause Marie-Christine Statz promotes with her Gauchere label is lovely, unfussy fashion with a sensual kick. I loved almost everything about her collection, presented in public under the colonnade along the Rue de Rivoli. She showed well-designed pantsuits, an easy coat in mulberry wool with a matching crewneck and soft trousers, and slinky tops with jeans. She somehow infuses her clothes with a natural, modern Parisienne attitude with elements like thin black bandeaux under blazers and a wonderful cotton shirt with a painterly blur of orange and yellow in the front and shown with jeans. The only glitch in this otherwise straight-arrow collection were some jackets Statz insisted on twisting a bit. The effect looked forced.
More From Paris Fashion Week
See All