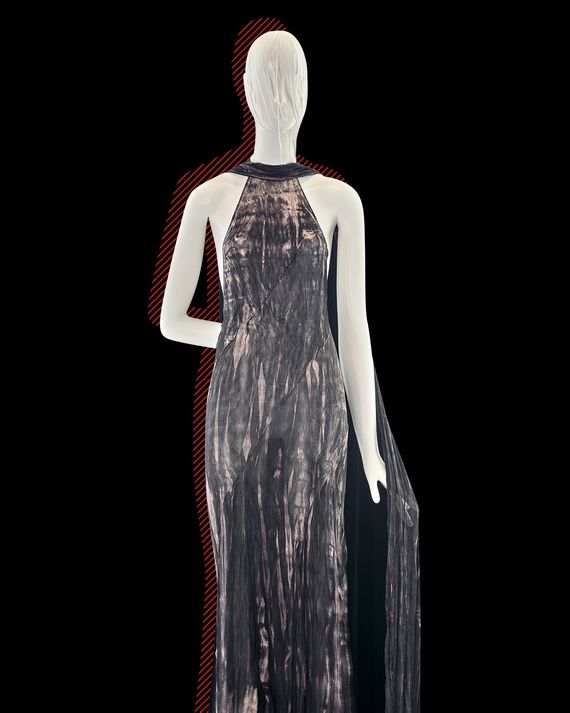 Photo-Illustration: by The Cut; Photo: Courtesy of Olivier Theyskens
Fashion is sometimes like baking bread. It takes heat, pressure, time. And like a good baguette, the results can be outstanding. For the second season in a row, Olivier Theyskens has performed magic using basic elements. The Belgian designer stunned people last fall during the Paris shows when, instead of a factory-made collection, he presented some 20 handmade dresses in silk and chiffon, each using patchwork and bias cutting, their colors blurring in a hard-to-define way. They reminded me of pieces of agate. Yet they were as functional as a stretchy tee.
For fall 2022, Theyskens continues the idea, now adding strips and squares of lace and knitting to his process. Long and irregularly patched, the dresses cling to and swirl around the body in a haze of black streaked with reds, pinks, violet, bronze-brown, and ivory. A predominantly white dress had bleeding bits of blue and deep red. The all-black dresses, including one with a knitted cape framing the front, looked intense. You didn't know where to concentrate your eye: The laces, the crinkly silk, and the faded tones of black seemed to run together.
"It's because the fabric is treated under pressure. It's similar to what Fortuny was doing," Theysken said, referring to Mariano Fortuny, who at the turn of the past century developed a method of hand-pleating silk and then heating it to hold its shape. Fortuny also experimented with dyes. Of his own process, Theyskens said, "It's very simple. It's heat and pressure. It's a lot of natural fabrics, so chemically they react. Then I decide the shape of the dress and I drape it." He gets extra magic by washing fabrics together.
This time, he added two pantsuits, in black and charcoal houndstooth — "because I love the allure of a tailleur," as he put it — and a knitwear catsuit in solid black that affected the look of patchwork by dropping stitches and incorporating tiny beads in places.
Theyskens, who has worked for Rochas and Nina Ricci and is now creative director at Azzaro, says he received private orders for his last collection. And, unlike a decade ago, he also hears from design students who are passionate about doing hands-on, small-batch fashion. "I find this moment very special," he told me. "Also, I want to take time. I don't want to rush."