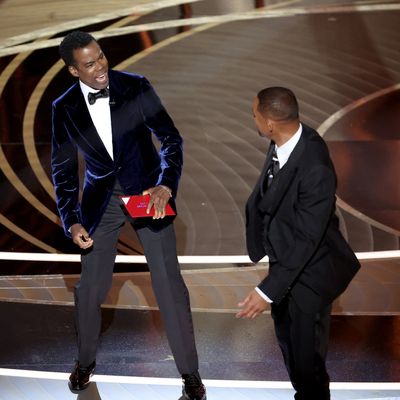 Photo: Los Angeles Times via Getty Images
It's the morning after the 94th Academy Awards and all anyone wants to talk about is Will Smith, Chris Rock, Jada Pinkett Smith, and the Slap heard round the world. If you somehow need reminding: Last night, Smith walked up on stage and slapped Rock after the comedian made a joke about Pinkett Smith's hair loss (she has been open about her struggles with alopecia). Now, people are wondering if Smith will be forced to return his Oscar. According to Page Six, Diddy confirmed the Smith-Rock-slap feud is settled. The LAPD issued a statement saying Rock declined to file a police report over the incident but that they can "complete an investigative report" should he decide to file one later. At 1:10 a.m., the Academy tweeted it doesn't condone violence. Will we ever know rest again?
Anyway, other famous people, along with the rest of Twitter, are still processing and weighing in. On Instagram, Drake posted Smith dressed as the Aladdin genie as homage. Tiffany Haddish told People the slap was "the most beautiful thing" she'd ever seen. "You got to witness in real time what happens in a man's soul when he looks over to the woman he loves & sees her holding back tears from a 'little joke' at her expense," Nicki Minaj tweeted earlier. "This is what any & every real man feels in that instant. While y'all seeing the joke he's seeing her pain." Some politicians tweeted and deleted. Many others spelled Pinkett Smith's name wrong. Even Jaden Smith had a comment. Those reactions and more below.