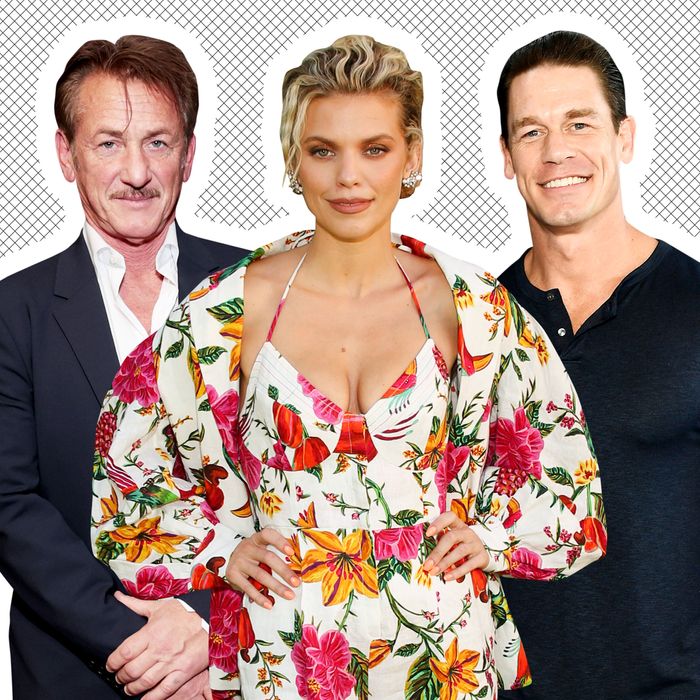 Photo-Illustration: The Cut. Photo: Getty Images
As Gal Gadot once said six days into self-isolation, "Imagine there's no heaven." Well … are you imagining it? It's easy if you spend even one moment online amid a global crisis.
In February, Russia invaded Ukraine. The immediate fallout from Vladimir Putin's "special military operation" has been harrowing. There's fear, uncertainty, mass movement of Ukrainian refugees, and a constant barrage of air strikes killing Ukrainian civilians (an exact death toll is unknown, but it is believed to be in the thousands). But lo! The celebrities have made you some content.
Less than 24 hours after the invasion, actress AnnaLynne McCord posted her own "Imagine" video of sorts: a two-minute spoken-word poem that imagines herself as Vladimir Putin's mom. "If I was your mother, you would have been so loved, held in the arms of joyous light," McCord begins. "Never would this story's plight, the world unfurled before our eyes, a pure demise of nation sitting peaceful under a night sky." The video includes lines like "I would have died to give you life" and ends abruptly after she says, "I would have loved you so, watched you play wherever you go." It's been viewed over 23 million times and, I'm guessing, not in a good way.
Bravo's Andy Cohen responded to news of Russia's invasion by posting a screenshot of the game Wordle where he'd typed in "PEACE." As evidenced by the fact that none of the letters are color coded, he didn't actually submit the word as one of his guesses. He has a streak to uphold!
John Cena thought now was as good a time as any to promote his new show, Peacemaker. "If I could somehow summon the powers of a real life #Peacemaker I think this would be a great time to do so," he tweeted at 5 a.m. Thursday morning. (The New York Times reported the beginning of Russia's invasion of Ukraine at 10 p.m. Wednesday night.)
While some celebrities have expressed concern about how the invasion will impact *checks notes* personal travel to Italy, others seem to have had no trouble booking flights. Sean Penn, for example, arrived in Ukraine less than a week into the invasion. Penn was reportedly working on a documentary about the Russian–Ukrainian conflict, which may be a continuation of a project he started working on in November 2021. The Ukrainian government expressed gratitude for the project in a statement, per Newsweek: "The director specially came to Kyiv to record all the events that are currently happening in Ukraine and to tell the world the truth about Russia's invasion of our country. Sean Penn is among those who support Ukraine in Ukraine today. Our country is grateful to him for such a show of courage and honesty." He left Ukraine a week later.
As the invasion has continued, more celebrities have weighed in — some with more success than others. But most have managed to keep the cringe factor to a minimum. That was until March 17, when, for some inexplicable reason, Bono decided to send House Speaker Nancy Pelosi a short poem to celebrate the holiday — and Ukrainian President Volodymyr Zelenskyy?
The poem read in part, "But in sorrow and fear, that's when saints can appear, to drive out those old snakes once again. And they struggle for us to be free, from the psycho in this human family. Ireland's sorrow and pain, is now the Ukraine, and Saint Patrick's name now Zelenskyy." Oh, Bono, please, next time, save it for the album.
There is certainly space for those with a platform to express solidarity with the people of Ukraine or speak to the importance of paying attention to foreign affairs. Case in point: Cher. But perhaps we hold off on our spoken word and self-promo for now?