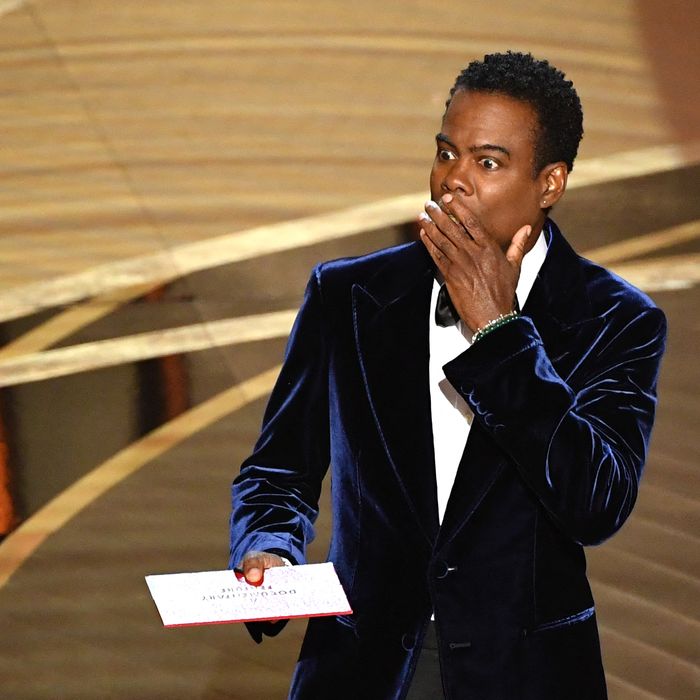 Photo: ROBYN BECK/AFP/AFP via Getty Images
Three days after he was slapped by Will Smith live on international television, Chris Rock addressed the now-infamous Oscars incident. The comedian has spent the last few days out of the discourse raging wild all over social media, and finally waded in on Wednesday, though he didn't say much.
"How was your weekend?" he asked the crowd at the top of his stand-up show in Boston on March 30, per Variety. "I don't have a bunch of shit about what happened, so if you came to hear that, I have a whole show I wrote before this weekend," he said. "I'm still kind of processing what happened. So, at some point I'll talk about that shit. And it will be serious and funny."
Rock reportedly did not address Will Smith or Jada Pinkett Smith at the show. He notably has yet to issue any kind of statement or apology to her for, perhaps accidentally, making fun of her hair loss. Nor has he acknowledged the many people who have alopecia who were upset by his "joke."
Meanwhile, also on Wednesday, the Academy released a statement saying that it had begun "disciplinary proceedings" against Smith regarding the incident. According to the statement, the Academy is looking at Smith for "violations of the Academy's Standards of Conduct, including inappropriate physical contact, abusive or threatening behavior, and compromising the integrity of the Academy." Smith, who took home the award for Best Actor barely half an hour after the slap, has not responded to this statement, but he did issue a public apology to both Rock and the Academy for his behavior on Monday.
Rock and Smith might be taking a step back from the discourse right now, but other celebrities have just started to weigh in. Zoë Kravitz faced backlash for calling Smith out on Instagram on Tuesday, and comedians James Corden, Jim Carrey, and co-hosts Wanda Sykes and Amy Schumer have also come out in support of Rock.