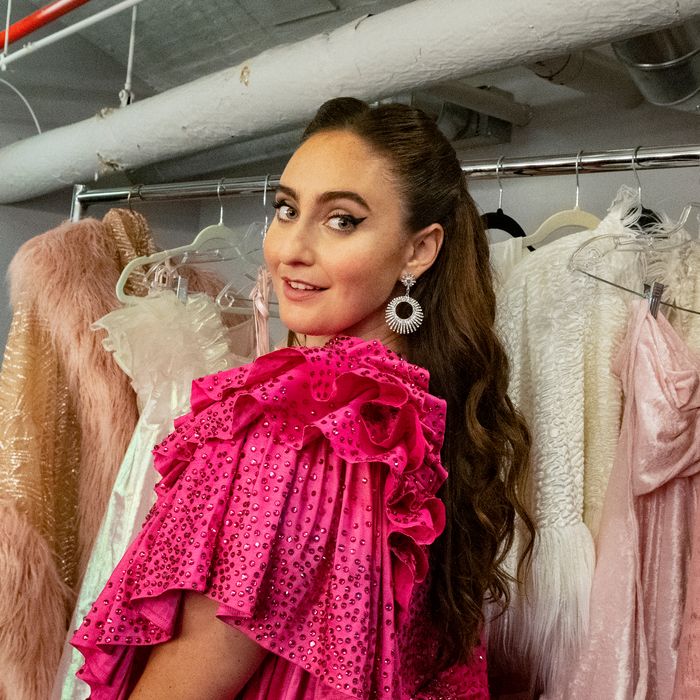 Photo: Aaron Ricketts/Netflix
Cat Cohen is literally gorgeous. Anyone who's seen her perform can attest. In her new Netflix special, The Twist? … She's Gorgeous, Cohen gives a truly genre-bending performance that combines stand-up comedy, musical theater, and the stylings of a mental breakdown. It's a cabaret for broken brains, and it is exactly what society needs right now. The show is an encapsulation of her 20s and further evidence she is an icon, a legend, a star — and a Leo (obviously).
In addition to her new special, the comedian is keeping busy with live shows here and across the pond (she joins our Zoom from a gorgeously wallpapered London hotel room), fresh from shooting a rom-com in Mexico and a pilot episode of a series she hopes will be picked up. She's dropping weekly episodes of Seek Treatment With Cat & Pat, the podcast she co-hosts with Pat Regan. And she's working on turning an article she wrote last year for GQ, "Cat Cohen on Prozac vs. Pleasure," into a feature. "I really want to be a movie star, so I hope that I'll do another movie soon," she says. "I think there's a lot of good stuff coming, but I don't know what it is yet. My DMs are open, as they say." Directors, take note.
The romper you wear in the stand-up special is fully its own supporting character. How do you use fashion to enhance your comedy?
I just want to look and feel as fabulous as possible. And when I get dressed, I want to wear things that are fun and sexy and make me excited to be alive. It's why I've started wearing all these fake diamond bracelets — they just put me in a good mood when everything else is shitty. But yeah, a friend of mine introduced me to Kelsey Randall a few years ago, when I did Late Night With Seth Meyers, and she made me this custom romper. So when the special was coming up, I was like, "Kelsey, let's do another romper. Let's make it happen." She's a genius. She had ten women doing like 25,000 rhinestones by hand. I just always want to be wearing something fun. Otherwise, life is boring.
Something I really love about your comedy style is how absolutely theatrical you are. Like the videos from your childhood that were shown at the start of the special — it feels like you've always been a performer. Have you?
I naturally loved performing. I was outgoing. As I got into my awkward years, I was uncomfortable with myself and didn't lean into that. The journey of finding my voice creatively was about coming back to that little girl, that hope and excitement and joy for the sake of it. Growing up, I played sports, but I also did musical theater. I just kind of did everything. And then I got really into theater in high school and college. I moved to New York, I was gonna be an actress, and then I felt so helpless. I was like, I'm not going to sit around and wait for someone to cast me in something. You know, why me? There's a million talented people here, what's the point?
I fell into comedy through taking improv classes. When I was able to write my own material, I felt so excited. And when I started doing the songs, I was like, Oh, this is what I was born to do. It feels so natural.
You've been working on the show for a few years now — do you feel done with it?
It does feel over, except I'm literally doing it on Wednesday in London. I'm here doing a run of shows for my new hour where I'm working it out, so I'm doing like six of those. And then next week, we're doing this big venue, and we're doing The Twist? I have to go look at my notes and try and remember it. But it'll come back. It's easy. I've done it. It's like riding a bike, baby. I've done it so many times. I'm definitely excited to be working on new material, and I feel so proud of what the show was. It kind of feels like it encapsulates my 20s, because I just — six months ago — turned 30. So now I'm like, What's the next decade? What will it inspire? I don't know.
I drew a really upsetting tarot card yesterday. I'm like, Maybe I'll draw another one before the show tonight. Nothing's really that upsetting because even death is a rebirth. So I've been told. Life is a poem.
I know you're a Love Island fan, as am I. I'd love to know any and all of your thoughts around the show. 
My boyfriend and I were watching it during the pandemic, and we were isolating together. We exclusively talked in British accents; it was so obnoxious. One day, he bought a new set of sponges, which is very exciting during lockdown. And he was like, "Time to welcome our new Islanders." And it was the sponges, and I was like, We've lost the plot. My favorite season, I think, is three. I love Kem and Amber and Chris and Olivia — their little thing was so good. But the early ones have a special place in my heart. I think it's highbrow; it's incredible. I cannot wait for the summer to come. Hopefully, I'll be over here so I can watch in real time. My American friends are like, "We're watching it." I'm like, "No, you're not really watching it because you're ten episodes behind."
So you famously live in New York. What's your ideal night out in New York?
My favorite nights are when I have a show, either at Club Cumming or at Joe's Pub, and I get all dressed up, I do the show, and then afterward, I go for a martini at Waverly Inn and, like, a fucking chicken pot pie — just soak it all in. Every Wednesday, the show really feels like a party. It's finally feeling normal again. So I'll go do the show; I invite friends who are in town to come do a set. And then we stay at the club and drink for a bit. And then we'd go around the corner of this dive bar and drink more and then get McDonald's. I mean, that's pretty much heaven. Or a dollar slice. And then if it's nice out, walking all the way home is so nice. I like walking to and from the show when it's not freezing and listening to podcasts or whatever. I can't imagine living anywhere else. It's the best city in the world, and I feel so lucky.