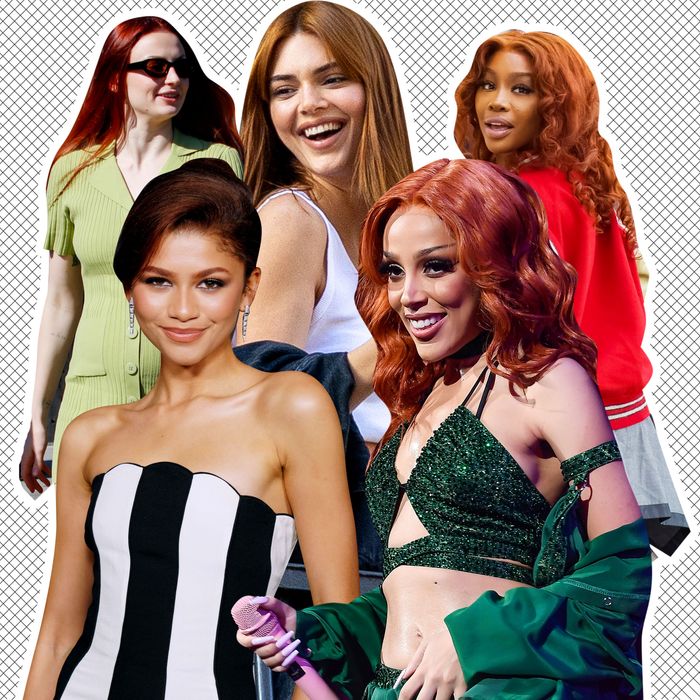 Celebrities seemed quite pleased with their reddish-brown hair.
Photo-Illustration: by The Cut; Photos: Getty Images
Hair color trends come in waves (see: Pandemic Pink, Reopening Bleach Blonde, and Pandemic Pink Part Deux), and it looks as if the copper-hair wave is officially cresting.
During the latter half of last year, all the cool kids on TikTok seemed to be experimenting with the cinnamony-orange shade that's spicier than your average strawberry blonde. But it wasn't until we saw Kendall Jenner, who rarely switches up her hair color, with a new copper do on the Prada runway at Milan Fashion Week that we realized it was hitting its tipping point.
After that, we noticed it everywhere. Miranda Hobbes returned to her signature red for the And Just Like That ... finale. Game of Thrones star Sophie Turner was spotted strolling the streets of L.A. with hair as crimson as her former character's, and a bunch of Euphoria High's 20-something stars have been endorsing the trend IRL.
Zendaya has been hitting red carpets and hockey games with auburn-tinted hair, and in the past week, her co-stars Barbie Ferreira and Sydney Sweeney have revealed new heads of copper hair following the close of the show's second season. Colorist Rachel Bodt lifted Ferreira's formerly dark hair and painted it with various shades of red for some fun dimension, while Sweeney debuted her new hair on Instagram as Penny Jo Poplin, her character in the upcoming film National Anthem. 
Tennis star Naomi Osaka worked coppery hair into her protective styles, and more recently, Serena Williams has been rocking voluminous cinnamon curls with a reddish glow that fans are applauding. On the music front, hair chameleon Doja Cat kicked off 2022 with her shiny copper waves still intact, and the similar highlights in Halle Bailey's locks have been catching the light (even though she's no longer on set filming as a certain famous redheaded mermaid). Singer Kelis was also spotted out and about with a curly, cropped copper cut compete with eyebrows to match, while SZA snapped a mirror selfie with center-parted copper layers.
Long story short, copper is here to let you know it works on every hair texture, length, and style, so if you're looking for a sunny change, this may be the wave to catch and ride right into spring. Scroll through for some more inspiration to share with your stylist.