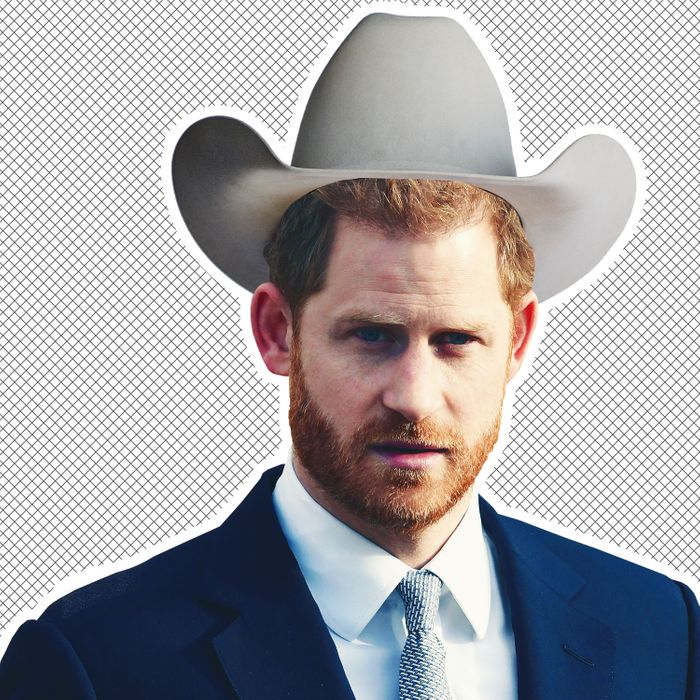 Cowguy Prince Harry.
Photo-Illustration: The Cut; Photos: Getty Images
A huge giddyup to the cowboy Prince Harry, who has just attended what may well have been his first rodeo. Two years (!!) as an American, and he has finally checked it off the bucket list. Our heartiest congrats to this guy.
News of the milestone comes via "Page Six," which reports that the rodeo in question took place in Fort Worth, Texas, on Saturday night, and that Harry wore a cowboy hat. Rodeo secretary Cindy Reid wrote in an Instagrammed photo of the Duke of Sussex, "Just hanging out behind the bucking chutes at the Stockyards Championship … #longlivecowboys #CowtownColiseum … #GIDDYUPSTOCKYARDS #cowtown #texas."
It is not immediately clear what drew the duke to Texas, though "Page Six" notes that Harry "has been experiencing staples of American culture without … Markle lately," attending the Super Bowl with his allegedly favorite cousin, Princess Eugenie, back in February. Many outlets are reporting that Meghan Markle did not accompany her husband to cowtown, possibly because she understands that it is important to have this kind of "iconic American experience" — as People puts it — on one's own.
But always greedy for discord, the Daily Mail claims at least one person found it "shocking" that Harry "thought he could show his face here," considering "he has such a lack of respect for the First Amendment and his wife is such an animal rights activist." To be fair, his characterization of free speech as "bonkers" seemed to have more to do with the way the media invades his family's privacy, but whatever. The actual cowboys seemed unbothered by Harry's presence, with former bull rider and current trainer Cory Melton writing in a since-deleted Instagram post: "We get a lot of rodeo royalty but this is the first prince I've seen. Said he was going to enter the bull riding but the airline lost his rigging bag."
Truly, deeply, from the bottom of our hearts … yeehaw.