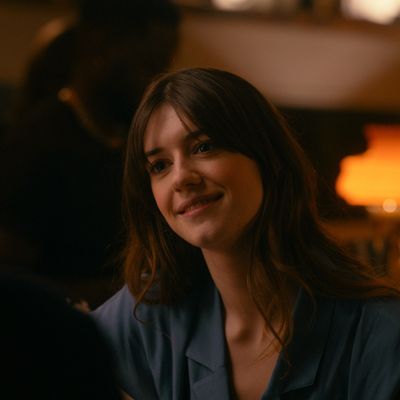 Photo: Courtesy of Searchlight Pictures, © 2022 20th Century Studios
If you know Daisy Edgar-Jones, it's probably from Sally Rooney's cult Irish book turned series Normal People, where she plays Marianne. Since then, the English actress has changed gears from horny to horror with her new role in Hulu's Fresh. Starring opposite Sebastian Stan, Fresh follows Noa (Edgar-Jones) as she embarks on a relationship with a man she meets at a grocery store that quickly devolves into a complicated, life-threatening situation that left me without an appetite for weeks. Ahead of the film's March 4 release, I chatted with Edgar-Jones about the filming process, complicated women, meet-cutes, and bangs.
Horror must be weird to film. What was it like to film Fresh?
I've heard this before, but I feel like when you're working on something that has a horror element to it, the filming process is often very fun and it doesn't reflect what's happening in the scene. We actually had a really great time making it. We were quarantining for two weeks and we all Zoomed with each other and it felt like we bonded very quickly over the shared collective strangeness of being locked in a hotel room for two weeks by yourself.
Your roles are often women in difficult relationships and feature complicated encounters with men. Do you think there's something that draws you to them? 
I'm drawn to characters that are a layered and flawed representation of a real person. I also find relationships fascinating to watch onscreen, be it friendships or romantic relationships. I feel like at its core, Normal People is an exploration of the real effect of meeting that special person and how they can set your life on a course that it never would have gone on.
There's definitely bits of myself that I can see in all of the characters I've played so far. But the thing that I am most interested in is the chance to put yourself in somebody else's shoes. I really liked that feeling of having to think about how it would feel to be that person and depart from myself when I play a character. For Kya, who I'll be playing in Where the Crawdads Sing, her curiosity about the world is something that I hope I have and I was all the more appreciative of through playing her.
Are there things that you learn after playing a character that you take into real life afterwards?
I think there's probably a little bit of the characters that sort of stay with you that are harder to shake. I think it leaves an impression on my accent the most. I can't always shake it very well [laughs].
Can you tell us about your bangs? How long have you had them? How do you maintain them? Do you cut them yourself? 
I cut them and then I got two jobs, so I think my bangs are very helpful when it comes to casting. They have been through many different stages. I obviously had the lockdown bangs, which was me cutting them myself, which wasn't always very successful. My flatmate actually had to cut them a lot, and she did a better job than I did. And then I had to grow them out because Kya lives in a marsh, so she wouldn't have time to give herself a proper hair fringe. When I have a small fringe, I don't wake up with them perfectly positioned, I just hope for the best, really.
So Conversation With Friends is happening. Have you seen anything exclusive about that since you were a part of the OG Sally Rooney series? How do you feel about another Rooney book being adapted?
It's lovely because Alison, who plays Frances, was on set for Normal People. In Ireland, and Dublin, there's a really lovely community of actors. It'd be really lovely to watch it as a viewer and I can just enjoy it and the art rather than being worried about my performance in it.