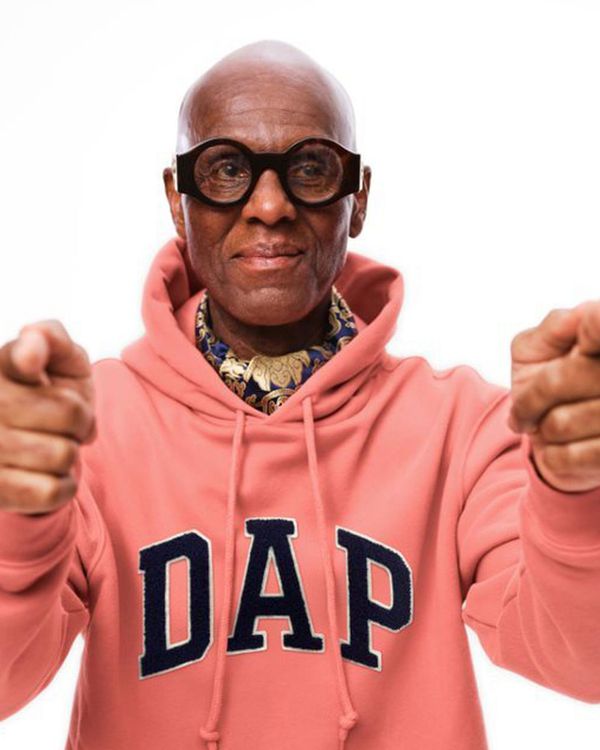 What is it?
A limited-edition hoodie coming this week from designer and fashion legend Dapper Dan, who has reworked the GAP logo on the classic arch hoodie to read "DAP" — a nod to his history of remixing designer logos and materials to create something fresh.
Do I need this?
Yes! And our advice would be to add to cart swiftly. Why? Most recently, we saw Kanye West create what he called the "perfect hoodie" for Yeezy GAP x Balenciaga. That cut wasn't perfect for everyone, but this one may actually be.
Daniel Day, better known as Dapper Dan, is a Harlem legend. Using luxury fabrics to create custom, logo-heavy work, he quickly gained a client base of stars, such as Sean Combs, LL Cool J, hip-hop duo Eric B. & Rakim, and Missy Elliott. By the '90s, luxury houses started suing Dan for his creative use of their brand identities, forcing him to shut down his shop on 125th Street. Years later, after Gucci copied one of his designs (talk about coming full circle), the company partnered with him on an atelier in Harlem, where he still works.
How do I get it?
The first drop showed us that it could be tough (they sold out in minutes.) With all this buzz, resellers and bots will be all set to scoop these up for a profit. To fight for yours, get to the GAP website on Tuesday, March 29, a little bit before noon ET— and get ready to add to cart. The price is $99, only slightly more than the average Gap arch-logo hoodie. While Instagram users and fans are skeptical, it seems like you might have a better chance of getting your hands on this limited-edition drop this time. GAP has linked to a "DAP" landing page where we assume you can shop the hoodie directly once the countdown is up tomorrow at noon, before the resellers and bots. If you missed out before, It's absolutely worth setting your alarm and giving it another try.
What are people saying?
The internet has a sea of people fawning over the salmon-color hoodie, determined to get their hands on the collab.
Did anyone actually get it the first time?
No surprise: This highly anticipated collab sold out very, very quickly. The "DAP" logo hoodie, which launched March 10 at 4 p.m., was, as many Twitter users claim, sold out immediately. Twitter users say at 4 p.m. on the dot, the hoodie wasn't available on GAP's website at all, though a select few were able to get it into their carts before it was removed. The question now is, did anyone get one? Fans are quick to blame resellers and bots, since it seems like the only person who did get it is reselling it for $500. We've reached out to GAP for comment, "The support received from Dan's following has been remarkable, and we can confirm that the hoodie has completely sold out, though unfortunately am unable to disclose any further information at this time."