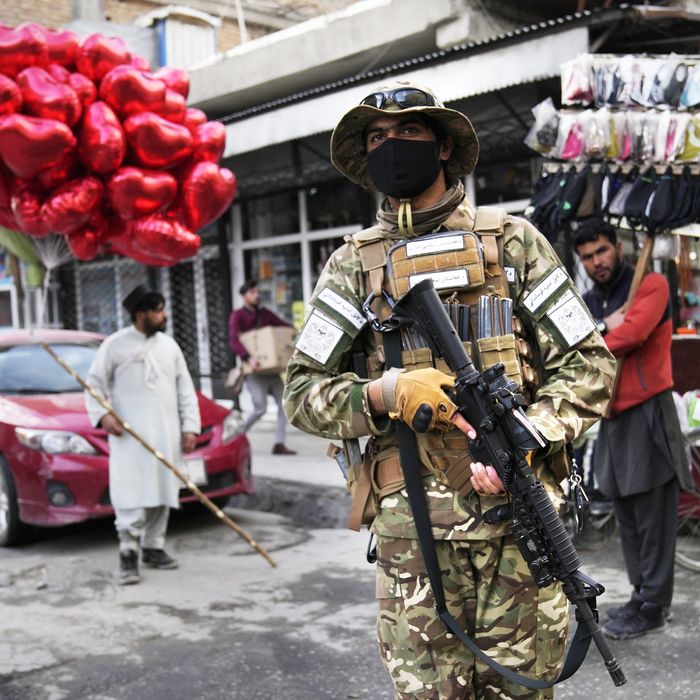 Photo: Hussein Malla/AP/Shutterstock
On Valentine's Day last year, Pari, 19, left her home wearing a red scarf and a black jacket. She met her boyfriend at a fancy restaurant in downtown Kabul. There was a line of couples waiting to be seated when they arrived, and the restaurant was decorated with red roses, balloons, and candles.
"Look at us. We are sitting together. I am so happy to be here," she remembered her boyfriend telling her at the time. They had cake and exchanged gifts. They talked about their future.
Little did they know. On Valentine's Day this year, Pari couldn't leave her house. "It has been months that we haven't met," she said. For her safety, Pari asked to be identified only by her first name.
The Taliban returned to power in August promising a break from the kind of governance that made them a global pariah in the late 1990s. That promise was almost instantly broken when the group began to place limits on how women behave in public. To leave her house now, Pari must ask a male chaperone from within her own family to accompany her. This makes working and going to school difficult for women and dating near impossible.
The group forbids men and women from socializing together outside of marriage or family, and on the holiday this year, Taliban gunmen fanned out across the city popping balloons, ransacking flower shops, and forcibly closing venues that provided space for Afghans to celebrate.
Until the United States abruptly withdrew in August and the Taliban reclaimed power, Pari and her friends knew little else beyond life under American occupation. Growing up, in her mind, the Taliban was history. Afghan kids coming of age over the last 20 years grew accustomed to dating, freely mingling in restaurants and cafés, away from the gaze of their more conservative parents. This new generation dated in secret — like teenagers anywhere might — and played an active role in finding their own mate.
Pari and her boyfriend have dated for more than three years. They met at a doctor's office where he was an intern. Worried their conservative parents would disapprove of them pursuing something romantic outside of marriage, they kept their relationship from them. They would meet on the street and walk together to school, or sit in a cafe without fear of anyone asking questions.
"Before the Taliban, we could freely meet in restaurants. But now [I] can't even go out with my brother," she said, adding that she's heard the Taliban are stopping and harassing any young men and women who are caught together, even if they are related.
The consequences of being stopped can be dire. In the western province of Ghor, an unmarried couple caught riding a motorbike together were publicly whipped 29 times each for the offense. Pari said she's seen videos of Taliban gunmen beating unmarried couples in Kabul. It's difficult to confirm whether or not those videos were real, but the fear certainly is.
"You can't dare date a girl in Kabul right now," said Mohammad, a computer-science graduate who asked that we use a pseudonym to protect his safety. He said he has been stopped at Taliban checkpoints when traveling with his mother and sister.
For years, Mohammad met his girlfriend out in the city twice a week. But since the Taliban took over, they've only managed to meet once — and only for a few minutes. He said he was frightened of the Taliban but took the risk because he missed her. He wanted to see her face. Texting just isn't the same.
They strategized the encounter beforehand. They chose a busy market street in downtown Kabul. "Our presence could go unnoticed in the crowded bazaar," he explained.
Like clandestine operatives, they pretended to be shoppers, moving in and out of stores so it didn't seem like they were together. For his girlfriend, who ventured out without a chaperone (not unheard of but not recommended), the risk was enormous. When it felt safe, they spoke. "What will be the future of our relationship?" his girlfriend asked.
"Here we don't have a future," he told her. Like so many other Afghans, Mohammad hasn't been able to find work since the Taliban took over, the United States left, and the country's economy crashed. That means he lacks the funds required in Afghan culture for a wedding, which would allow them to be together. "Our future will be determined when one of us can get out of Afghanistan."
This story was published in partnership with the Fuller Project.