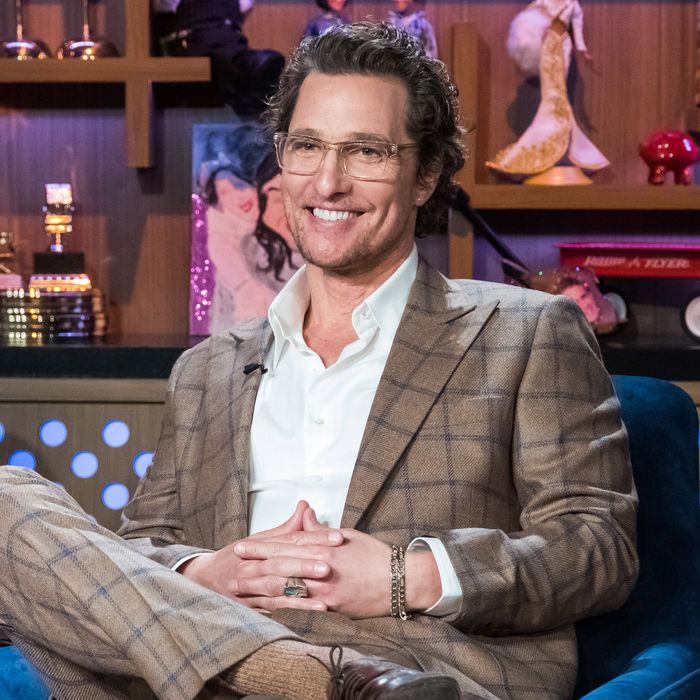 Photo: NBCU Photo Bank/NBCUniversal via Getty Images
It's come to my attention that Matthew McConaughey is speaking candidly about his hair-regrowth journey, and it's time we all listen up. In a recent interview with LADBible, McConaughey spoke at length about bouncing back from the unfortunate balding era he endured in the late '90s, and it's so much more interesting than that time you cut your own bangs.
In 1999, McConaughey was at his baldest. There was a big empty circle of bare skin atop his skull. He was, in his own words, "losing." His bald spot even got caught on camera both in The Wedding Planner and in Jamaica at a 1999 New Year's Eve party where he was photographed laughing with his head down. Humiliating!
At some point, he discovered a "topical ointment" that he now rubs into his scalp for ten minutes a day. "I was fully committed to it," he proclaims. "No Propecia, no nothing, it was just manual labor." And now? His hair is better than ever. Thriving, even. "All I can tell you is it came back. I have more hair now than I had in 1999."
Do you hear that, Propecia? Matthew McConaughey does not need your help, thank you very much. But after McConaughey recovered from his balding era, a treacherous rumor started spreading via a grifter doctor. Apparently, this opportunistic fellow would tell everyone at hair-transplant conventions — where McConaughey's legendary locks are apparently frequent fodder for conversation — that he was responsible for the return of that hair. The lie made its way back to McConaughey by way of a renowned Beverly Hills hair-transplant doctor who told him someone out there was taking credit for the work done by McConaughey's powerful hair follicles. This celebrity hair surgeon proceeded to feel McConaughey's head to make sure there were no transplants, and then said, per the actor's account, "I can't wait to bust this guy's nut next year when he raises his hand." I, too, would love to bust this guy's nut. Imagine making up a story about inserting fresh hair into McConaughey's fertile scalp. He's about to be very embarrassed.
For his part, McConaughey has no plans to part with this miraculous ointment (it's suspicious that he doesn't provide the name, but whatever). And as you can tell, his hair is alive and well, and notably plentiful. So if you were thinking of lying about Matthew McConaughey's hair regrowth …don't!