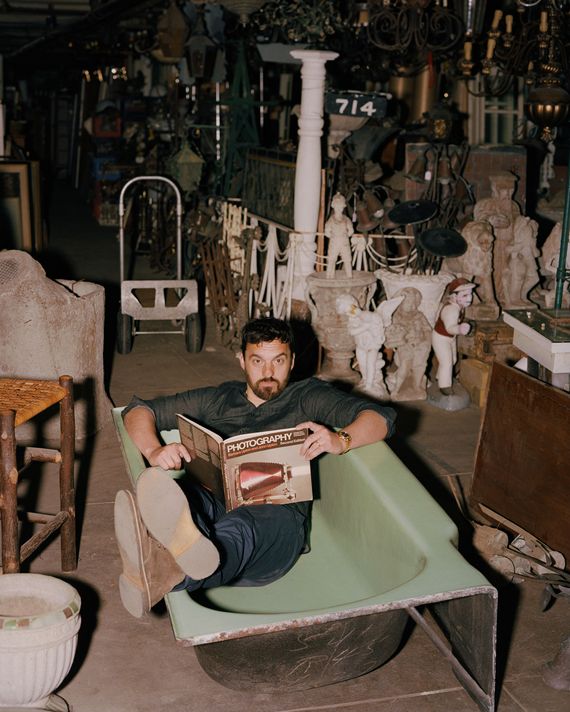 Jake Johnson at Eric's Architectural Salvage.
Photo: Damien Maloney
Dream Date: Brushes with our celebrity crushes.
Roughly seven minutes into our conversation, Jake Johnson is showing off a '60s-era globe once used by Japan Airlines and a small bronze bust that may or may not be an antelope — his latest haul of stuff saved from a lifetime collecting dust in a musty shop, or worse, a garbage dump somewhere. Soon, we're off on a tour: The table on which the globe is resting is salvaged, too; so is an Impressionist-esque painting of a boat foregrounding a melting orange sky; and so are a pair of metal grasshoppers sitting on a shelf. He pans the Zoom camera over to what appears to be an elegant wooden clothes chair with jackets hanging on either side of it and a pair of boots perched on the seat — which he lifts to reveal a huge rip in the cane-woven center. It's not a problem; it's a project. "I'll eventually get to fixing that," he says. "A chair like that, that's a really fun activity — to figure out how to fix it, finding the material, and then going to the places to get the material. It gets really fun." Yes, Jake Johnson is an antiquer.
The 43-year-old actor is an expert at turning trash into treasure. He most famously did it with Nick Miller, the emotionally stunted alcoholic on New Girl that inspired many a thirst tweet. But he's also been doing it his entire life — his mother owned junk shops, and he grew up visiting salvage yards and flea markets. It remains a huge hobby of his; he still frequents salvage stores like Eric's Architectural Salvage and Olde Good Things in Los Angeles. He has perfected the "dirtbag with a heart of gold" trope, giving it depth and nuance via characters like the aforementioned Nick Miller; Ben Hopkins, the unhinged and spiraling but deeply committed basketball coach he voices on Netflix's Hoops; and most recently, Doug Renetti, an accidentally feminist '70s porn-magazine publisher on his new HBO Max show, Minx.
The show centers around Doug's clash turned collaboration with Joyce (Ophelia Lovibond), an eager editor-hopeful working the phones at a teen magazine whose dream is to produce a feminist magazine she titles The Matriarchy Awakens (don't worry, she eventually changes it to the titular Minx). Doug convinces Joyce to work with him, combining her articles, on topics like equal pay and marital rape, with nude spreads catered to the female gaze. Yes, that means an HBO dick montage. First episode, baby.
Johnson is of the long-held opinion that the dick is an objectively funny-looking organ, so in the most dickful scenes, he had to hold back the giggles and the chuckles. Serendipitously, his childhood uniquely prepared him for that task. He grew up going to baseball games at Wrigley Field, where the men's bathroom setup allowed for no privacy. "There weren't individual toilets. It was like a feeding trough," he says. "So as a young boy, you'd go to the bathroom — it's packed, so you're shoulder to shoulder. There are about 25 drunks. Everybody in that bathroom's making jokes, having fun. But when you go to pee, you're noticing everybody's penis. Everybody's trying to look forward not to laugh. Or they don't care, but for me, it was always: Don't laugh. Don't laugh. Don't laugh. Don't laugh.
As outlandish as Minx's Doug can be (at one point, he spitefully steals a bag of girl-scout sashes from a congresswoman's office), there's something real and familiar about him, too — at least to Johnson. The actor was raised in a Chicago suburb by his mother and a collection of uncles and other family friends. "My uncles and these men who were around me when I was growing up were really characters who could have been considered dirtbags," says Johnson. "There were characters who'd come to our house who had legal trouble. The first time I saw weed was from my uncle. They would all smoke a joint in the backyard, and they were loud. And they were crazy. And they were drunks. And they would get in fights with people."
Looking back, he recognizes that especially judgy neighbors considered his home "trashy" and "rough," but he never bought into that perspective: "I didn't like the suburbs. I liked my uncles, and I liked my family. As Jake, I want to like the characters I play. I want to think that they are on the right side of the world, and it's not the world the way anybody else sees it but me." That's ultimately what attracted him to his Minx character. Despite Doug being, as Johnson puts it, a little shady, the show's writing treats him with nuance. He's a good neighbor. He cares about his employees. He's semi-down for the feminist cause — as long as it makes him money. "I'm a firm believer that characters can be two things at once," says Johnson.
Our tour continues. Johnson emerges into his sun-drenched backyard where Nora, his black lab-retriever mix, is wandering and shows me the well-stocked toolshed where his projects begin. Then we make our way to his pride and joy, a small wooden cabin that he built himself at the height of the COVID-19 pandemic — passing, of course, a stone bench and a sculpture of a horse, both salvaged, along the way.
The cabin, which Johnson uses as an office, is an 8-by-12-foot rectangle containing just as many, if not more, salvaged finds as his house, from the lock on the door to the gorilla action figure placed on a tiny shelf to the stained-glass art in the window (all of which he shows me while Nora sniffs around). Even the floor is salvaged, in a way — it's made up of spare pieces of two-by-fours that he stained. "The puzzle of putting this floor together was unthinkably fun because, with each stage, it just wouldn't look right," he says. "And so then you try something else, and you try something else, and then when you eventually like it, then it's done." It's like acting, he says. "I love having a showrunner or director you're constantly in touch with, and you're constantly trying to evolve the character and find the character. Then it belongs to the public, and you know, it's over. It's no longer mine."
Now that we've reached his go-to Zoom corner, Johnson turns the camera back on himself, and I take a moment to appreciate his look, which can only be described as, well, exactly what he is: a dad who's really handy around the house. He's rocking a full beard, a somehow put-together-looking mussed coif, and it all comes together with a plain blue crewneck layered over a gray T-shirt, both aged but, like, in a good way.
It's from that corner that Johnson reunited with fellow New Girl comrade Trent O'Donnell, one of the show's recurring directors, to co-write a film, Ride the Eagle, which dropped on Hulu last July. Both stuck without a project to work on during the height of COVID, the seed was formed in a conversation they shared about how much they missed being on set and how resistant they both are to shortform, handheld media. You won't catch Johnson on TikTok anytime soon: "I'm not interested. I don't like it. I like longform. I like characters. I want to do things that feel more like a novel than a one-page blog."
The other inspiration behind the film, which he starred in and O'Donnell directed, was Nora, the black lab. She's a retired guide dog Johnson adopted in 2020, and, as he puts it, "her fucking brain is remarkable." Her ability to ignore distractions in her peripheral vision got him thinking that she'd be able to easily handle a camera in close range, and it was immediately clear that she has the emotional range of a true actor. "I believed by getting a retired guide dog — a service dog, a working creature — you were getting something in the house that was going to understand how I see the world, and that is: You work, and when you're done working, you're retired. Hang out. This dog has gone back to all the puppy years she never got. She is more difficult than my children, in terms of emotional needs." This means that when he needed her to look sad after receiving a stern lecture, she was able to deliver — so much so that the entire crew ran to comfort her as soon as the cameras stopped rolling.
Minx is his first major project to drop since that film, and he's openly curious about what the response to it will be like. When New Girl started gaining popularity and he started being recognized in public interactions, he noticed something odd: "Men used to apologize to me for liking the show," he says. "They'd go, 'I gotta say, man, that shit's not for me. But you're funny.' And I'd go, 'Thanks,' and they'd go, 'My wife loves the show.' I'd go 'Oh, great,' and then they'd go, 'Yeah, you and that guy Schmidt. Schmidt's hilarious.' I go, 'Yeah,' and they go, 'Man, that one scene …' After a while, I realize, You watch every episode, asshole. You love the show. Why aren't you just allowed to say — because it's called New Girl — that you love the fucking show?"
With all the questions he's been getting about feminism — questions he admittedly feels ill-prepared to answer, although he affirms that he considers himself a feminist and believes everyone should be one — he's wondering if Minx, too, will get the "my wife loves the show" treatment. He's hoping it will be watched by audiences of every gender and understood for what it is: a nuanced narrative willing to tackle the moral gray area of attempting to be a person in the world within the layers of capitalism and racism and sexism that surround us all. He concludes, appropriately, with a bit of good ol' existentialism: "I'm a big believer that everything is confusing, in terms of, also, why we're here. I'm not a guy who believes in religion because it's hard to come up with an answer, but I find a lot of this stuff really interesting. But … whatever. I also probably drank too much coffee."