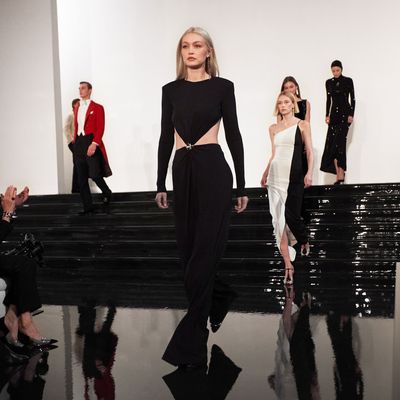 On Tuesday night, for the first time since 2019 and in a crowded room that included Mayor Eric Adams, Euphoria star Angus Cloud, Succession star Jeremy Strong, Jessica Chastain, and a massive bowl of M&M's, the American institution that is Ralph Lauren presented preppy designs on an all-star cast of models. There was Shalom Harlow, Latisha Casta, Tyson Beckford, as well as both Hadid sisters. The show, held at the Museum of Modern Art, was staged like a living room (hence the M&M's, which are apparently one of Mr. Lauren's staples at home) with black lacquered surfaces, white sectional couches, and large bouquets of red roses.
The collection's color scheme mostly mirrored the black-and-white setting with some pops of color, like a large red bow on a gown whose train trailed on the floor. (Maybe the piece will make an appearance on the red carpet at the Oscars this Sunday?) The silhouettes were narrow with sharp tailoring, like a tartan-plaid double-breasted suit with a houndstooth coat falling from the shoulders. There were aprés-ski pants, Chelsea riding boots, and evening gowns for soirées. What was undeniably clear: Ralph Lauren is leaning into his target customer's lifestyle, selling a version of aspiration and luxury that exists only in the upper echelons of New York.
And that version of New York was represented with Adams's presence, Lauren's upscale $80 version of a Yankees cap, and a floor-length black dress whose skirt featured the New York City skyline in crystals (which the mayor reacted to with a smile.)
At the end of the show, Mr. Lauren came out to a standing ovation. Cloud (the face of RL's latest perfume) took off his beanie and waved it in the air. The mayor stood up and clapped before making a quick exit. After the show, TikTok star Noah Beck and others sat for a photo shoot — because there is no better time for content than the present.