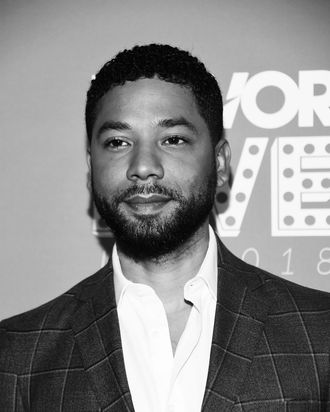 Jussie Smollett.
Photo: Amanda Edwards/WireImage
In January 2019, Empire actor Jussie Smollett was beaten by two men who yelled racist and homophobic slurs at him, and put his head in a noose — an attack that was first investigated as a violent hate crime but quickly grew to be much more complicated. In less than a month, Chicago police dropped their investigation into the two "persons of interest," and Smollett faced accusations of orchestrating the attack on himself, leading everyone from Cardi B to Kamala Harris to weigh in on the case. By February 2019, Smollett, who is Black and openly gay, was named a suspect in his own attack. To make things even more complicated, just over a month later, all charges were dropped against Smollett. They were subsequently renewed, and in February 2020, a grand jury returned a six-charge indictment against Smollett for felony disorderly conduct on suspicion of making false reports to the police. On December 9, he was found guilty of falsely reporting a hate crime, and he was sentenced months later on March 10. Here's everything to know about the alleged attack and the aftermath.
.

First a racist, homophobic letter arrived at the Empire set, and then Smollett was attacked.
In January 2019, Smollett received a racist and homophobic letter containing white powder at the Fox studio where Empire is filmed. (This letter later led some to believe the attack was premeditated.) The alleged attack took place less than a week later, on January 29. According to initial reports, two men wearing ski masks approached Smollett outside of a Subway in Chicago, where they beat him up, poured "an unknown chemical substance" on him, and put a noose around his neck. Per TMZ, the men also called Smollett "that f- -got Empire n- - - - -" and yelled, "This is MAGA country." That night, Smollett checked into Northwestern Memorial Hospital, where he was reported to be in "good condition."
Smollett's family condemned the attack in a statement, saying, "To be clear, this was a racial and homophobic hate crime." A few weeks later, Smollett broke his silence about the incident, saying in a statement to Essence, "My body is strong but my soul is stronger." He added: "The outpouring of love and support from my village has meant more than I will ever be able to truly put into words."
He subsequently made his first public appearance at the Troubadour nightclub in West Hollywood. There, he opened up about his attack and said he would "always stand up for love."
"The most important thing I have to say is thank you so much and that I'm okay," Smollett said. "I'm not fully healed yet, but I'm going to. And I'm gonna stand strong with y'all … And I hope that you all will stand with me."
.

Following the incident, two men were arrested.
Shortly after the attack, the Chicago Police Department arrested two suspects. They were later identified as Nigerian brothers Olabinjo Osundairo and Abimbola Osundairo. According to AP News, the brothers were aspiring actors — Olabinjo appeared as an Empire extra in 2015 — and bodybuilders whom Smollett knew from the Empire set and the gym.
On Valentine's Day 2019, Smollett appeared on Good Morning America, where he gave his first in-depth interview about what transpired the night of the attack. By then, some were starting to question the validity of Smollett's account, as well as why he was apprehensive about giving his phone to the police, which Smollett attempted to address on the show. "I'm sorry but I'm not going to do that," Smollett said, explaining that he had "private pictures and videos and numbers."
.

CPD sources suggested Smollett may have orchestrated the attack, changing the trajectory of the investigation.
But a few weeks later, the course of the investigation changed. Citing new evidence, the CPD released the brothers and dropped all charges against them. Two law-enforcement sources told CNN that the CPD believed Smollett may have paid the men — who were cooperating with police — $3,500 to stage the attack against him. According to the sources, CPD had records of the two released suspects purchasing the rope that was tied around Smollett's neck. Smollett allegedly gave the brothers $100 to purchase the rope and clothing for the attack.
This narrative contradicted statements that CPD made earlier, after media outlets first started to report the theory that Smollett staged his attack: that police had "no evidence" to suggest that Smollett fabricated details of his assault. (Smollett's representative did not comment at this time.)
Two sources with knowledge of the investigation told CBS Chicago that the Osundairo brothers claimed that Smollett sent himself the racist letter that arrived at the Empire set; they also said Smollett staged the attack after the letter didn't spark the outcry he sought.
Meanwhile, Smollett's attorneys denied that he had anything to do with the attack. On February 20, the CPD announced that Smollett was officially a suspect in a criminal investigation for filing a false police report.
.

Public backlash erupted against Smollett.
When news of the attack broke, a number of high-profile politicians issued statements condemning what looked like a hate crime. Kamala Harris and Cory Booker both initially called it a "modern-day lynching." But as more details continued to unfold, the two individually moved to withhold judgment. Harris eventually released a statement on Facebook condemning Smollett for filing a false claim with the police, writing that to do so "diverted resources away from serious investigations" and made it more difficult "for other victims of crime to come forward."
Then–Hawaii representative Tulsi Gabbard echoed these sentiments, tweeting that if it was proven Smollett orchestrated a hoax, he "will have done a terrible disservice to actual victims and future victims of hate crimes. It will be much less likely for future victims to be believed."
Amid conflicting reports about the case, Deadline reported that Empire slashed Smollett's yet-to-be-filmed scenes.
.

Smollett was charged and turned himself in to police custody.
On the morning of February 21, Smollett turned himself into police custody, where he was arrested and charged with filing a false police report, a criminal charge that could result in up to three years of prison time. Smollett appeared in court later that day, with a judge setting his bond at $100,000.
In a statement to People, Smollett's attorneys said they planned to launch an "aggressive defense" in response to the charge.
"Like any other citizen, Mr. Smollett enjoys the presumption of innocence, particularly when there has been an investigation like this one where information, both true and false, has been repeatedly leaked," the statement read. "Given these circumstances, we intend to conduct a thorough investigation and to mount an aggressive defense."
At a press briefing, CPD superintendent Eddie Johnson essentially confirmed that Smollett orchestrated the attack because he was dissatisfied with his Empire salary on the TV series, and that he sent the threatening letter to himself. Johnson also expressed outrage over Smollett's exploitation of racial tension. "I know the racial divide that exists here," said Johnson, who is Black. "I know how hard it's been for our city and our nation to come together. And I also know the disparities and I know the history … Smollett took advantage of the pain and anger of racism to promote his career."
Johnson also criticized Smollett's use of a noose, a symbol of American racism, in his staged attack. "Why would anyone, especially an African American man, use the symbolism of a noose to make false accusations? How could someone look at the hatred and suffering associated with that symbol and see an opportunity to manipulate that symbol and further his own public profile?" Johnson said that the city of Chicago had embraced Smollett following the alleged attacks, and that he went on to "slap everyone in this city in the face."
.

But then all criminal charges against Smollett were suddenly dropped.
In March, a Cook County grand jury indicted Smollett on 16 felony counts of disorderly conduct, which one of his lawyers called "prosecutorial overkill." Smollett pleaded not guilty, and there were plans for him to make his next court appearance in April.
But then, just over two months after the alleged hate crime, Smollett emerged from an "emergency court appearance" with shocking news: The prosecution had dropped all criminal charges against him; in turn, he'd forfeit his bond and perform community service.
"Today, all criminal charges against Jussie Smollett were dropped and his record has been wiped clean of the filing of this tragic complaint against him," read a statement from Smollett's lawyers. "Jussie was attacked by 2 people he was unable to identify on January 29th. He was a victim who was vilified and made to appear as a perpetrator as a result of false and inappropriate remarks made to the public, causing an inappropriate rush to judgment."
According to a source close to Smollett, the prosecution's case against the actor "disintegrated," they told TMZ. The Chicago Sun-Times reported that records had been sealed and that the case was expunged from Smollett's record. In a statement released following the court appearance, the Cook County State's Attorney's Office said they believed "this outcome is a just disposition and appropriate resolution to this case." Yet the prosecution has faced intense scrutiny for its abrupt and opaque decision to drop charges.
.

Then the city of Chicago sued Smollett, and the Osundairo brothers sued Smollett's lawyers.
But it turned out that Smollett's legal battle was far from over. In April 2019, the city of Chicago sued him in state court, accusing him of orchestrating a fake hate crime and lying to law enforcement. "Defendant made this report to the CPD officers despite knowing that the purported attack was not for racist or homophobic motives," read the city lawsuit, which sought over $130,000 to cover the cost of the police investigation.
In addition to Chicago's lawsuit, the Osundairo brothers sued Smollett's lawyers. In a federal defamation lawsuit against Smollett's legal team, the brothers alleged that the actor orchestrated the attack and that his lawyers repeatedly lied about what transpired the night of the incident. "We have sat back and watched lie after lie being fabricated about us in the media, only so one big lie can continue to have life," reads the brothers' statement, which their lawyer Gloria Schmidt read at a news conference. "These lies are destroying our character and our reputation in our personal and professional lives."
.

The dropped charges were subsequently renewed.
In August 2019, former U.S. Attorney Dan Webb was appointed as a special prosecutor in the case, tasked with investigating why the initial charges against Smollett had been suddenly dropped, according to a report from AP News.
In February 2020, Webb concluded his investigation and issued a statement regarding his decision to "further prosecute" Smollett. The statement alleged that Smollett had lied and that he'd made four false reports to the CPD thereafter, "reporting a heinous hate crime that he, in fact, knew had not occurred." According to CNN, the special prosecutor's office also plans to provide evidence of its disapproval of how the case was initially handled by Kim Foxx, Cook County State's attorney, who recused herself from the case before the charges were dropped, owing to false rumors that Foxx was related to Smollett.
In February 2020, a grand jury returned a six-count indictment against Smollett for felony disorderly conduct on suspicion of making false reports to the police. Smollett pleaded not guilty to the renewed charges, and his attorneys filed a motion to dismiss them.
Tina Glandian, an attorney for Smollett, has argued that the new charges violate the double jeopardy clause, which prohibits the government from prosecuting or punishing someone twice for the same offense.
"You don't just get a do-over," Glandian said. In an effort to dismiss Smollett's criminal case, his legal team also claimed Smollett's rights were being violated, as he had already given up his bond and performed his requisite community service. The judge denied these efforts. If convicted, Smollett faces up to three years in prison.
.

Who has testified?
On December 1, Abimbola Osundairo took the stand. He testified that he became good friends with Smollett while working as an extra on the Empire set. "I would call him my brother," Osundairo said. According to CBS News, Osundairo said Smollett paid him and his brother to "fake beat him up," and Smollett had a conversation with the brothers to determine who would punch Smollett. Smollett also allegedly told the brothers there would be a camera to "capture the fake attack." Osundairo told prosecutors he agreed to participate in the scheme because he "felt indebted" to Smollett, who got him a stand-in role on Empire. "I believed he could further my acting career," Osundairo said.
On Monday, December 6, Smollett took the stand to testify in his defense. The actor denied that the attack was a coordinated hoax on his part — telling the court explicitly, "No, there was no hoax" — and detailed his relationship with the brothers accusing him of faking the attack. During his testimony, he alleged that Abimbola Osundairo was a friend who provided him with drugs and engaged in sexual activity with him, per CNN. In his own testimony, Abimbola denied any sexual relationship.
Smollett also directly refuted Abimbola's testimony, during which he claimed that Smollett had texted him to talk "on the low" about planning the alleged attack. In his testimony on Monday, the actor claimed that when he texted Abimbola about something "on the low," he was actually referring to drugs. Specifically, he testified that Abimbola had told him about an illegal weight loss drug that he offered to get him from Nigeria. Per Chicago Tribune reporter Megan Crepeau, he further claimed that the $3,500 check Abimbola alleged was payment for staging the attack was actually a check for training services, as Smollett wanted to get in shape for a music video.
As for Abimbola's brother, Olabingo Osundairo, Smollett claimed that they had no real relationship. "He kind of creeped me out," Smollett said. "Every time we were around him, he didn't speak to me. Every time we needed to leave, he made it seem like we needed to sneak off."
While recounting the attack in court, Smollett also fought back against accusations that he orchestrated the attack to gain public sympathy, telling the jury that he did not want the police involved in the matter at all. "I am a Black man in America. I do not trust the police," he said. He further lamented the toll the incident took on his career, claiming that he'd lost his livelihood as a result.
.

What has Smollett's defense team argued?
That he's not lying, essentially. Defense attorney Nenye Uche has called Smollett a "real victim" of a "real crime" orchestrated by the Osundario brothers. In his opening statements, Uche argued that the brothers attacked Smollett because "they didn't like him." Uche also told the court that a third attacker was involved in the incident — a claim that hasn't been substantiated — and that there isn't physical evidence linking Smollett to the crime.
Smollett's defense team argued the officials who investigated the case and accused Smollet of staging the crime "made a rush to judgment." In court, Chicago Police detective Michael Theis refuted the claim, explaining that he did at first believe Smollett was a victim of a racist and homophobic attack and that what the defense called a "rush to judgment" was actually the labor of 20 officers investigating the crime for 3,000 hours. Theis said the police collected the surveillance footage by canvassing local businesses and studying phone records. He added that, after the attack, Smollett refused to let officers swab his cheek to compare his DNA to trace DNA on the noose.
.

Cross-examination and closing arguments have been contentious.
On Tuesday, Smollett returned to court for a heated cross-examination. Smollett doubled down on his insistence that he didn't share his phone with Chicago police after the attack so as to protect his privacy. Special prosecutor Dan Webb read private Instagram messages between Smollett and the Osundairo brothers before the court. Smollett told Webb that he "did not understand Instagram," and asked Webb not to read out a message with the N-word in it aloud for the court. When Webb asked if he'd feigned his attackers' whiteness to garner more attention, an increasingly irritated Smollett replied, "You'd have to ask someone who actually did fake a hate crime."
Both sides have rested their case, and, as of Wednesday, closing arguments are under way. In his closing remarks, Uche called the Osundairo brothers "certified liars" and argued that the prosecution's case was built on a "house of cards." Meanwhile, Webb told the court that Smollett had denigrated "something as serious as a hate crime" with his lie and emphasized the grievousness of Smollett using "words and symbols" of racial violence in his allegedly staged attack.
.

Smollett was found guilty of falsely reporting a hate crime.
After eight hours of deliberation, jurors found Jussie Smollett guilty of falsely reporting to the police that he was the victim of a hate crime. Smollett was charged with six counts of felony disorderly conduct and was found guilty of five of them. He now faces up to three years in jail and a maximum fine of $25,000. Per Chicago Tribune's Crepeau, the jury found that Smollett gave a false police report on January 29, 2019, resulting in the 5 guilty counts, but found that he did not give a false report on February 14, 2019, hence the one not-guilty finding.
.

Smollett was sentenced to 150 days in Cook County Jail.
Jussie Smollett returned to court for sentencing on Thursday, March 10. After hearing arguments from both Smollett's defense attorneys and special prosecutor Dan Webb, Judge James Linn sentenced Smollett to 150 days in Cook County Jail and 30 months of felony probation. He will also have to pay $120,000 to the city of Chicago as restitution and a $25,000 fine. Smollett's attorneys asked that the judge suspend the jail sentence as they file an appeal, but the request was denied.
Before delivering his sentence, Linn told Smollett, "You've turned your life upside down by your misconduct and shenanigans, you've destroyed your life as you knew it, and there's nothing that any sentencing judge could do to you that can compare to the damage you've already caused yourself." The judge also called Smollett "a charlatan pretending to be the victim of a hate crime" and accused him of "throwing a national pity party for yourself."
Earlier in the day, people speaking on Smollett's behalf expressed concern for his safety if he were to be put in jail, apparently citing "his race, sexual orientation," and "Jewish heritage," per AP. And though he originally declined the opportunity to address the judge before sentencing, after hearing the sentence he briefly addressed the court. "If I did this, then it means that I stuck my fist in the fears of Black Americans in this country for over 400 years and the fears of the LGBT community," he said. "Your honor, I respect you and I respect the jury. But I did not do this, and I am not suicidal — and if anything happens to me when I go in there, I did not do it to myself."
As he walked out of the court room, Smollett raised his fist and reiterated, "I am not suicidal. I am innocent."
.

Smollett has been ordered to be released from jail pending his appeal.
Less than a week after his sentencing, Smollett's case went before an appeals court. Despite Judge Linn's refusal to delay the actor's 150-day sentence pending an appeal at the sentencing, two other judges on a three-person panel have ruled that Smollett should be released as he waits for his next day in court. His release was ordered on Wednesday, March 16, and is reportedly dependent on a $150,000 bond.