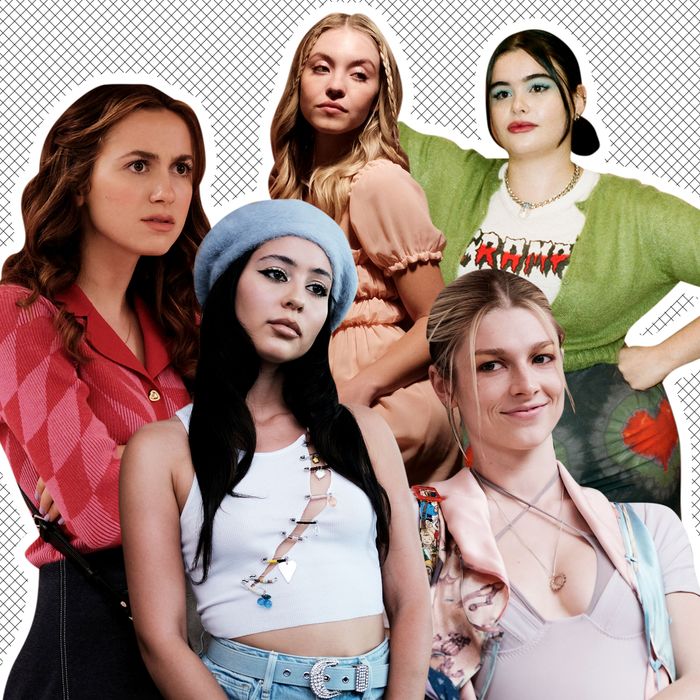 Photo-Illustration: by The Cut; Photos: HBO
Season two of Euphoria just wrapped up. Costume designer Heidi Bivens, makeup designer Donni Davy, celebrity hairstylist Kim Kimble, and manicure artist Natalie Minerva provided us with another mood board of looks to pull from. Here is the full breakdown and everything you can shop from season two.
Maddy Perez
To the New Year's Eve party, Maddy Perez wore a dress from Akna (a favorite of actress Alexa Demie's) with elbow-length gloves. She paired the dress with equally extra Amina Muaddi sandals encrusted with rainbow crystals.
Keeping in line with her '90s aesthetic, she went heavy on the winged eyeliner ("A Maddy wing is always the sharpest wing," wrote Davy on Instagram), brown lipstick, and hair spray, slicking her hair back with a stretch-comb headband. And, of course, there were her hoops and nameplate necklace.
Maddy fulfills one of her fashion dreams (and ours, honestly) when, during her babysitting gig, she tries on her boss's vintage Chanel, Valentino, Dior, and Mugler. In the rest of the episode, some other pieces she wore include an Agent Provocateur bikini (now sold out) and another bikini by Romé by Falize.
Maddy delivered the iconic line "Bitch, you better be joking" while wearing a sold-out Versace tube top and flared leggings and carrying a Coperni mini-bag.
Maddy had another iconic moment in a monochromatic Akna Store set, which she wears with lavender Croc sandals and a matching mini-bag from By Far.
On her birthday, Maddy wore a slip dress from the Marc Jacobs and Devon Lee Carlson collaboration, paired with Dora Teymur platform shoes. Her glam? A sleek ponytail with length and her signature black winged liner is accented with a blue shade to match her dress. Later, Maddy and her friends hit the hot tub in a strappy black bikini from Inamorata. We won't ruin the rest.
She reflects on the Nate and Cassie news in a black crochet corset top from Dion Lee (similar here) and pairs the top with boot-cut jeans and platform sandals.
Along with wearing a nameplate necklace, Maddy also wears a gold "M" ring. In the final episodes, she paired the rings with a green Jacquemus bodysuit, a swirly green manicure, sleek straight hair, and green eye shadow.
Cassie Howard
If you're wondering what to wear while hiding from your best friend with her ex-boyfriend in a bathroom, Cassie went with this option. It goes great with the now-sold-out white Prada heels she wore. Luckily for Cassie (Sydney Sweeney), who spent most of the night crying and hiding, she skipped the liner and opted for small crystals instead. She also wore a throwback accessory, pinning her hair back with crystal-covered barrettes.
Mid-season, Cassie took to a vigorous self-care routine in the name of love, waking up at 4 a.m. to scrub, ice, roll, mask, moisturize, and primp for school. When Nate looks right through her despite her efforts to get his attention, she's wearing a wrap sweater from ASTR the Label paired with doe eyes and glossy lips.
As we watched Cassie's villain-origin story unfold at Maddy's party, she was decked out in pink. She sulked around Maddy's birthday party in a frilled pink dress and pink eye shadow accented with crystals. Later in the hot tub, the swimsuit that stopped Kat in her tracks is a cutout-wrap one-piece from Frankies Bikinis.
Episodes seven and eight brought the moment we were all waiting for: Lexi's play and the inevitable confrontation. Cassie crashed the play in a powder-blue knit set by Danielle Guizio.
She paired the set with yellow sandals to match the yellow accents in the skirt and top. To match this Maddy-eqsue outfit, Cassie wore her hair straight with a graphic cat eye and the Tiffany necklace, but if you watched the episode, you know this look doesn't last very long.
Kat Hernandez
Kat, played by Barbie Ferreira, paired her now nearly sold-out Mimi Wade baby-doll dress with this Pamela Love dagger pendant. To match the graphic dress, Kat went heavy on the eye shadow with a matching blue-and-green color palette and nails in the same color scheme. As for her nails, it is just the start. "She's going to explore a lot of color, which I think is fun," said Minerva. "We'll be seeing more bold and colorful designs on more modernized shapes, like the coffin shape."
So what does one wear during a meltdown? A fuzzy mohair cardigan by Danielle Guizio, a Cramps tee, and this printed skirt from Om Weekend. She wears this print again in dress form later on in the season.
When she gets to the "pros and cons list" part of her relationship, she writes it all out in a Realisation Par tee.
And to go on an impromptu bowling date, Kat wore a printed green top from Kim Shui, black flared pants, pink eye shadow, and a swirling pink-and-yellow mani.
At dinner with her boyfriend's parents (always a stressful situation), Kat stumbled over her words and laughed anxiously in this ruffled floral dress from Reformation.
When Kat breaks up with Ethan in the final few episodes, she's wearing an Om Weekend dress over a printed long-sleeve top. She pairs the dress with a few gold chokers, including a "KAT" choker from the M Jewelers. She wears matching green eye shadow.
Jules Vaughn
Sheer, almost ethereal layers have become Jules's signature look this season; she wore sheer arm warmers and layers of necklaces under her hoodie. Jules, played by Hunter Schafer, wore the now-unavailable sheer beaded top from Nihl and layers from Maroske Peech. She paired these layered looks with an off-white, laced-up skirt from Orseund Iris.
In episode three, Jules shares a moment with Elliot in a now sold-out sheer shirt and harness top from KNWLS (similar here).
Naturally, for a more chill day at school, she paired a now sold-out Maroske Peech top with a sold-out plaid skirt from Lazy Oaf and Bunny bag from Runny Babbit (similar here).
Before things went south, the love triangle that is Jules, Rue, and Elliot went shoplifting for White Claws. No better outfit for the occasion than a graphic shirt; hers was a hand-painted original from Polite Worldwide. She paired the top with sneakers and pink patterned pants, her signature minimal graphic eyeliner, and space buns.
Lexi Howard
Lexi, Cassie's under-the-radar, oft-overshadowed sister, is finally in the spotlight. Consider this the season that launched the Lexi hive and all the subsequent fan accounts. Following the NYE party and her chat with Fez, Lexi ditched the usual store-run attire to impress her new crush. She wore a formfitting cardigan from Calle Del Mar, Rachel Comey pants (now sold out) …
… and, of course, her signature loafers, this time from Nodaleto, paired with a red lip.
Lexi's love for cardigans, collars, red lipstick, and loafers has clearly made her a fashion favorite. In another bathroom scene, she questioned her sister's choice of clothing in a denim skirt, a printed knit shirt from Motoguo, and a Courrèges cross-body bag.
Lexi had a number of costume changes during the much-anticipated production of her play Our Life. The play began with her in a Miu Miu dress and Mary Jane shoes from By Far. Other looks included a Batsheva dress and Siedres print top and this red dress from Nana Jacqueline.
Lexi wore this heart locket in episode one and a few other pendants throughout the season. We wonder if her locket is engraved with any special dates.