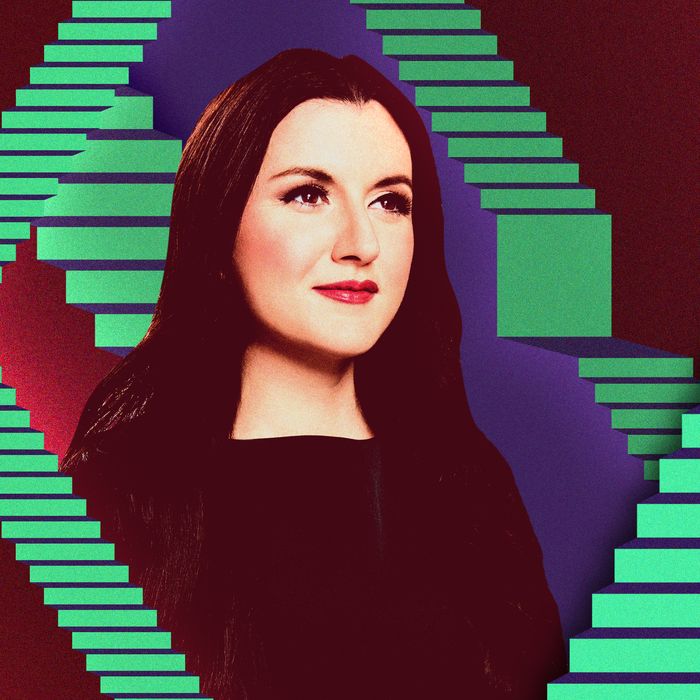 Photo-Illustration: by The Cut; Photo:Christie Hemm Klok for Instacart
My Biggest Setback is a micro-series that asks powerful women to look back at their career's biggest setback and how they moved on from it to find professional and personal growth.
Before Fidji Simo became the CEO of Instacart, the grocery-delivery start-up, she was a prominent player at Facebook, overseeing the development and strategy for Facebook apps such as Facebook Live, Watch, Ads, and Dating. In addition to leading the team at Instacart, Simo serves on the Shopify board of directors and is a co-founder of Metrodora, a medical clinic and research foundation dedicated to treating neuro-immune conditions and improving women's health. Here, Simo talks about growing up in a family of fishermen, what it's like to manage a team while on pregnancy bed rest, and eating Nutella as a form of self-care.
What was your career goal when you were starting out? 
I grew up in a family of fishermen, where I was the first one to even graduate from high school. So even the concept of "career" was a little bit of a new thing. I didn't have any preconceived notions of the roles I wanted or what I could aspire to, but I had a feeling of wanting to be a very independent woman who would be able to make important decisions. That's what led me to study business in Paris. I had a fascination with technology, so I followed whatever felt interesting and transformative for the world.
What was your biggest setback along the way? 
I have two. The first is on the purely professional side: At Facebook, where I worked for a number of years, I had always done really well. I had gone from success to success, launching our ad platform and then Facebook Live, which was an immediate success, and I had a conviction that we needed a destination for video within Facebook called Facebook Watch. It wasn't an instant success. We spent a lot of time on it, and even people internally were starting to lose confidence that this project was going to work out.
That was the first time I'd put all of my energy into a project that I had advocated for and it wasn't working. The stress got to me, and I wasn't shielding my team from the pressure. I wasn't showing up as the leader I wanted to be. One day, one of the incredible women who worked for me took me aside after a particularly bad meeting. She said, "Hey, I've seen you at your best, and this is not your best. For us to make this work, we need the best of you." It was a simple, ten-second piece of feedback, but it had a profound impact on me. I realized, Oh, I'm getting into this cycle where I think this project is going to be a failure, and so I'm taking my team down that path. I had to pull myself out of that.
On a personal level, I had an absolutely atrocious pregnancy. I was put on complete bed rest for five months. This was a few years ago, and dialing from your bed was not en vogue. It was really awkward to do, but I had to lead my team for five months from bed rest. I really wanted a kid, but I really wanted my career trajectory to continue. I was doing very well at Facebook. The bed rest felt like the biggest setback — all of the ways I had learned to lead required posture, presence, and being in the room.
I felt there was no way I was going to continue having credibility as an executive leader while lying down with no makeup. But actually I learned to lead in a completely different way. Having my team see me in a vulnerable state taught me that vulnerability doesn't have to be a weakness, and seeing me that way allowed my team to connect with me on a deeper level. I also learned my credibility wasn't built on my appearance or how I dress. It was built on my knowledge, and I could deliver that lying down and not looking my best.
How do you deal with setbacks? 
I have a business coach who's been with me for seven years and has become a dear friend. Everyone thinks of self-care very differently — it's all so personal — but for me it meant having a place with her to process what was happening and figure out how I would turn it into learning experiences. If you're not intentional about learning, the failures can crush and overwhelm you, and you can end up in a place where you don't see the forest or the tree. I found that carving out a time — even one hour a week — where I reflect on the week is important. I reflect on the great things that happened and make sure my self-critical brain doesn't delete them. I look at the things I wish I had done differently and think, What can I do differently the week after? It's a way of practicing gratitude as well as a growth mind-set. It's the closest thing I can think of as having magical powers.
And I eat a lot of Nutella. That's another way to do self-care.
Did you ever consider giving up? 
I'm a pretty stubborn person. During the moments with Facebook Watch in particular, there were times I questioned, Am I trying to make something work that just isn't going to work? At the same time, I had the intuition that this idea had legs. It goes back to the destination and the journey: You don't throw the towel if you believe the destination is worth reaching. The way to get there might not look like what you have in mind. It might look like taking another job or redesigning a product or core hypothesis. So I guess for me, I ask myself, Is my destination worth reaching? And if the answer is yes, I think about clearing the next hurdle.
Looking back, how do you feel about these challenges now? 
When I interview people, I always ask them for their setbacks. It worries me when people say they've had none because I think we learn the most from our setbacks. They force us to learn. I don't think I would have learned how to delegate as much if I hadn't been on bed rest for five months. It took being forced flat on my back with contractions every day to figure out delegation. It would have taken me years otherwise.
It was a setback in the moment, but looking back, it accelerated my growth the most. The most important thing is not what happens but how you react to it: how you rebound, react, and find your footing again.