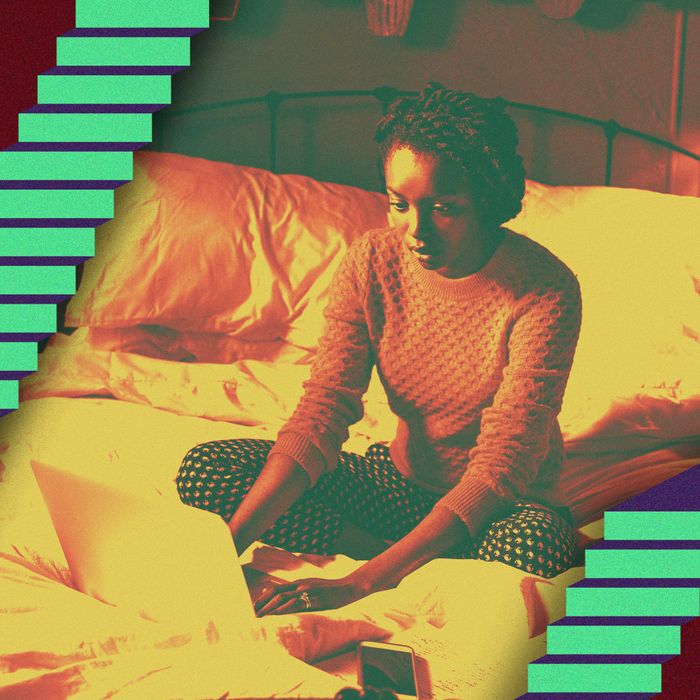 Photo-Illustration: by The Cut; Photos: Getty Images
Amid all the turmoil and upheaval of the past two years, you've probably mulled a future outside of the hamster wheel of a corporate job — or had no alternative but to leave your steady gig. According to a study from freelancing platform Upwork, 36 percent of the U.S. workforce did freelance jobs during 2021, an increase of 2 million people from the year before. Among those who haven't dipped their toes in the self-employment pool, the study found 56 percent said they're likely to freelance in the future. For some, this is a choice; others have been forced to leave a company because of layoffs, lack of child care, and caretaking duties. But no matter what, going freelance means you're on your own.
Below, five freelancers who struck out on their own during the past two years offer some help, with advice about how to best build your new business on your own terms, recruit clients, stay organized, and keep your workflow — and income — reliable.
Meredith
Clark,
39,
freelance
writer
and
researcher,
Madison,
Wisconsin
On going freelance
When the pandemic hit, I was working as a senior news producer for Patriot Act With Hasan Minhaj. After the season was done in June, I drove back to Wisconsin to spend time with my parents, sister, and extended family. In September, we found out the show wasn't being renewed. I was at a point in my life where being close to my family felt more important than striving for another impressive line on my résumé. I just lost the drive.
On staying busy
I keep a list of people that I've worked with in the past to check in with every six months or so. I set calendar reminders to send a quick note saying, "Hey, I remember we had a great experience working together, I'm available." It drastically increased the amount of work I was getting. There's people who think reaching out is mercenary, but if you are genuine, people don't treat it as somebody asking you for a favor.
On stocking her retirement fund
When my grandmothers passed away, they left me some money. One grandmother left each of the grandchildren $5,000, and my other grandmother, she had money in investments accounts. It was around $50,000. I recognize that's a pretty significant chunk of money, but that's my retirement fund. I have dipped into it when I've had really slow times or when I've been unemployed, but I've tried to treat it as something that doesn't exist because I want it to be something I can use wisely later.
Nathalie
Schrans,
25,
freelance
writer
and
content
strategist,
Los
Angeles
On going freelance
I was laid off from my job as a content strategist and social media manager just before the pandemic, so finding a new job in marketing was next to impossible. Eventually, I picked up some freelance projects and built relationships that led to referrals and regular freelance work that actually gave me an income. I definitely make enough money, but the benefits of a full-time position are really appealing, like employer-provided health insurance, paid time off, and a 401(k). So I am always on the search for a full-time role that could offer that.
On staying organized
The most basic but effective thing you can do is start making a spreadsheet for everything. It doesn't have to be pretty or perfect, but you need to document all your projects, invoices, and finances — both incoming and outgoing money — as soon as possible. I also use Google Calendar and Todoist to manage all my deadlines, work hours, projects, and tasks and Wave to manage my invoices.
On being ambitious as a freelancer
I thrive on feedback, and I want thorough, specific comments on a project. The best way I've managed to work through this is by taking the initiative to work on more projects with a client. That way, I'm automatically setting new goals and pushing myself to do more so I can grow instead of getting too comfortable. I always explicitly ask for feedback at the end of every project so I can better understand what the client wants in the future.
Randy
Ojeda,
32,
freelance
music
lawyer,
Tampa
On going freelance
I went to law school but ended up working in business development at a record label instead of as a lawyer. I didn't look back on the legal stuff until the pandemic. I realized if I'm ever going to make a change in my career path and do what I went to school for, now is the time to do it. I left my job in the beginning of 2021, hit the books, took the bar exam, and completely shifted into this new freelance career in music law.
On what he had to do before he started working
Not only does the bar exam take months of hard-core studying, but it takes another few months to actually get your results. As soon as I knew I passed, I formed an LLC then had to open a specific attorney trust account to hold client retainers and client money. There's only a few banks that offer that, so I had to do some research. I also joined a co-working space because, as an attorney, people have very sensitive topics to discuss, so they want an in-person meeting as opposed to just talking about it over Zoom.
On relying on a network
I have been fortunate to find a good community of other lawyers — some music lawyers and people in other practice areas — that have been there to answer questions for me. A lot of people go headfirst into what they think is right and don't take the time to do the research and make sure what they're doing is the right way to do it.
Alicia
Gaines,
33,
freelance
designer
and
musician,
Chicago
On going freelance
When the pandemic started, I was working at a large design agency as a senior designer. There was definitely a glass ceiling in my field, especially for Black women. In the summer of 2020, my fellow Black employees and I, of which there were not many, wrote a letter of collective action to my employer, which had a large reaction from corporate to bring in new diversity and inclusion elements that surprisingly had never been a part of the company. Those changes happened very slowly. The final straw was them bungling some bereavement for a COVID death. At the beginning of 2021, they gave me a bereavement day, then they tried to revoke it. I sent a very scathing letter to leadership, and I left.
On regaining her confidence
I've always had a strong sense of self, but I was naïve to the ways a workplace can make you question yourself. It took me six months to get my confidence back. When I quit in February 2021, clients started coming to me. These clients really respected what I had to say. They embraced the work that I made. They recommended me to other people. I started to remember why I liked being a designer and art director in the first place.
On staying focused as a freelancer
As somebody who can get anxious over a myriad of things, I had to think to myself, What little thing did you obsess about for days six months ago? I have to tell myself every day: You don't remember. It's going to work itself out. The most ambitious, most talented people think their work is the worst, and then they work harder. You might think that there's some reward for that self-flagellation, but it takes a long time to realize that you can be critical of yourself, and it's worth having a critical eye on your own work, but you have to enjoy it, too.
Sarah
Stacey,
29,
freelance
podcast
producer,
Wexford,
Ireland
On going freelance
I worked as a broadcast assistant for an Irish national radio station for four years. About a year into the pandemic, an opportunity came along to start editing a podcast for a U.S. client. It snowballed into further opportunities until I realized I had enough freelance work to start doing it full time.
On making it work financially
I was back at home in Wexford with my parents when the pandemic happened, so fortunately I didn't have rent or bills to pay at the time. I had some money saved up, which helped sustain me through the quiet weeks early on when I wasn't as busy as I am now. I also make sure to budget for things like tax bills and expenses. Finding a good accountant is so important. Make sure you keep precise records of receipts, invoices. Things can get overwhelming, and it will make life easier for you and your accountant if you have everything in order.
On setting boundaries
When you're just starting out in the freelance world, it can be really tempting to say yes to every offer, especially if the money's good, but there's also a danger that you'll take on too much. I've been in a couple of these situations and realized the importance of standing your ground, being clear about your expectations, and how you will and won't work. I make sure not to answer work-related emails and messages outside of standard working hours — 6 p.m. is usually my cutoff point — and I don't normally work weekends unless I've agreed to it at the start of a project. I've also set a minimum daily rate, which ensures I won't be underpaid. I recently decided to put together a document with details of what I expect from clients and what they can expect from me. I now send this to each new client I work with to avoid any potential issues later on. That way we can both be sure it's a good fit.
Interviews have been edited and condensed for clarity.