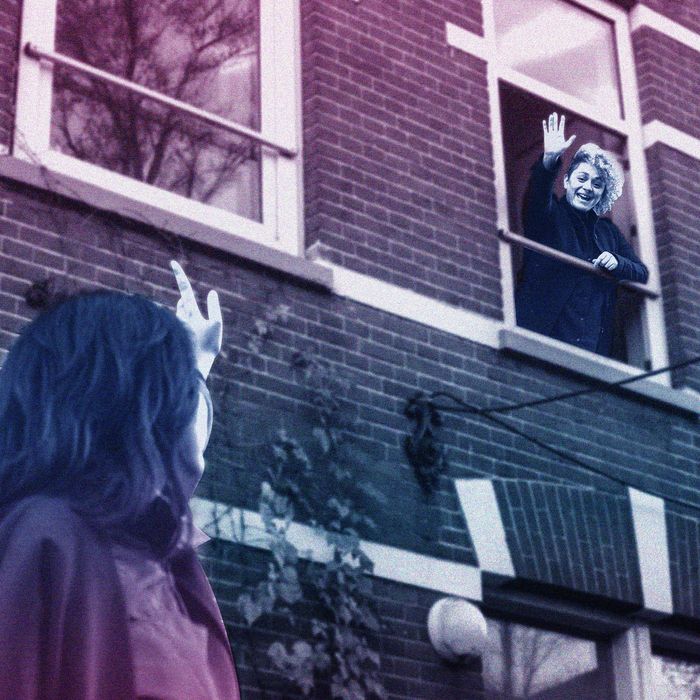 Photo-Illustration: The Cut; Photo: Getty
I have a confession to make: I'm your annoying friend. The one who sends too many texts, the one who shows up at your house unannounced, the one who is way too eager about planning a dinner party at some point in the distant future when we all go to dinner parties again.
Maintaining my friendships is a choice I make every day. Maybe that sounds counterintuitive. Friendship is something we expect to be simple and easy. To be comfortable and available. We talk plenty about working on our marriages or our relationships with our parents but rarely about those with our friends.
Like anything worth having, though, friendships take effort — oftentimes largely invisible effort. I believe that effort is worth it. So I'm that annoying friend. Sorry, not sorry. I need my friends.
Last month, my son had to go to the ICU following a scooter accident. He's fine now, thank God, but it was definitely one of those moments where your heart stops and your world feels like it might never be the same. In the midst of the chaos of the accident, my husband, Nick, and I immediately texted a friend to come take our toddler daughter for the night so we could both be at the hospital. We contacted another friend, who came to relieve us in the hospital so we could work and check on the little one. Still others brought food and activities to the ICU to keep us all in good spirits. Despite the terrible circumstances, I felt incredibly held and cared for by my tribe.
But my tribe isn't an accident. Its existence requires hard, intentional work.
Three years ago, I moved back to Philadelphia to raise my children after long stints in New York and San Francisco. This was a purposeful decision: Nick and I chose Philly to be closer to family and friends I had gone to high school and college with. I am now surrounded by people I have known for years, yet I still often have to put more effort into nurturing these friendships than I do my marriage. Nick sometimes jokes that it feels like I'm dating my close girlfriends. I always text them back right away. I'm the first to offer to drop off groceries when someone has a cold or a COVID scare. I initiate the group text, encouraging everyone to meet at the playground for early evening pizza and wine. I am a 40-something Kimmie Gibbler, just showing up at people's houses unannounced and sitting myself down at the kitchen island for some quality time. Sometimes I worry I'm a pest, but when I recently asked my friends if they secretly hate this, they actually said to do more of it.
"I'm such a fan of the pop-in. Making plans can feel too stressful," my friend Dana told me. "Please keep doing it."
"Maintaining friendships is super-hard," my friend Sarah added. "Every aspect of my life is about efficiency and logistics at home and at work and just moving the ball forward to the next day, but when I see friends impromptu, I always remember why I need to do it more."
And when we were in the hospital with my son, they all showed up in their own essential, impromptu ways.
Maybe I prioritize and put in the work on these friendships because I know what it's like to feel friendless. Six years ago, I moved to San Francisco to marry Nick, and I didn't know anyone. For the first couple of years I lived there, no one cared to know me.
I was in my mid-30s, and it felt like everyone in the city already had their people. I was so desperate that I would stop anyone on the street with a baby about the same age as mine and invite them to my backyard firepit to eat sausages and drink beer. Most people didn't have time for a newcomer (or maybe they were just sober vegans), and I was probably the loneliest I've ever been in my entire life. I longed for other women with whom to share the anxiety of the postpartum period, and the lack of those women made my anxiety even worse. I spent long afternoons pushing my stroller through the Bay Area fog desperate to be somewhere people cared about me.
So now I do put in more effort than maybe I should. I'm not saying this to pat myself on the back. I'm saying it because we need to recognize the work. Because I realize that what I do may seem a little extra, but it's all worth it. Not just because I know these women will come to my aid when I'm stuck in the hospital, but because I know that I need this kind of camaraderie to stay sane in a world that often feels like it's burning down around me.
Our society doesn't place nearly enough value on friendship; the rules and classifications are hazily defined. A friend is often seen as less important than a husband or a wife and definitely ranks lower than blood relations. So despite legions of studies proving they are essential to long-term mental and physical health, friendships are often the first relationships to fall by the wayside when life gets crazy. It seems so easy to make friends in college and your early 20s, when you're more carefree and have the hours to dedicate to the groundwork. But even though pop culture would lead us to believe that a pack of besties in full-fledged adulthood is possible, à la Sex & the City, Friends, and Seinfeld, maintaining friendships amid stressful careers, parenting, marriages, and caring for elders often feels impossible.
Enter the pandemic, which has done nothing to help our friendships. Over the past two years, it has often felt impossible to maintain any semblance of a normal friendship exactly when we've needed them most.
"The pandemic has shifted friendships a lot," Amanda White, a clinical psychologist and the founder of the Therapy for Women Center, told me recently. "Not everyone is good at communicating through texting or phone calls and we may have different preferences for how we stay in touch. For example, if your friendship was maintained mostly through seeing each other in person, the pandemic is likely to have negatively impacted it. Women in their 30s and 40s were likely to be more impacted by the pandemic due to being a caretaker and/or having children. We know women in this age group struggle with friendship more in general as people enter different life phases (marriage, kids). Their priorities change, and friends not going through this can feel disconnected or ignored. The pandemic only made this more difficult, as people have been more isolated and overwhelmed."
The pandemic has found myriad ways to make the work of friendship more intense. Our belief systems have been cracked wide open and examined ad nauseum. Even within my small friend group, our ideas of how to keep our families safe from the virus have varied greatly. Some friends test almost daily. Some friends are okay with indoor hangs as long as we're all masked and tested. Some friends don't want to meet up indoors at all. There are some friends I haven't seen since March of 2020 because they live with an immunocompromised family member. We try to keep up on text and FaceTime, but even that takes a toll on how close you truly feel to someone.
Over the past two years, it seems like everyone in my friend group has had different rules and boundaries for hanging out. I often felt like I had to make a spreadsheet to keep track of who felt comfortable hanging out only outdoors, who would eat dinner in a sidewalk pod, who still masked outdoors and who wanted me to test before I came anywhere near them, who was now sober and who wasn't. Okay, I'm going to admit something now: I made the spreadsheet. It was just easier than trying to keep track of it all in my head — and like I said, I'm that friend.
Yes, the work of friendship is more intense than ever.
I don't always want to be the friend making the plans or starting the texts or offering to host the playdates, but I want these women in my life and I'm willing to do whatever it takes to keep them here. I need them because they witnessed my pre-mother days, because they remember what I was like before I was a wife, because if I don't have their memories, then none of it seems real. I also know I can't be the kind of mother I want to be without a tribe around me to offer to share dinners, alternate school pick-ups, or just make me laugh when my husband and my kids make me want to scream. I value my female friendships as much as I value my marriage — even though my girlfriends and I never stood in front of an audience and declared our dedication to one another. In a way, though, that should make our friendships more valuable: We need to actively choose our friends again and again if we want to keep them.