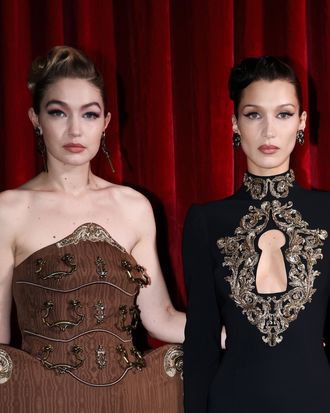 Photo: Vittorio Zunino Celotto/Getty Images
On Monday, Gigi Hadid put into words what a lot of us were feeling, and that was the strangeness of continuing Fashion Week amid a war breaking out. As some brands alter their commerce in Russia or donate funds to Ukraine, the 26-year-old model took to Instagram to announce that she would be donating everything she made to Ukrainian relief and continuing her support of Palestine. Today, model Bella Hadid announced she'd be following in the footsteps of her elder sister.
"Taking after Mica and My amazing Sis, I will be donating all of my earnings from this Fashion Week directly to organizations that are providing help, refuge and medical aide to those in need on the ground in Ukraine, as well as continuing to support our Palestinian people and land," Bella announced on Instagram.
In late February, Mica Argañaraz announced she would be donating part of her earnings to Ukrainian aid organizations and urged other models to do the same. At that time, Bella commended Argañaraz and showed support. Other models, such as Kaia Gerber, followed suit, with Gigi being the first to donate all her earnings.
"Having a set Fashion Month schedule has meant that my colleagues and I often present new fashion collections during heartbreaking and traumatic times in history. We don't have control over most of our work schedules, but we would like to walk 'for' something. Following in the footsteps of my friend @micarganaraz, I am pledging to donate my earnings from the Fall 2022 shows to aid those suffering from the war in Ukraine, as well as continuing to support those experiencing the same in Palestine," Hadid wrote on Instagram.