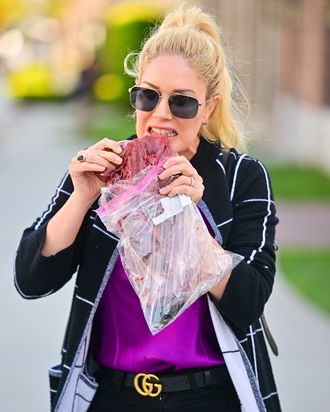 After two years of working at home, it's become clear to me that anything can be a snack. A Panera-style bread bowl? Sure. Spaghetti in a cone? Yep. Huge hunk of raw meat in a Ziplock? Why not!
On Wednesday, Heidi Montag was photographed digging her teeth into a bloody bison heart on the streets of L.A. You know that feeling where you're rushing between appointments and just need to gnaw on a pound of uncooked (unrefrigerated?) red meat? Very Yellowjackets.
Not that she needed to explain herself, but Montag did offer some more info on her recent dietary choices. Apparently, she's exploring new eating regimens to help increase her fertility, which includes eating not just bison heart but raw liver and bull testicles (which her husband, Spencer Pratt, apparently went to great lengths to acquire). "I love trying new things!" she told People.
It's been suggested that this is just the latest Speidi ploy for attention, which frankly is fine by me. If my jaw was strong enough to chew through a bull's ball sack, I'd want the world to know too.