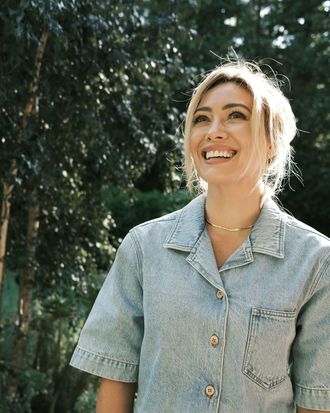 Hilary Duff leads the cast of How I Met Your Father and signed on to be an executive producer, which was a first for her. Despite what it sounds like, it's not a reboot. The Cut's editor-in-chief, Lindsay Peoples Wagner, spoke to Duff for our In Her Shoes podcast about growing up in the spotlight and her most recent projects, which include playing the younger version of the iconic Kim Cattrall.
You were 13 when Lizzie McGuire started. I'm curious about what your 13-year-old self really understood about the show and the stories that you were telling about young women on TV.
At the time, it was so close to who I was that it was nice to feel like I was not going through it alone. It almost felt like I had this other person who I could brave all of those experiences with. But I wasn't reading the scripts thinking, Oh my God, I deeply understand that this friendship is falling apart because of this boy, and then eventually we'll find each other. I wasn't doing these deep character dives on Lizzie; I feel like we were one and the same. It's not until now, when I look back and I'm like, "You know what? The show was really special." Of course, there was funny parts and immature parts, but it was really thoughtful and kind and sweet and smart.
There's so much early-2000s nostalgia now. You've seen this if you spent some time on TikTok, which I'm assuming you have since I saw your redoing of the dance, which I also loved, but what do you feel like when you see all of this early-2000 nostalgia?
I'm not that deep into TikTok right now. I'm intimidated by a new platform. My husband is an expert at TikTok, and I'm like, "You win this. I can't." I'm a mother of three; I don't have a ton of downtime. Of course, I can scroll through TikTok and appreciate so much of the content. I'm incredibly impressed by how creative people are and how much time people have to film this shit. I think it's funny and I obviously relate to it. But then there's a part of me that's terrified to continue having stuff from my past dug up and revisited, because not all of it I'm proud of and not all of it was top-notch, that's for sure.
A lot of people who you may have grown up around in the industry or people who were in things around that same time may have not been able to handle the fame and pressures as well as you did. How were you able to handle being young in the spotlight?
I remember I was maybe 18 or 19 on tour, and this mother came up to me after the meet-and-greet and was like, "Whatever you do, don't change. Just stay the same." It was so intense and she was holding my arms and looking in my face, almost begging me. I was obviously nice to her face, but I remember going into my dressing room and being like, "Don't change? Don't ever change? I'm 18; I'm doing nothing but changing." It was shortly after that that I decided to stop touring. I took a huge break. I learned how to live alone. Taking that break and fucking up, but trying to be private about my life, helped me find my footing again when my whole life was scheduled for me.
Let's talk about Younger. What prompted you to join the show?
Talk about being grateful for a job. I was really in need of something in my life at that time. I had just had Luca, my oldest child, maybe a year and a half before I got the call for that show. I really hadn't worked. To get that call from Darren Star one day — I was just at home with my son. I was about to get divorced; my relationship was falling apart. And he was like, "I can't see anybody else in this but you. Come to New York and shoot this pilot." And I was like, "I have to tell you, I haven't even told anyone this, but I'm about to get divorced. I can't uproot my son and come to New York to shoot a show." And he was like, "Yeah, you can. We're just shooting the pilot; we'll go from there."
We have to ask about working with Kim Cattrall on How I Met Your Father and playing the same person. What has that been like?
When she said yes, I was like, "Wow, that is so cool." I have a lot of "that's cool" moments, and I'm not jaded, but I'm not too excitable anymore. I look at my kids sometimes, and they'll be jumping up and down for bubbles, and I'm like, "God, when is something going to get me that excited ever," to physically move my body up and down because I'm so excited? It doesn't happen that often. But when Kim Cattrall signs on to do your show and play you, you do that.