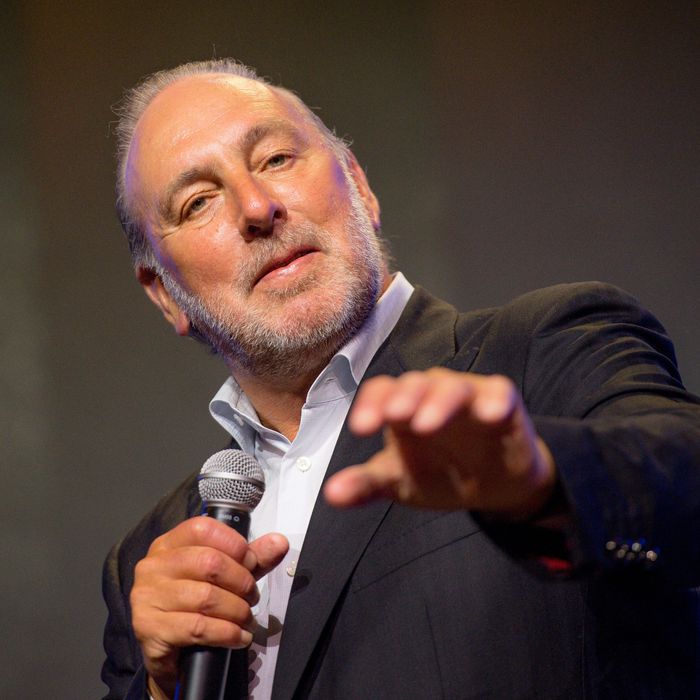 Photo: Marcus Ingram/Getty Images
Hillsong, the controversy-ridden Australian megachurch, is having a moment — and not the good kind. On Wednesday, March 24, Brian Houston, the leader and co-founder of Hillsong, resigned following an internal investigation into allegations of misconduct.
Houston has been accused of misconduct before, albeit of a different kind. In August of 2021, he was accused of covering up his father's crimes against minors. Criminal charges were brought against him in Australia, claiming that he knew his father was molesting minors and failed to report it. Houston denied the allegations at the time, telling the Washington Post, "I vehemently profess my innocence." The charges reportedly led him to step down as Hillsong's Global Pastor in January, and now he has been dismissed entirely, though the official reason has nothing to do with the charges.
There were two specific instances of alleged misconduct that led to Houston's resignation, as described in a statement released by Hillsong on Friday, March 18. The first took place a decade ago and involved "inappropriate text messages from Pastor Brian to a member of staff, which subsequently resulted in the staff member resigning." At the time, Houston reportedly sought treatment for a dependency on sleeping medication. The second incident occurred in 2019, when Houston, allegedly under the influence of anti-anxiety medication mixed with alcohol, stumbled into a woman's hotel room. "Although parts of the complaint were unable to be sustained, important elements of the complaint were sustained and the conduct was of serious concern," the statement said.
Houston is just the latest Hillsong leader to step down after a highly publicized controversy. In 2021, Darnell Barrett, the pastor of the church's Montclair, New Jersey, branch resigned after accidentally sending a shirtless selfie to a church volunteer. Before that, Hillsong's New York leader, Carl Lentz, was ousted from the organization. He later confirmed that he had extramarital affairs and was subsequently accused of more inappropriate conduct with women, including the allegation by a dog walker who said he heard Lentz making "sex noises with a younger star," per Vanity Fair. Lentz's abrupt departure from Hillsong, and the destruction of his reputation that followed, was especially dramatic considering his close ties to Hillsong's most famous celebrity devotees. Lentz had attended Justin Bieber's wedding, and was known to associate with Selena Gomez, Vanessa Hudgens, and other Hollywood stars. (Bieber, arguably Hillsong's most famous member, has since distanced himself from the church.)
Of course, it's not just the pastors who have drawn negative attention to Hillsong. Never forget the time Elliot Page called out the church's history of homophobia, only for Chris Pratt to respond and remind us all why he is the worst Hollywood Chris. And now, a new docuseries on Discovery+ called Hillsong: A Megachurch Exposed, is set to attract even more attention to the church.
After years of scandals and resignations, other employees are starting to leave the church. Following Houston's resignation, the Lead Pastor of Hillsong Atlanta, Sam Collier, also stepped back, citing the church's numerous scandals. "My greatest reason for stepping down as Pastor of Hillsong Atlanta is probably not a secret to any of you," he wrote in an Instagram statement on Wednesday, March 23. "With all of the documentaries, scandals, articles, accusations, and the church's subsequent mismanagement of these attacks, it's become too difficult to lead and grow a young Church in this environment." Upon announcing his resignation from Hillsong, a representative for Collier told the New York Post that the overwhelming scandals had pushed him away — and he "may be the first of many."