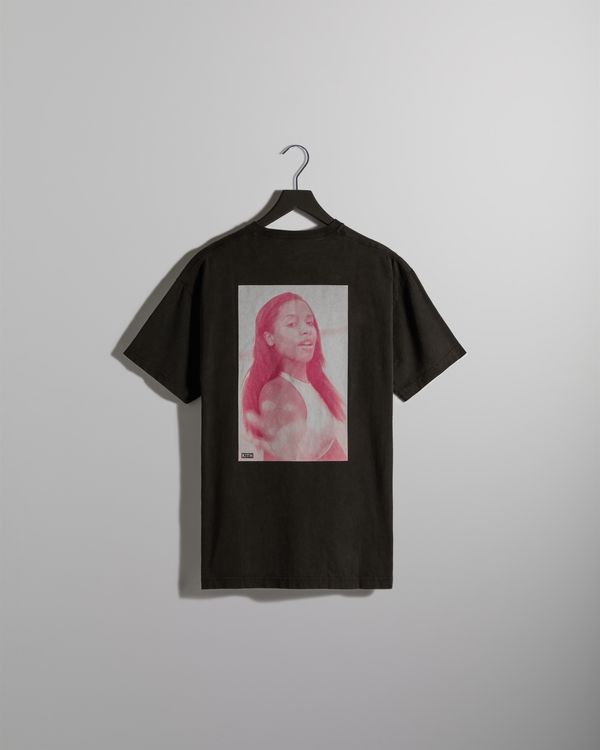 The Aaliyah and Kith collaboration.
Photo: Credit: Courtesy of Kith / Robert Whitman
Aaliyah's brother, Rashad Haughton, approached the streetwear brand Kith with an idea to collaborate in 2020, and he came with an offering: a collection of never-before-seen photos of Aaliyah taken by Robert Whitman. The portraits were taken throughout the course of Aaliyah's too short life.
Haughton approached Ronnie Fieg, founder and CEO of Kith, and Sharifa Murdock, the brand's chief impact officer. Murdock was well versed in handling collaborations. Since last year, she has handled the company's philanthropic endeavors including a collaboration with the estate of Martin Luther King Jr., proceeds of which went to Martin Luther King III's efforts in activism, and a collaboration with the estate of Biggie Smalls, proceeds of which were donated to six schools around Brooklyn, where the rapper grew up.
It was important for Fieg, Murdock and Haughton to highlight the Detroit School of Arts, his sister's alma mater. The result is a collection of hoodies and long-sleeved T-shirts that feature images of Aaliyah as well as a short film about the Detroit School of Arts' dance team, who wear various looks from the collaboration at rehearsals recorded for the film, and its principal, Dr. Mayowa Lisa Reynolds. (All of the proceeds will be directed to the school and I Support the Girls, a nonprofit organization that collects and distributes essential items to women experiencing homelessness.)
The Cut spoke with Murdock about her new role, the origins of the collaboration, and working with the girls at the Detroit School of the Arts.
What draws you to a collaboration ?
It needs to have substance. It can't just be that we're gonna do a project just to do a project. Even for this Aaliyah project, we've been speaking to Rashad for two years about this, and we wanted to make sure it was the right fit and the right time to do it. We wanted to make sure that we were giving back to the right spaces.
Can you walk me through how this all works? 
Rashad tapped Ronnie and told him that he wanted to do something special. We mashed up Robert Whitman's photography and decided to come out with products, per Rashad's request. When we started discussing it, it was more about how we could give back to the arts. It made sense for us to give the proceeds to the school — that was our No. 1 thing.
How did this project align with your own values?
When we first got to Detroit to meet the girls, I was excited to get there and kind of teach them, but they taught me. Speaking with the principal, I was like, "We didn't have this growing up." The support, a principal, the support of the school, and even the support of Aaliyah's family. If we didn't have any of those pieces, it wouldn't have worked. The girls, the principal, the assistant principal — everyone was so helpful. They wanted to be involved, and they wanted to see this happen for the family.
Why Aaliyah for this type of collaboration?
It speaks to this generation, it speaks to youth culture, and it speaks to our culture. So I feel like all of the girls who shop Kith — even the guys — know Aaliyah.
What was important about this collaboration?
Making sure the quality was there — even the quality of the T-shirts — was important. These images were the importance of the whole entire project because it was like we were bringing out something new and fresh and still keeping the heritage of who she was.
What does it mean to you to support young people like students in Detroit?
I am that young Black girl growing up who didn't know her value. That had to be brought out of me, so I want them to realize that as young people, and they already do. They already have that passion.