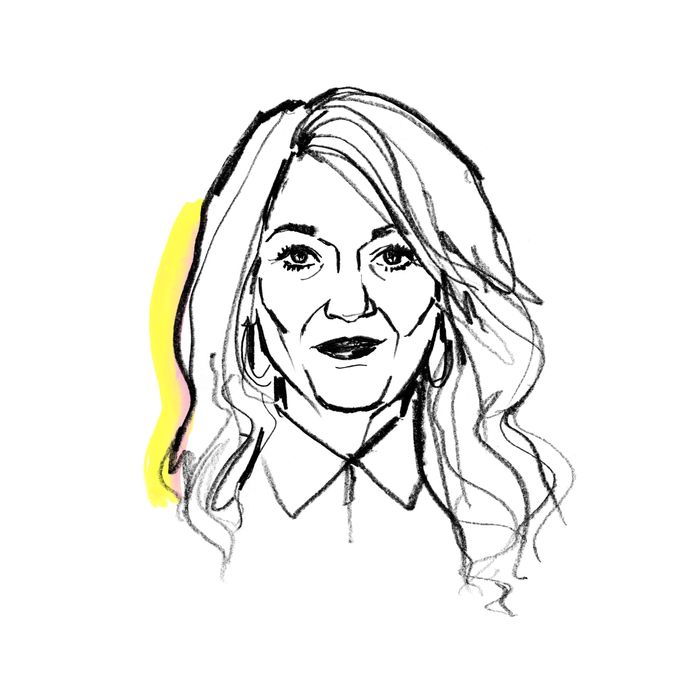 Illustration: Lauren Tamaki
Surely, you know about Lady Gaga's album and hit single, "Born This Way." But did you know that it's also the name of her nonprofit, Born This Way Foundation, and that she founded it with her mom, Cynthia Germanotta, who is also the org's president? Their mission is to support the wellness of young people and work with them to build communities, and "make the world kinder and braver." This year, they're celebrating ten years in operation. "The biggest thing that propelled Born This Way Foundation into the world was the transformative impact that kindness has had on my daughter, Stefani," Germanotta told the Cut. "She's talked about this quite often, but the absence of kindness, and the absence of certain resources, is what led to mental-health struggles for her. So we focus every day on three lofty goals: making kindness cool, validating the emotions of young people, and eliminating the stigma surrounding mental health."
Germanotta has been working for months on getting the foundation's new peer-to-peer Be There Certificate course ("think of it like a MasterClass, but for mental-health support") off the ground, as well as on the foundation's tenth-anniversary plans and so much more. Below, we talked to her about her day-to-day and how she gets it all done.  
On starting her day with intention: 
I love mornings. It's my favorite part of the day. I just love the quiet of it, and that opportunity to look at things with a fresh perspective. I usually wake up between seven and eight, depending on what I have to do, and whether I'm working from home or not. I have a cup of tea and then do a couple of little rituals to get myself grounded. That includes writing in a gratitude journal three things that I'm grateful for. And then sometimes I will read a passage from The Book of Awakening, by Mark Nepo. It's not religious in nature; it's more philosophical, and it sets my intention for the day. There's a saying for every day of the year, and I find them to be very meaningful. You remind yourself of gratitude not only to counter whatever struggles or issues you might be having in your life, but also because during the pandemic, we've lost some grounding. We have lost a sense of connection and control. And I think it's important to do that for ourselves; it helps me a great deal. And then I just get on with my day by planning. I prefer to look at the week ahead versus looking at a particular day because I think it gives you a better perspective on what you have to accomplish. If you understand what your priorities are that week, it's a lot easier for you to build a to-do list.
On managing stress:
One thing that I've tried to do, and also advise young people to do, is establish a routine. The second is to just recognize your vulnerabilities, which can be a challenge. We just have to lean into being kinder to ourselves and let ourselves know that it's okay. A mindfulness practice helps you stay present, instead of getting caught up in this feeling like you're going through the motions of life. It helps you get centered and be more conscious. And it helps you better control your emotions.
On Zoom fatigue:
Like everyone, I'm Zoomed out. But I also recognize that it's been a lifeline for all of us during the pandemic. It's been a good thing to have. It's important to recognize that we're not looking at little rectangles or boxes; there's real people in there with real needs, and we have to figure out a way of acknowledging that and talking to them truly as people on Zoom.
On exercise:
I'm the type of person where either my mind or body, or usually both, are always in motion. So I need outlets. I need a form of exercise or reading. I've studied dance since I was very young — 4 years old — and I still study ballet at Steps on Broadway. I love to power-walk. I live near Central Park, so I spend a great deal of time there. That saved me during the pandemic. I also love cycling, SoulCycle in particular. That's what I do to calm my mind and body — and energize it.
On her family's work ethic: 
I grew up in what I would consider a very small town — like 800 people — in West Virginia. My family understood the value of hard work, of putting your head into the wind and moving forward with a goal in mind. I started working with and for my father when I was 12 years old. At the time, he had a small insurance agency. I learned a lot from that environment, but also commitment and dedication and kindness from my mother, who was a stay-at-home mom. I've always said that's way harder than the type of work where you're outside of the house, because you're just so fully committed to raising your children and your family and caring for your home. That was incredibly important to my mother: raising her children and ensuring the best life possible for them.
On life as a working mom:
A lot of people talk about their work life, and then their family life, and I don't think it's wise to separate them. It's important to be your authentic self in both of those environments. I've also learned that it's not possible to really "do it all" — and do it up to your personal expectations. That's a lot of pressure to put on yourself. Something has to give, right? It's about knowing what has to give and candidly, as much as possible, putting your priorities in perspective. I did my best as a working mom to try to balance — to always be there for my children, especially in the important moments. I was at every doctor's appointment, basketball game, swim meet, performance, art show … I even tried to schedule travel around these things. That's what was important to me at the time.
On what she's observed working with young people:
One of the biggest takeaways during this pandemic is how resilient they are despite these issues that they're having. We actually conducted a study during the pandemic, and a majority of young people see kindness as the way forward. They want to help themselves, and they want to help each other. I don't want to minimize the tremendous issues that young people have had during the pandemic: increase in depression, anxiety, suicide. But they're looking for tools to help cope. We've also learned through our research that one of the biggest deterrents to young people getting support is that they simply don't know where to go, and that's where organizations like us come in in collaboration with our partners.
On what she's learned from her daughters:
I've learned to not only listen but understand and validate what they are going through. Oftentimes as parents, we listen, but we're not always really understanding where they're coming from. And we do have high expectations and that intersection can cause some stress if it isn't managed well. I've tried to learn to not impose my values and priorities on them, which I think is a natural inclination. It's also a natural inclination of parents when you do see your children struggling to go into fix-it mode and prevention mode. In our research we've learned that one of the reasons that young people don't confide in their parents or adults is they don't feel listened to and understood; they feel that they're being judged. They also feel that their parents or adults don't share their own struggles. We have this image of adults as: We're getting it all gone and we've got it together, and we're nailing it in life. So I've tried to learn to be a little bit more vulnerable.
On staying focused:
Our mission statement is empowering and inspiring young people to build a kinder, braver world. That's a very lofty goal, but as my daughter said, if it was easy, somebody would have done it already. So we knew when we were entering into this that it's something that would take decades to really have an impact, and to be able to understand it and measure it. Patience is important with any business, whether it's commercial or philanthropic. We were a start-up that was looking to change behavior. One of the biggest things that has helped on that journey is having a sound strategy. But also being able to pivot and adjust where necessary and staying as true to the mission as possible. With any business, you always have to course-correct. But we spent a lot of time on the front end working with young people, and talking to partners to try to get it right, so that our mission, at least the general framework of what we were doing, would stay sound. My favorite part of what I do is learning from young people. I would encourage organizations to involve the youth voice in whatever aspect of their business that they can. And we do see more and more organizations doing that, and we like to challenge organizations to do that. So I hope that's a little bit helpful.
On how she ends her days:
A nice meal is always nourishing. When our children were growing up, family meals were important. We would always eat together and cook every meal together. Both of my girls appreciate food, and they're really good cooks as a result. Lately, we haven't been cooking together so much, but we do when we're together, like over the holidays. We've learned there's a lot of healing power in a family meal. It's a safe place to have lots of conversations, including about mental health. We're a big proponent of family meals, however you define your family.