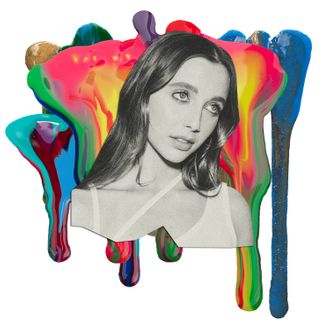 Photo-Illustration: by The Cut; Photo: Courtesy of Emma Chamberlain
It's no wonder that YouTuber Emma Chamberlain claimed a spot on Forbes' 2021 30 Under 30 list, or that she's translating her powerful social-media presence into lucrative businesses that also explore her creative passions. Between having a billion-plus views on her videos, a successful podcast called Anything Goes, and her eponymous coffee company, Chamberlain Coffee, the 20-year-old is diving into entrepreneurship and building a team to support her in all her endeavors. She also regularly partners with brands like Louis Vuitton and PacSun on influencer collaborations, sponsored content, and marketing campaigns, and she serves as Bad Habit Beauty's creative director.
No two days are the same for Chamberlain — she juggles content creation with editorial photoshoots, recording her podcast (in bed), and releasing new products for her coffee brand. She represents the next Gen-Z social-media stars who quickly saw that digital clout could be the fuel they needed to power (and to fund) their dreams. But she admits that it doesn't come without a cost, being so plugged-in — it requires a balance she is learning to master.
Chamberlain always dreamed of being her own boss, so the freelance life began to call to her during her high school years. She is "beyond grateful" for her journey and the opportunities she continues to receive, but wants to keep it real about entrepreneurship's long list of pros and cons so others can truly understand if the content creator life is for them. Though her influence is quite literally growing by the day, she's taking pleasure in the simple things and discovering ways to disconnect from social media for the sake of her mental health. She lives in Los Angeles. Here's how she gets it done.
On her morning routine:
Normally, I wake up around 7 a.m. I go straight to the kitchen and assemble a cold brew. It's my morning ritual. After I sip on that for a while, I'll go into the bathroom, brush my teeth, and rinse my face with water. Then, I'll usually go and exercise, but I'm not always in the mood. Bootcamp-style workout classes are my favorite right now because they get your ass together. I like to eat after my workout. Recently, I've been making smoothies. I also love overnight oats and a simple egg with avocado. Scrambled eggs with pesto and Parmesan on top are really delicious.
On a typical workday: 
With this career, you're always working. There are no set hours. I like to get my most tedious tasks done between noon and 3 p.m., whether that's answering emails or creating content for a brand collaboration. When I'm shooting, that usually takes up the entire day from 6 a.m. to 5 p.m. I record a podcast once a week and I fit that in whenever I can. I record it from my bed, all by myself. I'm grateful that I have the freedom to do things when I want and how I want. I decide when I feel the most ready or the most inspired. But sometimes that can be terrible because I may not feel like doing something for an entire week, or I may not have it in me to do things for a few days. When you're your own boss, you have to be disciplined. I don't want to overwork myself, but I never want to have too little to do.
On staying motivated:
I keep myself moving forward by doing as many things as I can as soon as they're assigned to me. I look at things the same way I did in school, so I try not to procrastinate. My creativity is stifled the longer I wait because I start to run out of time. The sooner I get started, the better. It's both reassuring and comforting because it doesn't feel as daunting when I have to revisit it the next day. This gets the ball rolling properly. If I don't, it feels like a weight on my shoulders.
On her job's biggest challenges:
I know a lot of people look at being self-employed and being your own boss as the goal and the best scenario when it comes to work. I certainly thought that. And there will always be tough parts of working for other people. But I don't believe self-employment is the best generally because I look at people who get to be on autopilot and separate their work from their personal life and I envy that. My work and my life are wrapped up together, and my work is never off my mind. I can't ever check out. Being self-employed is not perfect and it's not this end-all be-all "you win" idea. Working is working! These are the cards I've been dealt and I wouldn't change them for the world, but I've had a lot of challenges in adjusting to being my own boss at a young age. I have had confusing and very difficult moments emotionally. And after four years, I feel like I'm just finally falling into a routine.
On keeping imposter syndrome at bay:
For some reason, it feels like it's fully ingrained in my being to believe what I'm doing is wrong, that I don't deserve any of this, and that I'm a fraud. In my brain, I think that people have the wrong idea about me and that I'm getting praised in ways that I don't deserve. It haunts me and makes me want to run away because I feel uncomfortable. So I'm trying to learn to let go of those feelings and be excited for myself as much as possible. I'm also working on disconnecting from the internet more often in healthy ways, which is hard. But I have to preserve my own sanity. I have to be honest with myself that I don't think following people is good for me.  Most of the time, I don't want to see what people are doing. I just want to share.
On what would surprise people about her job:
What I'm doing now is my dream job, but I never thought about what being in the public eye was like. I just wanted to share my ideas on the internet, make content, and edit videos. You need an audience for that, of course. But the negative side is the lack of privacy. Because there's no one to blame but yourself most of the time, and you think, I could walk away, right? So it's this battle. Sometimes I feel like a zoo animal with everyone looking at me. It's intimidating, uncomfortable, and everyone has something to say. And half of the time, the things they say aren't very nice. People want to know about parts of my life that I don't want to share and you feel like there's nowhere to run. But there is a place to run: You can quit! But you don't want to quit, because it's your dream and there are so many beautiful and amazing things about it. I love this and I wouldn't want to do anything else, but fuck it's hard. The truth is, you can find that balance, but it's really hard and takes discipline. There's a hamster wheel in this industry that tells you that you need to be going and producing all the time. If you can step back from that and take some time for yourself where no one is seeing what you're doing, you're in a sweet spot. But it's a very hard thing to learn, and I'm in the process of learning it right now.
On managing stress:
I prioritize getting my work done over my social life, which sounds like it wouldn't be good. But I'm so much less stressed if I complete my work before I do other things. Hanging out with friends, going to dinner, and going on trips are all motivation to finish up my work. When I structure things like that mentally, I can complete tasks, enjoy my free time, and not be stressed out in my moments of rest. I'm also very picky with relationships and people in my life, because I don't want drama with those. I keep my circle very small, so all my stress is work-related. When I do get to be around the people I love, that is a fully relaxing and rejuvenating experience. Exercise also helps me manage my stress, because I need to sweat that energy out. I've always been this way, since I was a kid.
On creating her own coffee business:
Growing up in San Francisco, on the weekends my dad and I would make trips out of going to different cafes. Those are beautiful memories for me. As I got a bit older, I loved going to them by myself after school, or with my friends. In my sophomore year of high school when I started doing YouTube videos, I was vlogging about my days, and in those videos I was drinking a lot of coffee to get through my high school life. People started thinking of me as a coffee girl. Fast forward a few years when I started building a team that could help support me, they told me I should do something with this passion. I was around seventeen when this conversation started, so I was young, but I knew I wanted to have a coffee company. My team has been supporting me through all this because I'm the expert in the creative space and what tastes good. But when it comes to the details, I need help. They've reassured me we could do a good job at this and we have. We did a rebrand a little over a year ago and I'm so proud.
On ambition:
I'm not very competitive with others, but I'm always pushing myself. I'm continually trying to be better than I was the day before, but that's not always the greatest as it doesn't leave me as much room to be stoked and happy for myself as I should be. I feel like I have something to prove — that I'm not making a mistake about myself and neither are other people. That I deserve the trust I've built.
On the advice she'd give to burgeoning content creators:
Don't let the sparkly parts of this industry sweep you off your feet. Keep your wits about you. They often say working in this industry can be like selling your soul. I think it's true metaphorically — not on some conspiracy level kind of shit — but you can definitely start selling products you don't believe in, or putting your face on things you don't respect for a check, manipulating your audience for the money and getting greedy with it all. I see people do things like this and I understand it, but you can't be swayed by anything that seems quick. You have to take your time. Everyone has something special. It's really about whether or not you're willing to tap into that in front of a camera or behind a microphone.
On self-care:
Reading in bed is one of the ways I take care of myself. I go through phases with it, but it's been amazing for me lately. I also love cooking because it forces me to put everything down and focus. And I get something at the end of it that is delicious. I'm randomly roasting things in my oven right now. Going out to dinner has also been great. Getting to sit, enjoy the experience and the people I'm with, relax, and have a conversation — there's nothing better than that.