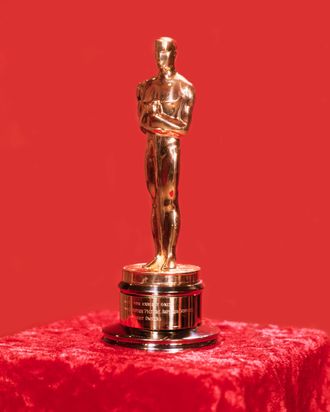 Photo: Bettmann/Bettmann Archive/Getty Images
In an awards season stunted by pandemic postponements, the 94th Academy Awards will take place as planned at the Dolby Theatre in Los Angeles this Sunday, March 27. What do we have to look forward to? Hopefully, Lady Gaga on the red carpet, maybe a cameo from Ukrainian president Volodymyr Zelenskyy, and, if we're lucky, a performance by Beyoncé, who is nominated for her first Oscar.
After last year's historically low ratings, the Oscars broadcast is scrapping its no-host model: Regina Hall, Amy Schumer, and Wanda Sykes will co-MC, trading off every hour. This year will also feature two new fan-voted categories for Favorite Film and Favorite Movie Moment, determined on Twitter, where, in a chaotic twist, Amazon Prime's girlbossy Cinderella, starring Camila Cabello, appears poised to win. While the two new Twitter awards will be announced live, eight traditional categories, including Best Original Score and Best Makeup and Hairstyling, have been removed from the telecast to save time. The snub has provoked outrage among industry professionals, many of whom signed an open letter to Academy president David Rubin, arguing that the telecast changes "demean" the categories. Jessica Chastain, who's nominated for Best Actress for The Eyes of Tammy Faye, even said she'd skip the red carpet in order to be with and support the film's makeup team when its category is announced. Rubin has defended his decision, stressing the importance of attracting a "large audience." The good news is that this means the telecast will be slightly shorter; unfortunately, the 30 minutes of trimmed airtime comes at the expense of those in the industry who are already most likely to be overlooked.
While the Oscars have made more of an effort to highlight the work of diverse nominees since the hashtag #OscarsSoWhite went viral in 2015, this year, all of the Best Actress nominees are once again white. Meanwhile, following uproar that West Side Story star Rachel Zegler did not receive an invitation (despite the film's numerous nominations), The Hollywood Reporter reports that she will now be a presenter. At least we have her red carpet appearance to look forward to, along with the hope that Kirsten Dunst will finally get her first Oscar. The red carpet kicks off this Sunday at 6:30 p.m. ET on ABC, followed by the awards ceremony at 8 p.m.