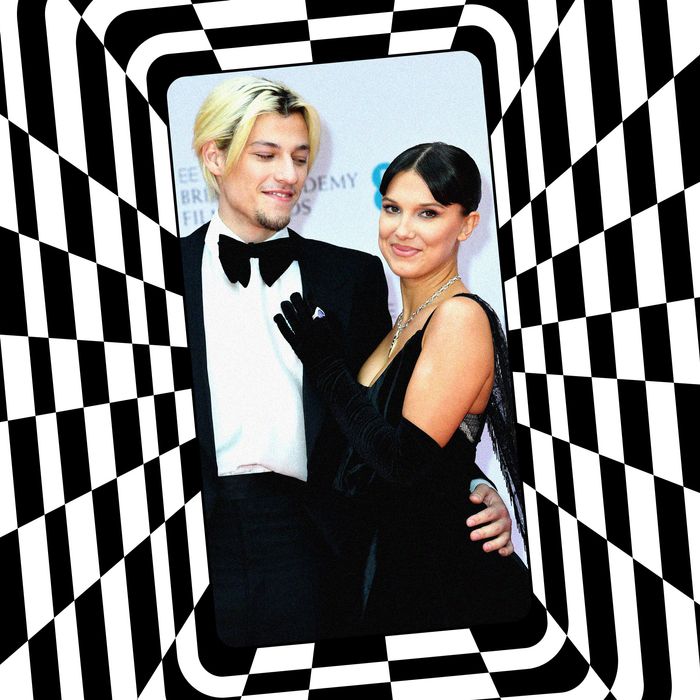 Photo-Illustration: by The Cut; Photos: Getty Images
Few things please me like finding out a celebrity's real name. 50 Cent was born Curtis? Incredible. Pink's given name is Alecia? Amazing. In real life, I feel betrayed whenever I learn a friend has been going by their middle name this whole time. However, I draw perpetual energy from the knowledge that Fergie is actually Stacy Ann, Drake is really Aubrey, and Miley was originally Destiny Hope. Thus, when Millie Bobby Brown — surprisingly not a stage name — recently made her red-carpet debut with her boyfriend Jacob Bongiovi, it sent my heart aflutter. Bongiovi as in … Bon Jovi?!
Yes, Millie Bobby Brown's boyfriend, Jacob Bongiovi, is the son of Jon Bon Jovi — Jon Bovi if you're nasty. This is unsurprising if you look at even one picture of Jacob. They are nearly identical. Jacob looks like the TikTok-ified version of his dad. Only genetics could explain that hair.
What is surprising is this means Jon Bon Jovi's actual name is … Jon Bongiovi. They are pronounced the same but one is more Anglicized. (Italian erasure?!) Jon Bon Jovi sounds like a rockstar. Jon Bongiovi sounds like a pasta scion, which is fitting because, as Who? Weekly has noted, there is a Bongiovi-brand pasta sauce made by Bon Jovi's dad, Jon Bongiovi Sr. While all this may not be revelatory to some who have, say, Googled "Jon Bon Jovi" even once, I am a lifelong learner. I wish to live deep and suck out all the marrow of life and scream loudly about celebrities' government names. Justice for Bongiovi!
Now that his relationship with Millie Bobby Brown has thrust him even further into the spotlight, everyone seems to be asking, "Who is Jacob Bongiovi?" For starters, he and Brown were first rumored to be dating back in November 2021. They have since become the Scandinavian Barbie and Ken of Instagram. Before that, back in 2018, Jacob shadowed Cory Booker for a day. Following in papa's footsteps, I see! Aside from these key factoids, it seems Jacob Bongiovi is just … extremely 19. His Instagram profile picture is of Batman walking away from a car on fire. He follows a Jake Bongiovi fan page. Par for the course when your dad is responsible for some of history's most iconic "whoa"s.
What is next for Jacob Bongiovi? Will he, like his dad, collaborate with the royals and take part in one of Prince William's future cringiest moments? Will he, also like his dad, make an appearance on the Sex and the City reboot despite never having seeing the series? Will he be the second Bongiovi son to come out with his own rosé? Who's to say! In the meantime, I suppose I've gotta hold on to what we've got: the knowledge that Jon Bon Jovi is actually Jon Bongiovi.