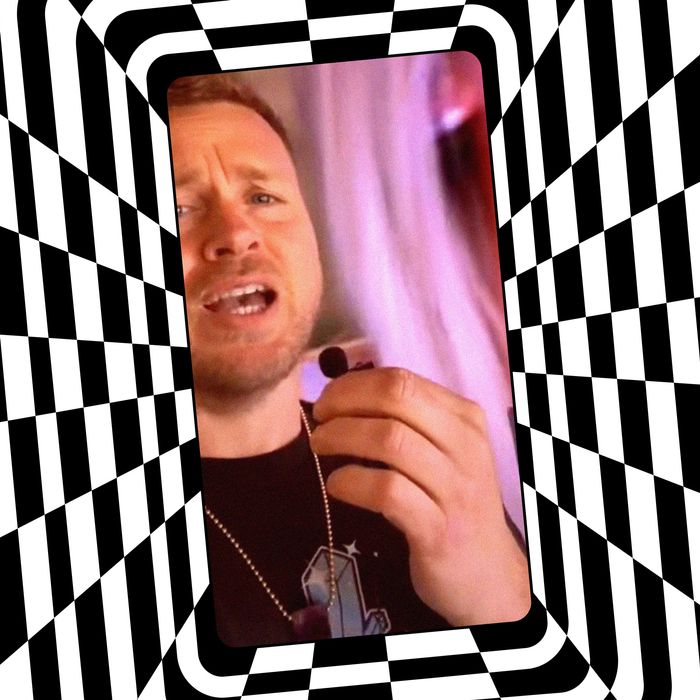 Photo-Illustration: The Cut; Photo: Spender Pratt (@spencerpratt/TikTok)
It's difficult to overstate the choke hold Laguna Beach and The Hills had on my late adolescence. I loved the early-aughts opulence — all thin eyebrows, Chanel bags, and mini-pouf hairstyles. I loved its faux accessibility — these teens and 20-somethings are just like you except richer, hotter, whiter, and with a Natasha Bedingfield soundtrack. I especially loved its cast of characters — the hero (Lauren Conrad), the love interests (Stephen Colletti, Jason Wahler, et al.), whatever Justin Bobby was supposed to be. And, of course, the villain, Spencer Pratt.
In the decade since the original Hills series ended, Spencer Pratt has done … exactly what you'd expect him to do. He's had his fair share of, shall we say, missteps and often blurs the line of what can be considered "trolling." He's made the rounds on reality TV with his wife and fellow Hills alum Heidi Montag. (I prefer to call the two by their government name, Speidi.) He started a crystal business. I don't think he's gotten involved in NFTs, though I fear it's only a matter of time. Most recently, he's been all over TikTok.
Spencer is a multifaceted TikToker. He has one video where he essentially says he'd let Ryan Seacrest punch him in the face for $5 million. There's another where he's pushing a giant crystal that looks like a large hunk of meat in a wheelchair. There's Hummingbird Spencer. Wife Guy Spencer. Wine Mom Spencer. And, of course, Crystal Spencer. Regardless of the content, he's often wearing his own merch.
But the TikToks I find the most fascinating are his most recent ones. Over the past month, Spencer has been watching his episodes of The Hills for the first time and recapping them in a series either called "The Spills" or "The Hills Have Lies." He's given behind-the-scenes details on the good times (eating chips and salsa), the bad times ("dating" Audrina Patridge), and the times manufactured by producers (e.g., the "frankenbiting," Heidi's pregnancy scare, pretty much all of the show's plotlines).
In hindsight, it's unsurprising how much of the drama on The Hills was manipulated. What's more surprising is watching a former cast member point to exact scenes, story lines, and phone calls and say they were entirely faked. "I thought I was in on the game," he told me this week.
Talking with Pratt by phone, one of the first things he said is "I love being typed about." I proceeded to ask him the most hard-hitting questions. Does he still sleep with "a Glock and rose quartz," as he previously told the Cut? Yes to the rose quartz, but "if I still had a firearm, it would be locked and stored in a safe place." Yes, he did actually have to spend $17 to watch The Hills because he didn't realize he could access it for free with his Paramount+ subscription. He tells me he spends too much time scrolling through TikTok. His For You page is mostly Mexican food and fitness videos, specifically "a lot of squatting." His favorite TikToker is Heidi, and he does read the comments. Did he take one commenter's suggestion and start putting a wooden spoon on his pot while cooking oatmeal so it doesn't bubble over? He did, but he's "trying to pivot" from oatmeal and "being a pot-pie person" to more fitness content.
Another thing he may be pivoting away from? His Hills recap. He says his series may be going on hiatus after Deadline recently announced a podcast where yet-to-be-named former cast members of The Hills will rewatch the show and give their commentary. He doesn't know for sure which cast members will be involved, but neither he nor Heidi have been asked to be a part of the project. "Heidi was like, 'You're doing all the work that they're about to get paid for,'" he says, and if there's one thing Spencer Pratt is about, it's that money.
While I, personally, would miss his commentary, maybe pausing his Hills series is what he needs right now. "While it felt like healing, it's also traumatic," he says of his recaps. On TikTok, he's ruminated on whether he should have done The Hills at all. If he had a time machine — imagine the content! — he says he'd go back and change his stint on the The Hills. "The energy that it does suck out of me to watch the destruction of my identity is such an emotional experience," he adds.
What does he want to say to his fans that will miss the recaps? "Figure out a way I can monetize them."