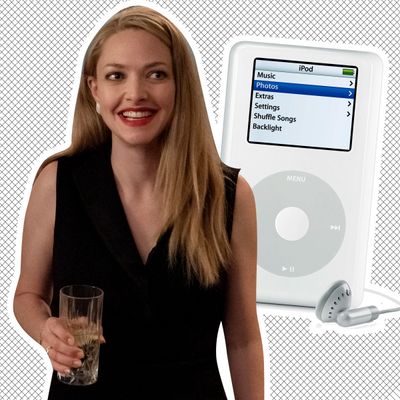 Photo-Illustration: by The Cut; Photos: Hulu, Getty Images
The last three songs I played on Spotify are "1234," "Sleepyhead," and "Suddenly I See." No, I did not wake up from a 14-year coma, but I did just finish the first few episodes of The Dropout, Hulu's adaptation of the podcast chronicling the rise and fall of Elizabeth Holmes's blood-testing company, Theranos. Starring Amanda Seyfried as the recently convicted scammer, the show is far more absorbing than I expected. And its soundtrack is giving me a severe case of mid-aughts nostalgia.
The Dropout follows Holmes from 2002, when she was in her senior year of high school, through the SEC investigation into Theranos in 2017. That's a lot of cultural ground to cover — and a lot of mid-2000s pop hits to mine. Why does it feel as if this show dug up the custom-painted iPod I loaded up with Usher and Leona Lewis in 2008 and injected it straight into Holmes's life?
With the exception of "Back to Black," which plays winkingly the first time Holmes dons her signature turtleneck, the songs of The Dropout aren't the throwbacks you might expect. Unlike the nostalgic hits my friends frequently put on at parties — "SexyBack," "Irreplaceable," "Buy U a Drank" — the briefly explosive songs of The Dropout had a shorter lifespan, receding into anonymity as quickly as they blew up. In 2022, I haven't thought of them in years, which makes them thoroughly transportive brain candy. If 2018 was the summer of scam, 2008 was the summer I memorized the lyrics to "Shake It" by Metro Station — and God, does it feel good to revisit that time. I can't tell you how many times I heard "My Humps" in 2005, but I can recall precisely the last time I heard Sean Paul's "Temperature," which was at a summer-camp talent show that same year. When the song came on during a scene in which Holmes boards Larry Ellison's yacht, I was immediately back on the sticky floor of my camp's theater, bopping along.
Other tracks recall cultural artifacts of the era: A scene of Holmes doing some incredibly weird dance moves to Missy Elliott's "We Run This" gave me a strong urge to rewatch Stick It, and hearing the first few notes of KT Tunstall, I could almost smell the onion bagel Anne Hathaway eats in The Devil Wears Prada's opening credits. The show is full of spot-on temporal markers like a brief shot of someone playing Angry Birds in an elevator or the Walgreens exec who asks his co-workers if they caught the end of The Blind Side on the plane. At one point, Holmes enthusiastically buys a Prius. There's also the now ancient-looking tech, a telling reminder of the early Silicon Valley boom when overeager investors were primed to overlook the general shadiness of their promising young entrepreneurs. Chunky iPods abound — at least until Holmes, famously a diehard Steve Jobs fan, waits in line to buy the first iPhone.
These nods to our short-lived obsessions bring each year of The Dropout's arc to roaring, auto-tuned life. I never thought I'd feel nostalgic about belting out Katy Perry in the car, but watching Alan Ruck (a.k.a. Connor Roy) singing "Firework" on his way to work, it was nearly impossible not to join in.